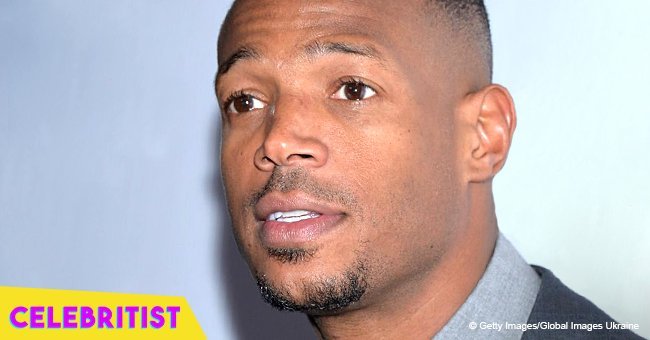 Marlon Wayans shares nostalgic photo with his son after not seeing his kids for 2 weeks

Marlon Wayans took to Instagram to share a photo of him kissing his son. Despite his relationship with his kids' mother, Marlon continues to be a hands-on dad.
He may be famous as a talented funnyman, but Marlon's greatest pride is in his two children, Shawn and Amai. Despite being divorced from their mother, Angelica Zachary, the actor continues to put his children first and co-parent peacefully with his ex-wife.
Earlier today, Marlon confessed he was feeling nostalgic and shared a throwback photo where he was pictured kissing a much younger Shawn. The little boy looked adorable in a red outfit and wild curls.
The "Fifty Shades of Black" star wrote:
"Excuse all of the nostalgia but It's been two weeks since I seen my kids... I guess I miss them. Love you son. #daddysboy"
WHY MARLON STOPPED BEING "DAD"
Marlon, 46, has always been open about his love and commitment toward his children. In an interview with ET last year, he spoke about having the sex talk with them and revealed that he stopped being their dad a long time ago.
The "Marlon" star elaborated:
"I was like 'we're gonna be friends,' because as a dad, I'm gonna be all possessive like 'who're you talking to? I wanna meet him'. …No. I wanna be your friend, and walk you through it… at the point when they become teenagers, they're dealing with real stuff, and you have to have real conversations with them."
THE FIFTY SHADES OF LOVE
Marlon and his ex-wife welcomed their daughter Amai in 2000 and their son Shawn in 2002. The exes finalized their divorce in 2013 after eight years of marriage, but the actor has said he'll "always have nothing but love and respect" for her.
"I think of her as my family," he said. "When I look at my kids, I see me, and I see her."
On September 12, Marlon took to Instagram to shower loving words on Angelica. The lengthy tribute read in part:
"God is amazing! To place such a wonderful, consistent, patient, strong, forgiving soul in my life to watch over me and challenge me to grow every day. I used to beat myself for failing us. But I realize that it's all a part of the journey."
Meanwhile, the actor's NBC show, "Marlon," which premiered in 2017, is based on his life and family experiences. The show was renewed for a second season in September 2017 and is exclusively distributed by Netflix.
Please fill in your e-mail so we can share with you our top stories!