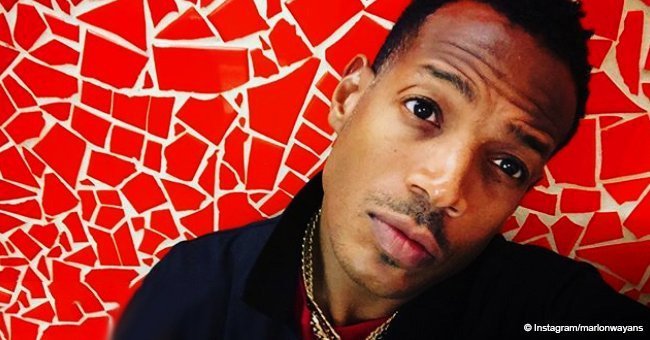 Marlon Wayans pays touching tribute to his ex-wife and mother of his children in recent post
Marlon Wayans might be one of the best comedians in the industry, but when it comes to showing his love for his ex-wife, the 46-year-old gets serious. The actor melted hearts with his most recent lengthy message for the mother of his kids on social media.
Angelica Zachary and Marlon Wayans dated for about four years before getting married in 2005; they had two kids: Shawn Howell, 16 and Amai Zackary Wayans, 18. Even though the couple lived in harmony for years, they separated in 2013 after Wayans was caught cheating on Angelica with a brunette woman in a boat in St. Barts.
However, the former couple has kept a friendly relationship over the years, and Marlon doesn't miss an opportunity to remind his ex how special she is for him. On his most recent Instagram post, the "White Chicks" actor wrote a lengthy message for Angelica to celebrate 25 years of knowing each other.
"Have you ever loved somebody 25 years plus? Through ups and downs, smiles and tears, joy and pain... love remains. What an incredible woman you are and I will always celebrate the day I met you. Thank you for loving me.you're an amazing mommy and a great friend. There'll never be a day I don't love you."
Marlon gushed about Angelica's best qualities as a "lioness mom," and integral woman and a "soulful spirit." He also mentioned that seeing her laugh makes him want to be even funnier, and talking with her makes him want to be a better man.
He added:
"God is amazing! To place such a wonderful, consistent, patient, strong, forgiving soul in my life to watch over me and challenge me to grow every day. I used to beat myself for failing us. But I realize that it's all a part of the journey."
WHEN ART IMITATES LIFE
Marlon and Angelica's one of a kind relationship is being depicted on the actor's Netflix series "Marlon," loosely based on his life. On the series, the 46-year-old gives life to Marlon Wayne, a man who tries to keep his family together after getting divorced from his wife.
Just like it happened for Marlon and Angelica, the series shows two adults who love each other and keep a friendship for the sake of their two kids even after their split. "We have a family show that's dealing with divorce, but it's not about breaking up. It's about finding ways to stay together," Wayans said of the last season of the show.
Aside from being a loving ex-husband, Wayans is also a dedicated father of two. The actor is not shy of showering his kids with affection on social media, and he always has the warmest and encouraging words for them when need it.
On his Father's Day post, he wrote:
"Having children gave me PURPOSE. It gave me a constant motivation. It made me more aware as a human being. Conscious of my actions, my words, my walk my humanity, my humility, my walk toward acceptance and the unconditional. My kids grew me up. They made me a man. They fuel my existence."
Please fill in your e-mail so we can share with you our top stories!