Audrey Roloff Reveals They Will Find out the Baby's Gender 'in a Couple of Weeks'
"Little People Big World" alums Jeremy and Audrey Roloff are proud parents to their 2-year-old daughter, Ember who will soon be a big sister. The family is super excited to know what the baby's gender will be. 
Back in July, Audrey and Jeremy announced that they were expecting their second child on Instagram with cute family pictures and ultrasound images. 
"Baby #2 is coming in January!!! Ember is gonna be a big sister! We are so grateful and excited for this little blessing to join our family," the expectant mother wrote. 
Recently, the expecting mother took to Instagram to share that they will find out the gender of their second child in a matter of weeks.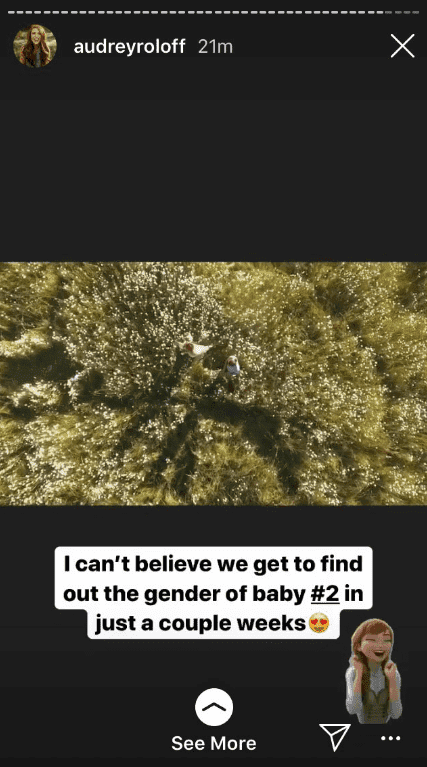 With the new baby coming along, Audrey is riding on an emotional rollercoaster--she even reminisced the time she got pregnant with her first child, Ember. 
CONCEPTION OF BABY NUMBER 2
Like many other celebrities, Audrey and Jeremy have a very active social media presence. They share their daily lives through Instagram posts and stories.
Besides Instagram, the couple has a podcast called "Behind The Scenes." In a recent episode, the couple talked about their second pregnancy. When one of the fans asked her what inspired her to opt for a natural birth with Ember, she said:
"So I've always been pretty crunchy … if medical interventions are unnecessary then I just lean more on the natural side. But I also wanted to experience the true pains of childbirth and pregnancy."
DID AUDREY AND HER SISTER-IN-LAW PLAN TO BE PREGNANT TOGETHER?
Since Audrey and her sister-in-law Tori both got pregnant with their second babies around the same time, fans wondered whether the whole thing was planned. 
During the podcast, Audrey countered the speculation by denying the theory. 
"No, Tori and I did NOT plan to be pregnant together," she said.
The reality star got a bit personal and talked when they conceived the second baby. 
"And yes, that does mean that we conceived sometime on book tour. We're not really sure when. But Jeremy and I were really desiring to get pregnant again, and, you know, we just kind of wanted to make it through the launch of A Love Letter Life … and then after that, we were feeling ready," she said. "It happened quicker than we thought it would."
What do you think will be the gender of the second baby? Will Ember have a little brother or sister?