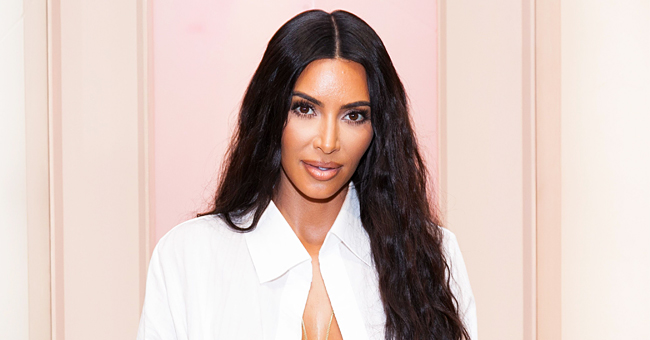 Getty images
Kim Kardashian Praises Daughter North for Styling Herself in New Photos

Kanye and Kim Kardashian West's daughter North is proving to be a pint-size fashionista, and ready to take the world by storm.
Kim Kardashian is a proud mom to the world's tiniest fashionista, her daughter North.
Kim posted a series of photos on Instagram that shows North, 6, in outfits of her own creation during a recent family trip to Japan.
KIM KARDASHIAN GAVE NORTH A FREEHAND
When it came to her wardrobe for the Japan trip, Kim admits she gave North a free hand, taking her along to fabric stores and letting her pick out whatever she liked to be made into her own creations.
The result is certainly eye-catching and unique, with North rocking daring color and fabric combinations.
"My Northie girl is the ultimate fashionista! She comes with me to fabric stores and picks out what she likes and for our Japan trip I let her style herself. I should have let her style me too lol. She loves it. She's having fun and I am so happy she's so expressive. ???????" Kim wrote.
North made her runway debut as part of the "L.O.L Surprise Fashion Show"
NORTH WEST'S STUNNING FASHION CHOICES
Kim's photos show North's unorthodox choices, which somehow seem to work - the mark of an eye for fashion. In one snap, she wore a pink ruffled top and a floral-patterned skirt over flower-appliquéd fishnet leggings. A bold combination and worthy of a Paris runway.
RAIDING MOM'S WARDROBE FOR STYLE
North is famous for raiding Kim's wardrobe whenever the fancy takes her, especially for shoes and handbags, and in Japan, she was seen carrying one of mom's most prized possessions - a rare Dior saddlebag.
ONLY THE BEST FOR NORTH WEST
The Dior bag that North was carrying is a collector's piece, and one of only 10 produced by the prestigious fashion house and said to be worth over $35,000.
Miss West is certainly a budding talent to watch, and if she carries on like this, she might start her own fashion house by the age of 12, and beat her aunt Kylie Jenner to the title of the youngest self-made billionaire by the age of 16.
Watch out fashion world, here comes North West!
NORTH WEST'S RUNWAY DEBUT
Kim Kardashian's oldest daughter, North West, has taken her first stroll down a runway in a fashion show, and she proved to be a natural.
North made her runway debut as part of the "L.O.L Surprise Fashion Show" held at the Palisades Park in California.
North was joined by other celebrity kids like Busy Philipp's daughter Birdie, and Sara Foster's daughter, Valentina.
Each little model had the chance to dress up as their favorite character, and North choose fashion Thrilla's outfit, inspired by Michael Jackson's "Thriller" look.
Please fill in your e-mail so we can share with you our top stories!