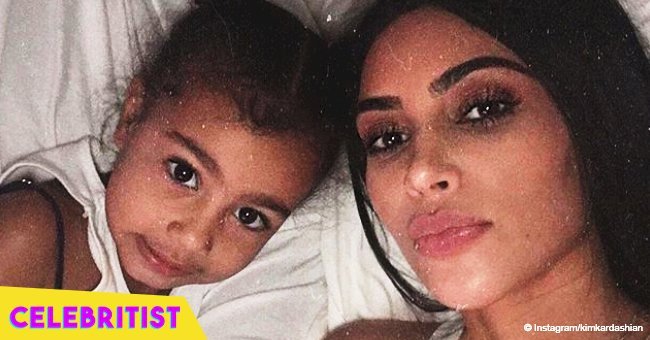 North West steals the show slaying on her runway debut
Kim Kardashian's oldest daughter, North West, is already following her family's steps into the entertainment business. The 5-year-old recently made her debut on the runway, rocking a "thriller" look and making her entire family proud.
Considering that her entire family enjoys fashion and everything that comes with it, is no surprise that North West is already showing interest in being part of that world, and much less that she's good at it.
The adorable girl made her runaway debut a few weeks ago as part of the "L.O.L Surprise Fashion Show" held at the Palisades Park in California. The fashion show celebrated the toy line and featured a runaway, a photo booth, candies and a lot of glamour and glitter for the kids.
North was joined by other celebrity kids like Busy Philipp's daughter Birdie, and Sara Foster's daughter, Valentina. Each kid that walked the runaway had the chance to dress up as their favorite character, and North choose fashion Thrilla's outfit, a nod to Michael Jackson's "Thriller" look.
SLAYING THE RUNAWAY
North had the look and the attitude down to the notch. She rocked a red leather jacket and a matching skirt with a zipped up black top underneath. She complimented the look with a pair of sunglasses and a stylish black bag. As for the shoes, she wore Michael Jackson's signature black loafers and white socks, while her curly hair was tied up in a high- top knot.
As North made her way down the runway with confidence and an attitude worthy of the Kardashian family, her mom was cheering up for her behind the cameras, screaming "Go Northie!" while the girl spun around in one motion.
Kim said in a statement:
"North is completely obsessed with L.O.L. Surprise already, so when we found out there was going to be an L.O.L. Surprise BIGGER Surprise Fashion show, she absolutely had to be involved. She loves to dress up like her favorite characters, so it was so exciting for her to actually become a real-life L.O.L. doll
GIRLS JUST WANT TO HAVE FASHION AND MAKEUP
While is the first time that North takes over a runway, the girl has been in touch with the fashion world already. A few months ago, she took part in the brand's 10th-anniversary campaign for their Peekaboo handbag, alongside her mother Kim, and grandmother Kris Jenner.
North is also pretty fond of make-up, and since her mom has a beauty line, and her aunt Kylie runs one of the biggest makeup lines, the girl is probably surrounded by make up every hour of the day.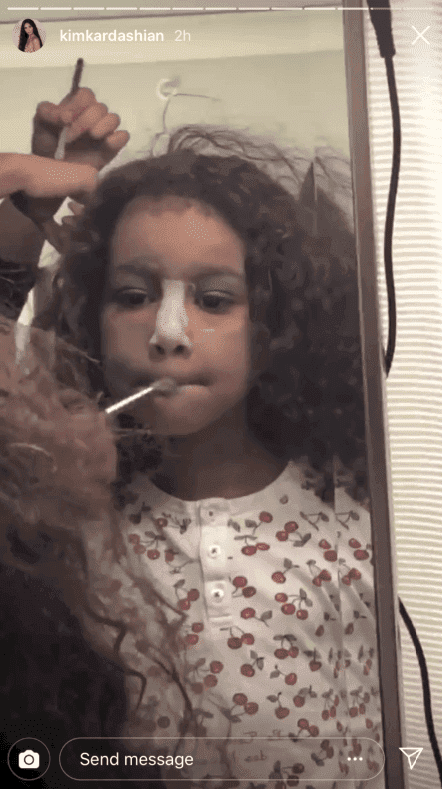 Source: Instagram/Kim Kardashian
A few weeks ago, Kim took to her Instagram stories to share some clips of her daughter trying to contour her face, just like her mom, and the result was definitely what one could expect from a 5-year-old.
In the clips, North is clad in her pajamas and with her natural curls falling down her shoulders as she sits on the floor in front of a mirror very focused on doing her makeup. Her nose is completely covered in concealer and her cheeks have a darker tone. She used blue on her eyelids to bring out the color, and alternated between a brush and her fingers to blend the products on her face like a pro.
A few hours later, North's make up had been removed and replaced with some lipstick from her mom's newest collection. Kim revealed that she had to bribe the girl with makeup to get her out the door, and addressed the trolls that would for sure attack her at once saying:
"North wearing shade #6 in the new classic Blossom Collection. Relax mom shamers it's coming off in a few minutes. I needed a bribe to get out of the door… you feel me?!"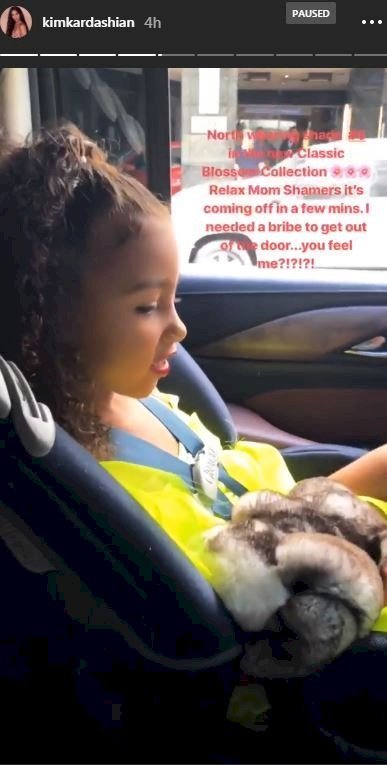 Source: Instagram/Kim Kardashian
It was with that same look that North was featured on her dad's Instagram account singing to Drake's "In My Feelings," a video that many fans saw like an olive branch from Kanye to Drake after their recent fall out.
After all, who could resist to little North being cute while singing their song?
Please fill in your e-mail so we can share with you our top stories!