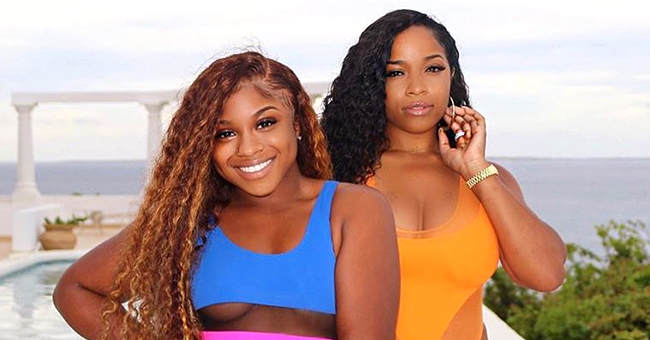 Instagram / Toya Wright
Toya Wright and Reginae Carter Show off Curves in Bright Swimsuits in Photo
Toya Wright posed alongside her daughter Reginae Carter in bright swimsuits, proving that age is definitely just a number as the dynamic duo looked like sisters.
If there was a "cool mom" award, it would definitely go to Toya Wright, who not only brought up her eldest daughter Reginae as a single mother but also keeps up with today's trends, looking nothing over the age of 20.
In fact, Toya can even pass as Reginae's sister, proven by the recent photos of them together dressed in bright-colored swimsuits that showed off their curves.
Posing by the pool, the mother-and-daughter duo looked gorgeous in their respective getups, with their faces beautified further with glowing makeup and their natural curls.
A New Mother Once More
Almost two decades after giving birth to Reginae Carter whom she shares with rapper Lil Wayne, Toya gave birth to baby Reign Rushing.
Since it's been 20 years since she became a new mom, Toya shares that things have changed a lot when it comes to her parenting styles.
"I was a little rusty. It's been 20 years but I'm loving it. Things are so different this time around. When I had Reginae I was extremely young and didn't know the first thing about being a mom. I'm more experienced now."
Celebrating Mother-and-Daughter Relationships
Through the years, she's balanced being a mom to her girls while filming shows and running businesses. However, at the end of the day, she knows her priorities and will never lose sight of what matters most.
"I think we should celebrate mothers everyday not just once a year. Give your mothers flowers while she can still smell them. Shower her with your love as much as you can," she shares.
Toya Wright definitely knows how to appreciate spending time with her kids, especially since they won't be young forever and would, later on, lead their own lives. That is why to her, it is important to make the most out of their time together while they can.
Please fill in your e-mail so we can share with you our top stories!