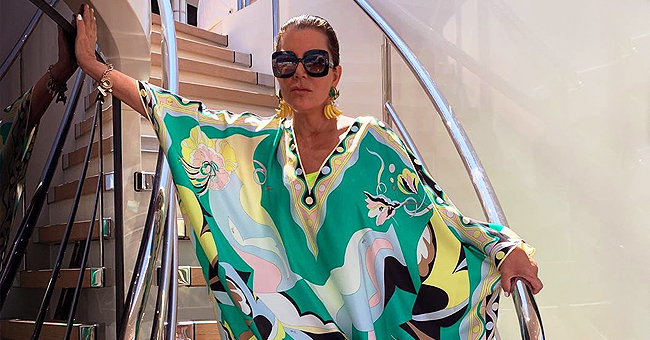 Instagram/krisjenner
See Kris Jenner Pose in Colorful Dress on Yacht during Kylie's 22nd Birthday Trip

Kris Jenner stunned fans in new Instagram photos as she posed in a colourful Kaftan aboard the luxury Yacht from her daughter, Kylie Jenner's birthday in Italy.
Last weekend was a blast for the Kardashians! Between Kim's Louis Vuitton themed fun trip with her husband Kanye, to the family's Italian vacation in honour of Kylie Jenner's twenty-second birthday, there was enough fun to go round.
The Kardashian lot, (notably excluding Kim and Kanye) spent the week in Italy, courtesy of the world's youngest billionaire who opted to mark her birthday in a grand style.
Kris Jenner, the 63-year-old mother of the "Keeping Up With The Kardashians" reality TV household took to her Instagram to share pictures from the Yacht while giving fans a peep into the infamous ship.
The Kardashian/Jenner mom could be seen dressed in a flowing, multicoloured Kaftan, and a pair of dark sunglasses. Her hair was worn backwards in a neatly bond hairdo.
Kris showed off her youthful look and gorgeous outfit in a series of pictures, and fans think she looks amazing as they flooded the post with compliments.
One fan wrote: "Stunner." referring to the 63-year-old beauty. Another commented: "Stunning Kris Jenner," followed by a series of heart emojis.
"Lovey look. Stunning," came another comment.
As comments and likes kept pouring in, the 63-year-old could not take time off to enjoy her moment as she was faced with more significant challenges within the Kardashian caucus.
The recent seasons of the reality series, "Keeping Up With The Kardashians" have been centred around family mishaps. From Khloe's breakup with Tristan over a cheating scandal to Kylie's devastating split with her BFF, and then a series of fights between Khloe and Kourtney.
Kris decided to act the mom and rescue her babies. She took the girls on a cowgirl themed vacation at the Jackson Hole Resort, Wyoming to strengthen their bond.
This family bonding time sadly does not include Caitlyn Jenner's children from a previous marriage. It is no secret that Kris has been estranged from the Jenner household since her controversial divorce from Caitlyn.
Brody Jenner, Caithlyn's son from her second marriage, has been known to speak openly against the Kardashian mom. One of such open castigation was in 2015, during a talk show, "Sway In The Morning" on shade 45 where he acknowledged that the Kardashians were not his family anymore, and blamed his stepmom for the whole drama.
Between all the family dramas, there was at least one positive occurrence, as the Kardashians finally warmed up to Sofia, Scott's 20-year-old girlfriend. The 63-year-old was spotted out shopping with Sophie in Italy as they enjoy a personal time together.
Perhaps, what the family needs is a new addition, and Kris appears to be working on that.
Please fill in your e-mail so we can share with you our top stories!