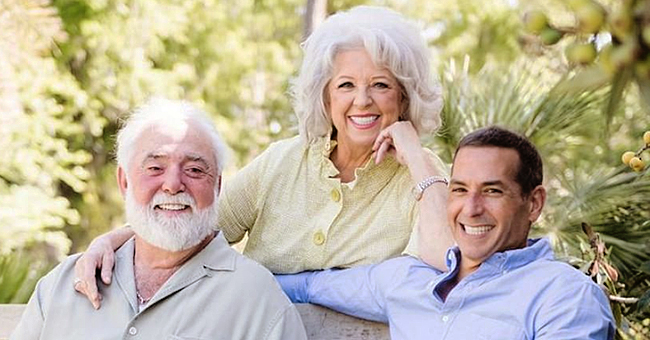 instagram.com/pauladeen_official
Paula Deen's Triplets Turn 10 Months Old
Celebrity chef Paula Deen's daughter-in-law, Claudia, shared a heartwarming snapshot of two of her triplets to mark their 10-month-milestone.
Paula Deen is one proud grandmother as her three grandchildren reach the 10th month of their birth.
A recent photo shared by her daughter-in-law, Claudia, sees her two granddaughters being held by their mom.
The trio looks away for the camera as they pose for a beautiful snapshot. However, the third triplet, Claudia's son, is missing from the picture.
10 MONTHS OF SMILES AND LAUGHTER
She captioned her post, "Today we celebrate 10 months of welcoming our beautiful triplets into this world. So much has happened during this time... we've shared many laughs, smiles, tears, fears and of course infinite love."
Claudia concluded her post by deeming the past 10 months of having the triplets "the best 10 months" of their lives.
THE FANS RESPOND
Her fans and followers were quick to react to the photo. Several of them took to the comments section to gush about her cute daughters.

Fan's comment on Claudia Deen's post. | Source: Instagram/claudiadeen
Meanwhile, many other fans were also quick to notice the absence of Claudia's son from the picture. Instagram user, "janetburdettegrieves" questioned, "When are you going to post pictures of your son?"

Fan's comment on Claudia Deen's post. | Source: Instagram/claudiadeen
Claudia and her husband, Bobby, welcomed the triplets into the world last year in October. Paula announced to her fans at the time that the triplets were born 4 months premature.
A PREMATURE BIRTH SCARE
The couple named the children after some of the members in their family. The two daughters are named Olivia and Amelia while their son is named Linton.
Paula also expressed her concern for the health of her grandchildren due to their premature birth. However, she admitted that she had faith in God to protect the girls.
"It's going to be a long ride for these precious three angels, but we've got complete faith that God's got His arms wrapped all around them, and He's going to see them through this until they can come home."
True to her belief, the triplets have now grown up to become healthy and happy children. Only recently, Claudia shared a few other snapshots of two of her triplets enjoying their playtime.
Please fill in your e-mail so we can share with you our top stories!