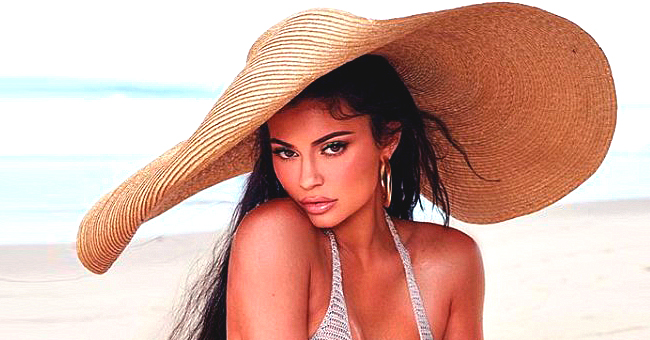 instagram.com/kyliejenner
Kylie Jenner Stirs Backlash with a New Photo from Her Vacation in Italy
Kylie Jenner is still on vacation in Italy, and her recent swimsuit post stirred backlash from her followers on Instagram.
Kylie Jenner is living it up on the Italian Amalfi Coast in a 300 feet yacht that reportedly costs her about $1.2 million per week to rent.
Sadly, a photo from the luxurious yacht stirred up a backlash against her on Instagram.
The young billionaire shared a photo of herself reclining on the deck of the yacht in a Chanel swimsuit, with a money-themed box of her latest "Birthday Collection" beside her.
The snap was supposed to be a way to say "thank you" to her loyal customers, but the message got lost on many who chose to concentrate on everything they felt was wrong with Jenner's look.
One follower trolling the cosmetics mogul wrote,
"Omg I don't get why they all do the hip implants and crap."
Another pointed out,
"The butt lift should at least look real. I mean according to real human standards."
A third commenter took the advice route with these words,
"To all the young girls scrolling through here, and thinking this is 'Body goals,' it's not." The follower added, "It's unrealistic," and admonished that not everyone has to look like Jenner.
Despite the negative comments, other followers had nothing but love for the KUWTK star. Words like, "Wow," "Hot," "Beautiful," and fire emoji also graced the comment section, and some chose to focus on the new makeup collection by asking the beauty entrepreneur to ensure she does not run out of stock.
Jenner went on her Italian vacation to celebrate her 22nd birthday. She traveled with her daughter, Stormi, baby daddy and boyfriend, Travis Scott, mum, Kris Jenner, Scott Disick, Sofia Richie, and BFF Anastasia Karanikalaou.
So far, the group has toured the Italian coast looking stylish and chic. The young TV star rented out two private jets to ferry the group, and crew to Positano for a day of sightseeing, and they snacked on fresh olives while they were there.
Jenner also visited Capri with Stormi and Scott dressed in a Versace Baroque Faille cropped top, and Montage-print knife-pleated skirt. She matched it with flat gold sandals, black studded handbag, and sunglasses.
The Forbes proclaimed self-made billionaire has shown that the best way to travel is to travel in style. Despite the backlash, she got from her haters, she is more focused on living her best life and looking stylish while at it.
Please fill in your e-mail so we can share with you our top stories!