Lil Scrappy Shares Adorable New Photo of Son Breland & Fans Think He Looks like Mom Bambi
Lil Scrappy recently shared a photo of his adorable son, Breland Richardson, and fans are convinced he is the spitting image of his mom Adiz "Bambi" Benson. See the picture for yourself below.
Since Scrappy (real name Darryl Richardson) and Bambi welcomed their son, there's been several instances where fans go back and forth on who the little boy shares the most definite resemblance with.
The reality star and rapper recently shared an Instagram pic of Breland looking dapper in a blue ensemble. The 22-month-old rocked a t-shirt, shorts, sneakers, a hat, and a dangling gold chain.
Still To Come: Dixon herself recently became a mom to twin girls, Embrii and Eryss
"My lil guy a handsome lil fellow," Scrappy gushed over his son.
While many Instagram users agreed with the "Love & Hip Hop: Atlanta" star that his son is indeed handsome, they couldn't help pointing out that Breland is Bambi's twin.
"He looks just like his momma in this picture," one fan noted.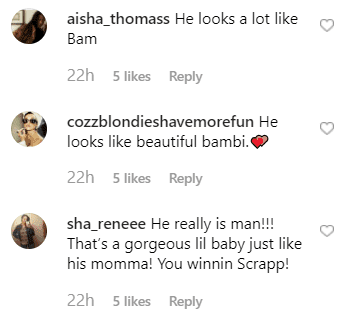 "He looks a lot like Bam," echoed another
A third Instagram user observed: "Him so cute he look like the bam more tho," while a fourth said:
"He really is man!!! That's a gorgeous lil baby just like his momma! You winnin Scrapp!"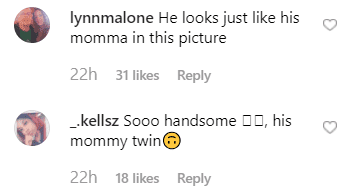 This will not be the first time fans agree that Breland bears a striking resemblance to his reality star mom. In April, after Bambi shared a pic with the little one, social media users lost it in the comment section as they marveled at the resemblance.
"Omg this the first time I see y'all are twins. Geeesh bam you did all the work," a fan reportedly gushed.
"Omg he stole your whole face look at the eyes and lips," another added. "He his mama son."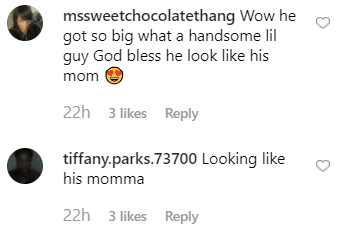 Scrappy and Bambi's son was born last September, so the family is probably counting down to his Big 1. Breland is the first child for the couple who got married two years ago.
Meanwhile, the "Money in the Bank" rapper has a 14-year-old daughter Emani Richardson, who he shares with ex Erica Dixon.
Dixon herself recently became a mom to twin girls, Embrii and Eryss. The reality star shared a picture of her babies in June, letting fans know that she may not be sharing more in the future.
"This will probably be the only pic of them I post but here are my tiny tots fresh out the womb," she announced. "I've been so busy with them and juggling everyday life that I realized I haven't taken any new pics of them."