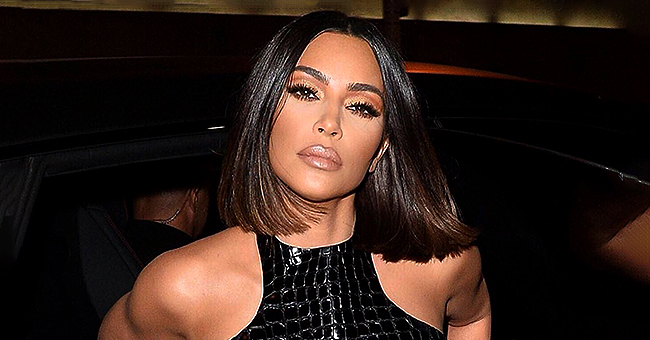 Instagram/kimkardashian
Kim Kardashian's Son Saint Poses for a Photo by Making a V Sign
Kim Kardashian capsulizes her trip to Japan with more family pictures. A picture of Saint West has fans envying her latest international adventure.
Japan continues to create more exciting family moments for Kim Kardashian and her family. She shares more pictures of her children enjoying the family getaway.
Saint West made a special feature this week as the reality star sharing pictures from their family trip abroad. In a caption with a picture of her son she writes:
"This boy right here really lives up to his name!"
Saint is shown wearing a silk top and black pants in an outfit that looks culturally inspired. Living up to his spiritual name, Kardashian's son holds up a peace sign. Her caption seems to allude to his peaceful nature.
The peace sign is true to Saint's nature. Kardashian often share pictures of Saint cuddling his siblings. Her eldest son is a doting brother on his other siblings and Kardashian enjoys sharing the precious moments of the love amongst her children. In an earlier post of Saint she writes:
"Saint said he's gonna pretend to sleep with his brother. He always wants a pic to capture every moment. You have no idea how sweet my boys are!"
The rare picture of Saint and her youngest child, Psalm West, Kardashian shows Saint's playful yet loveable nature.
Fans show their admiration for Kardashian's eldest son, commenting on how much her looks like her. The pictures have fans wanting more pictures of her children.

Fans want more pictures of Kim Kardashian's children | Instagram

Fans want more pictures of Kim Kardashian's children | Instagram
Kardashian's family pictures in Japan have revealed a few things about her children. Saint revealing the peace sign reaffirms his peaceful nature. She also shared that her eldest daughter, North West is a fashionista in the making. In a series of pictures revealing the outfit choices North has made during the trip, she shares:
"My Northie girl is the ultimate fashionista! She comes with me to fabric stores and picks out what she likes and for our Japan trip I let her style herself. I should have let her style me too lol. She loves it. She's having fun and I am so happy she's so expressive."
They say a picture says a thousand words. As fans yearn to know more about her family, Kardashian's pictures of her children continues to give fans rare insight into their live.
Please fill in your e-mail so we can share with you our top stories!