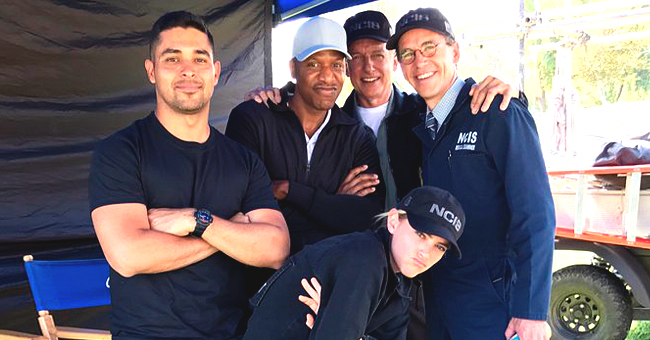 Twitter/RayStoney
NCIS Cast's Real-Life Spouses: Meet the Beloved Stars' Loved Ones
"NCIS" first aired in 2003, since then the series raked in 36 award nominations and 26 wins. While fans have become familiar with the cast, we took a closer look at their partners in real life.
MARK HARMON
As one of the most private couples in Hollywood, Mark Harmon and Pam Dawber met back in the day when Mark got named the Sexiest Man Alive by PEOPLE magazine in 1986.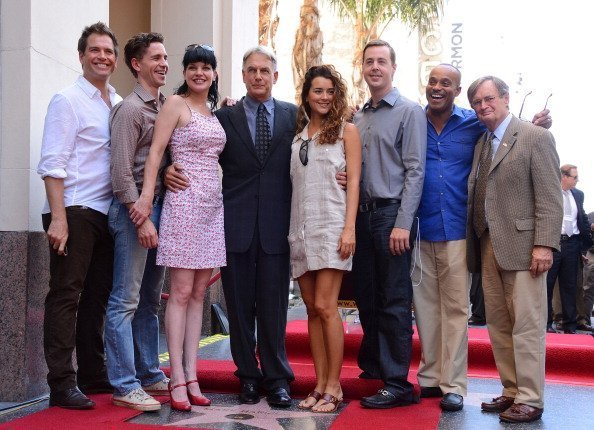 Actors Michael Weatherly, Brian Dietzen, Pauley Perrette, Mark Harmon, Cote de Pablo, Sean Murray, Rocky Caroll and David McCallum pose as actor Mark Harmon is honored with the 2,482nd star on the Hollywood Walk of Fame on October 1, 2012, in Hollywood, California. | Source: Getty Images.
A mutual friend, Gina Hecht, introduced them during a party that March and the couple got married a year later on March 21, 1987.
Quick to start a family, the happy couple welcomed their first son, Sean on April 26, 1988, followed by their second son, Ty Christian on June 25, 1992.
By the time they had children, Pam had already forged a successful acting career of her own with roles in "Mork and Mindy," "The Girl, the Gold Watch & Everything," "Remembrance of Love," "Through Naked Eyes," and "Wild Horses."
Pam's career took off when a friend convinced her to go along to New York and give her modeling portfolio to various agents. Wilhemina Models signed her on the spot, but it didn't take long before Pam realized that acting interested her more than modeling.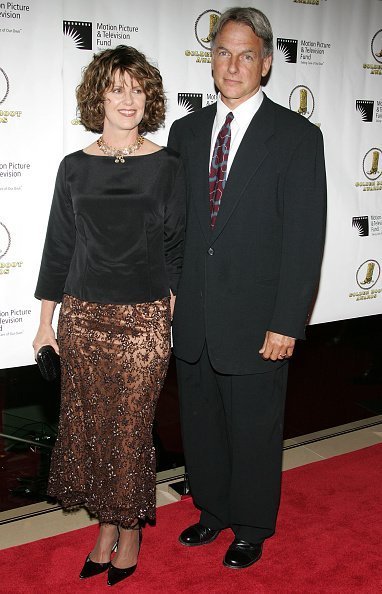 Mark Harmon and wife, actress Pam Dawber, attend the Golden Boot Awards held at the Beverly Hilton Hotel on August 13, 2005, in Beverly Hills, California. | Source: Getty Images.
Up until 2016, Pam earned 39 acting credits with more recent productions that include, "I'll Remember April," "Life... and Stuff," and "Don't Look Behind You."
SASHA ALEXANDER
Sasha found love with the Swiss writer/director Edoardo Ponti, the son of Carlo Ponti and Sophia Loren whom she married on August 11, 2007, at the Russian Orthodox Church in Geneva, Switzerland.
By then, the couple had already welcomed their first child and daughter, Lucia Sofia, born on May 12, 2006, in Geneva.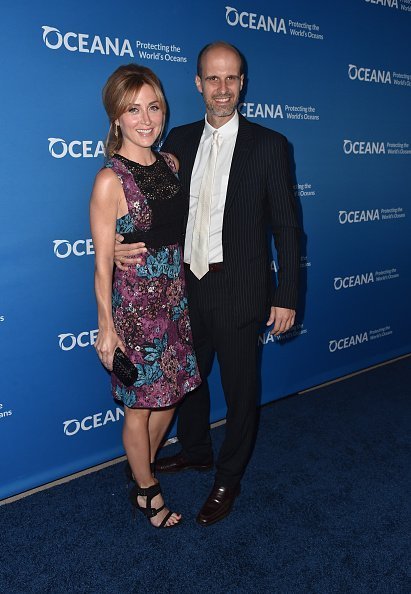 Actress Sasha Alexander and director Edoardo Ponti attend the 'Concert For Our Oceans' hosted by Seth MacFarlane benefitting Oceana at The Wallis Annenberg Center for the Performing Arts on September 28, 2015, in Beverly Hills, California. | Source: Getty Images.
Known for his work on productions such as "Between Strangers" in 2002, "The Nightshift Belongs to the Stars," and 2014's "Human Voice," Edoardo became the proud father of a boy as well when Sasha gave birth to Leonardo Fortunato on December 20, 2010, also in Geneva, Switzerland.
MICHAEL WEATHERLY
For many years Michael lived the single life until he laid eyes on the beautiful Bojana Jankovic at a bar in Vancouver in 2007. A doctoral student at the time, Bojana and Michael had a two-year long-distance relationship before she relocated to Los Angeles and married Michael on September 2009.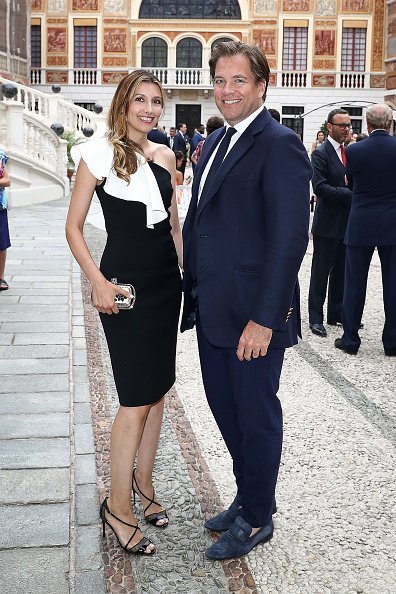 Michael Weatherly and wife Bojana Jankovic attend the cocktail party of the 57th Monte Carlo TV Festival at the Monaco Palace on June 18, 2017, in Monte-Carlo, Monaco. | Source: Getty Images.
Since then, Bojana became a double board-certified physician in integrative and internal medicine. After Bojana finished her residency, she trained in functional medicine, nutrition, and mindfulness, and did a fellowship in integrative medicine.
In 2016, the Serbian-Canadian got recognized as the Southern California Top Doctors' Rising Star and received Top Doctor recognition in both 2018 and 2019 in New York. Bojana also got several patient satisfaction awards at Cedars-Sinai.
DAVID MCCALLUM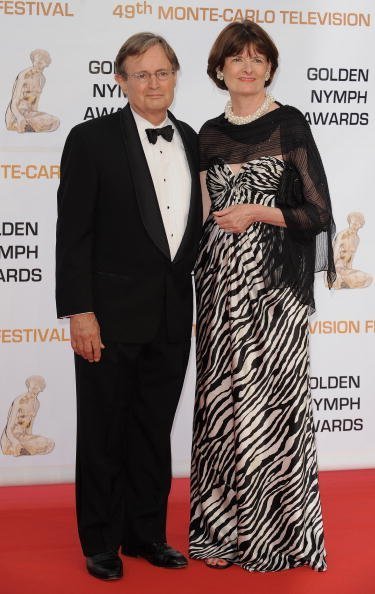 David McCallum (L) and his wife Katherine Carpenter attend the closing ceremony of the 2009 Monte Carlo Television Festival at Grimaldi Forum on June 11, 2009, in Monte-Carlo, Monaco. | Source: Getty Images.
David married his second wife, Katherine Eaton Carpenter on September 16, 1967. The former model turned interior designer later gave birth to their two children, Sophie and Peter.
Despite working in different states, with Katherine based in New York and David in Los Angeles, where NCIS is filmed, the couple made their relationship a priority.
"We've spent ten months of the year apart for the last 13 years. She is part of the oldest interior design firm in the US and works out of New York. We keep in constant touch, and there are all these vacations in America, like Thanksgiving, when we are together. And the cellphones," David said during an interview in 2016.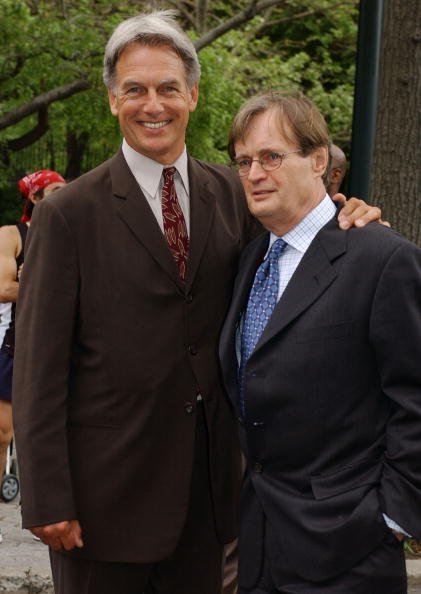 Mark Harmon (L) and David McCallum arrive for the "CBS Upfront Previews 2003-2004" May 14, 2003, at Tavern on the Green in New York City. | Source: Getty Images.
From David's first marriage to Jill Ireland, which ended on February 8, 1967, he has three children. While he gets along swimmingly with his musician son Val and studio photographer Paul, David's adopted son, Jason sadly died in 1989 from an accidental drug overdose.
SEAN MURRAY
Sean and his wife Carrie James got married in 2005. A teacher by profession, Carrie gave birth to their two children, Caitlyn in 2007, and River James on April 22, 2010.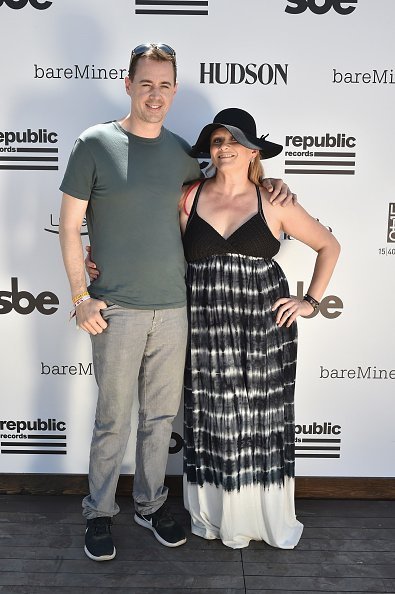 Actor Sean Murray and Carrie James attend The Hyde Away, hosted by Republic Records & SBE, presented by Hudson and bareMinerals during Coachella on April 15, 2017, in Thermal, California. | Source: Getty Images.
PAULEY PERRETTE
Pauley married the Canadian music producer/actor, Francis Coyote Shivers on October 20, 2000.
As a teenager, Francis produced the first Shadowy Men on a Shadowy Planet single and later played guitar in the instrumental rock band Sharkskin. As an actor, Francis starred with Keanu Reeves in the 1995 film "Johnny Mnemonic," and in "Empire Records" the same year alongside Renee Zellweger and Liv Tyler.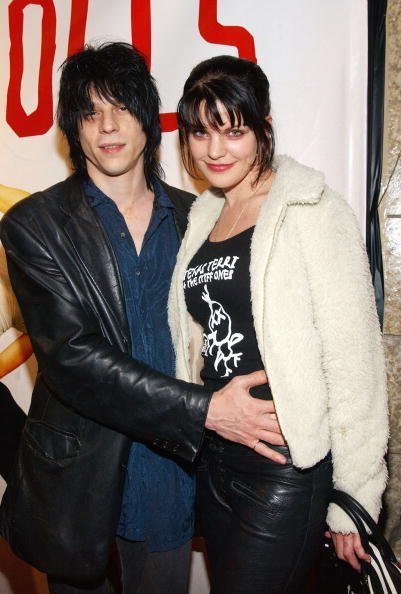 Musician/actor Coyote Shivers (L) and wife Pauley Perrette attend the premeire of the film "Down and Out With the Dolls" on March 11, 2003, at CineSpace in Hollywood, California. | Source: Getty Images.
After almost four years of marriage, Pauley claimed that Francis harassed her and filed for divorce, which became official on February 1, 2006.
After 16 years on television, "NCIS" is still going strong and as popular as ever. But in July 2019, a Reddit battle broke out as fans worldwide tried to decide on the worst lead actor of the crime series.
Please fill in your e-mail so we can share with you our top stories!