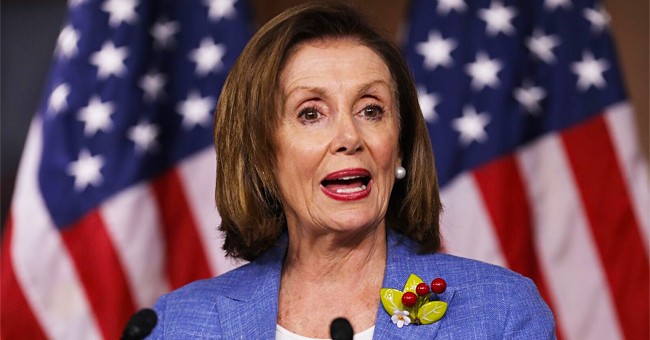 Getty images
Christine Pelosi Shares New Photo with Mom Nancy's 10-Year-Old Granddaughter Isabella
Christine Pelosi shared a photo with mum, Nancy Pelosi's 10-year-old granddaughter. They both looked gorgeous and beamed widely.
Nancy Pelosi's daughter, Christine, shared a photo on Instagram of herself and her daughter, Bella Kaufman. The Speaker's daughter hugged Pelosi's granddaughter from behind, as they both beamed widely.
Christine captioned the photo with the hashtag, "#OPA," and attached the Greece and United States flag emojis, making it evident that the picture got taken during their vacation to Greece.
The Democratic Sstrategist's followers commented that the mother-daughter duo looked beautiful inside and out, and one of them noted that Bella looks so much like her grandmother.
The little girl became more famous than the rest of Pelosi's grandchildren when she excitedly pumped her fist in the air in January, during the Speaker's re-election. Bella, who shouted "Pelosi" when it was her grandmother's turn to vote became a Twitter sensation at the time.
David Mack tweeting about it back then wrote that the little girl was, "Very excited people are voting for Nancy Pelosi," while another Twitter user wrote, "Thank you, Bella, for filling in for many of us today."
The little girl is one out of the nine grandchildren Pelosi shares with her husband, Paul Pelosi. They are equally parents to Christine's siblings, Paul Jr. Nancy Corrine, Alexander, and Jacqueline.
The Democratic Speaker and Paul's marriage has lasted for over five decades. They got married in '63, and by '70, they had their five children. The father-of-five is a successful businessman and Investor living in San Francisco. He visits his politician wife for a week every month in Washington but prefers to stay out of politics.
The San Francisco resident once said he chose to stay in the background so that people would know that Pelosi accomplished everything herself, and the spotlight would always be on her.
The first and currently, only female Speaker of the United States House of Representative got elected for the first time in '87. Before then, she was a housewife and chairman of the San Francisco Democratic Party.
Pelosi credits her experience as a mum for giving her the skills required when she got into politics. Recently, she has alluded more to it as she continually butts heads with President Donald Trump.
"I know a temper tantrum when I see one."
The 52nd Speaker of the House has shown that indeed a woman can have it all. She can have a family, career, and get the world to listen when she speaks. No wonder Bella supports and looks up to her.
Please fill in your e-mail so we can share with you our top stories!