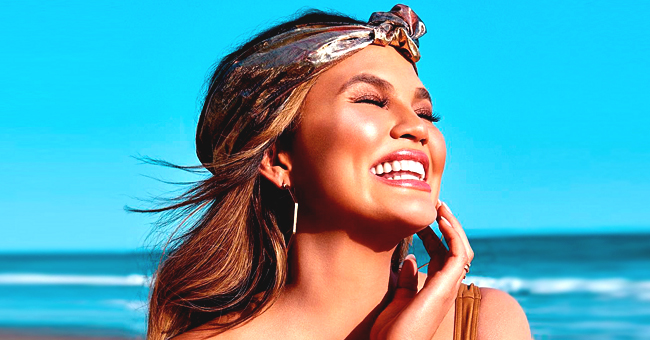 instagram.com/chrissyteigen
Chrissy Teigen Speaks out on Limiting Her Kids' Screentime
Celebrity mum and television personality Chrissy Teigen gives her two cents on the appropriate screen time for her two kids.
Despite being one of the most famous mums, Chrissy Teigen doesn't default in raising her two kids with the right set of values.
While promoting her blue lights glasses collection, Chrissy talked about handling her kids' screentime.
During the interview with Harper's Bazaar, John Legend's wife pointed out the importance of limiting screentime for her kids, Luna, 3, and Miles, 1.
She explained that rather than say no screen time, she and John try to find activities that distract them. In her words:
"You have to keep them involved in things they love and be a master at distraction. Luna will beg to use my phone, like beg, in bed because there's an app she loves."
"We are not those people that are like, 'No screen time!' So, you try to download all the coolest learning activities so at least they're learning something."
The former model explained that making kids watch TV all day affects their sleep schedule because they tend to think back on what they have seen.
She mentioned that Luna loves "Hocus Pocus" and Mary-Kate and Ashley movies.
WHAT IT'S LIKE FOR TEIGEN TO PARENTS TWO KIDS
Having kids and a busy career is something most women struggle with, but Chrissy Teigen makes it look like a walk in the park.
While most women no doubt envy her life, Chrissy has revealed that it's not all matching outfits and adorable selfies when it comes to handling her kids.
While speaking to E! News, the cookbook author described parenting as "controlled chaos," and compared it to being on set.
As a result of the craziness at home, she confessed that she seizes any opportunity to have some peace. She said:
"I think that's why when I'm like in a car or something, people are like, 'What music do you like to listen to in the car?' I'm like, 'Silence.' I like pure silence, 'cause our house is crazy."
Chrissy's realness when it comes to being a mum is nothing short of amazing. She's super relatable, and we love her for that!
Please fill in your e-mail so we can share with you our top stories!