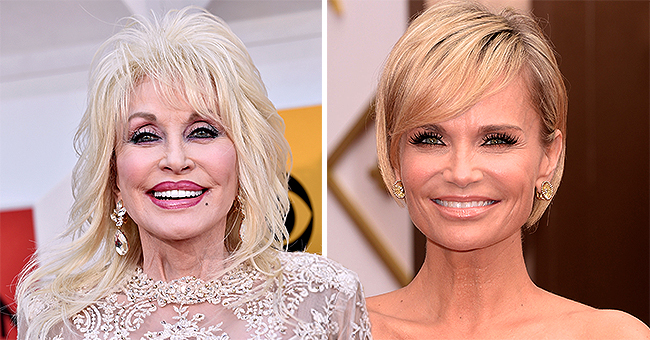 Getty Images
Dolly Parton Joins Kristin Chenoweth in a New Rendition of 'I Will Always Love You'

Dolly Parton was featured on one of the most timeless love songs which Kristin Chenoweth covered for her new album. The results were nothing short of incredible.
Parton, 73, holds ownership for the classic romance ballad we came to know and love since the country superstar debuted it in 1974. We're now in 2019, and these amazing two women just made us love the song all over again.
Kristin Chenoweth, 51, did a rendition of "I Will Always Love You" for her upcoming album "For The Girls," and she was joined by none other than Parton herself. The song is found below.

Samsonizzle's comment | Source: Instagram/ Dolly Parton
Speaking to ET, Chenoweth revealed that she'd always known she would be doing the song, but she didn't think it would be "with the queen herself." Both she and many fans were ecstatic about the results.
"'I Will Always Love You' is a song I've loved since I was a child," she said. In her performance, the singer and actress' Broadway-style vocals perfectly fuse with the country legend's sound. Unfortunately, some fans didn't much like the pair together.

Trixtravels' comments | Source: Instagram/ Dolly Parton
In the background, the piano and acoustic guitar mix set a moving tone for the piece. We may have heard it a million times, but this version of the song is yet another heartwarming take on the enduring song.
During the interview, Chenoweth revealed that she really wanted to get women who have inspired her onto her album. Fans will hear the likes of Jennifer Hudson and Reba McEntire on her new project.

Peter Ward's comments | Source: Instagram/ Dolly Parton
Additionally, the Tony Award winner did covers of Judy Garland's "The Man That Got Away" as well as Barbra Streisand's "The Way We Were." Pop superstar Ariana Grande is also featured for a cover of Lesley Gore's "You Don't Own Me."
The song "I Will Always Love You," has been featured in several films over the years in various ways. Most notably, Parton performed the hit song for 1982's controversial classic, "The Best Little Whorehoues in Texas."
Parton, who also stars in the romance movie, sang the hit song right at the end. In reality, though, the song was written by the country icon for her former collaborator Porter Wagoner after the pair's professional split.
Afterward, Parton continued to dominate the country music scene for decades and is regularly called on to collaborate with newer artists like Chenoweth. Earlier this month, she did another joint rendition of one of her older songs.
The country superstar banded with the famous a cappella group Pentatonix for a colorful remake of her1973 hit, "Jolene." The musical team is Texas-based, so it's no surprise that they hold Parton in high regard.
The five vocalists stood with Parton in an intimate recording studio as they delivered a heart-wrenching version of "Jolene," complete with a beatboxing piece from members Kevin and Avi.
Online, it was all positive feedback from fans for the incredible number. In the past, Parton has redone the song with other top artists including Katy Perry and Miley Cyrus. It looks like everyone wants a piece of Parton.
Please fill in your e-mail so we can share with you our top stories!