Jeremy Roloff Kisses Baby Ember in a New Photo as Fans Try to Guess the Future Baby's Gender
Fans of the Roloff family are aware that Jeremy and Audrey Roloff are expecting their second child together. Last Thursday, the pregnant mother had a voting contest going to see what gender people thought the child would be.
Audrey Roloff took to Instagram to share an image of herself, her husband Jeremy Roloff, and their daughter Ember Jean Roloff. She captioned the post asking her fans to guess the gender of the baby they were expecting.
"The Little People, Big World" star is currently pregnant with her second child. She captioned the post urging fans: "Take your guess....."

Audrey added: 
"Pretty soon we get to find out the gender of this precious little love growing inside of me… so.... before you find out here soon.... cast your vote in the comments! Will baby #2 be a boy or girl?!"
The caption included a pink and blue heart. Fans were quick to cast their votes with one fan choosing to be neutral by writing: "I vote — a blessing."

A fan with the username margobotti wrote: "Girl gang." While another fan supported the notion writing: "I really want it to be a boy but I think it's another girl for some reason."
Someone else added: "Curious if you will be keeping in the boy train… or start another girl train all over again :) I'm guessing boy!!" Another fan voted for a boy with an interesting theory.

The person wrote:
"Boy ! Because when you and Tori were pregnant with Ember and Jackson... You had your girl and Tori had her boy .. And now she's pregnant with a Girl so I wonder if you'll be having a boy."
Another vote for a boy came from a fan who stated: "Ah!!! So exciting!!!! Hmm… boy!" On July 1, Audrey and her husband announced that they were expecting their second child together.

On Jeremy's Instagram, they revealed their only child was "going to be a big sister!" The reality star revealed that they were "excited" to "grow" their family.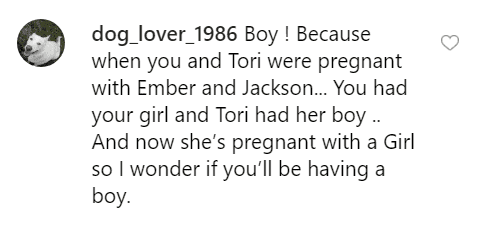 Ember Jean was born in September 2017. On July 30, the pair opened up about the pregnancy on their podcast "Behind the Scenes." 

Audrey shared that she was willing to forgo medication for this birth if it wasn't necessary. She revealed that she was more interested in doing things naturally because she "wanted to experience the true pains of childbirth and pregnancy."
Speaking about her first delivery, she noted how grateful she was that she "had nurses and midwives" available to assist her "if anything ever happened." She explained how the process "felt like I had a home birth at the hospital."
Their second baby is due on January 8, 2020. Jeremy and Audrey got married on September 20, 2014, before having their first child three years later.