Jeremy and Audrey Roloff Revealed Gender of Baby #2 at a Family Baby Shower
On Sunday, "Little People, Big World" stars, Jeremy and Audrey Roloff took to Instagram to reveal the gender of their baby. The gender reveal came after Audrey asked her fans to guess the child's sex.
Jeremy, 29, and Audrey Roloff, 28, both took to their individual Instagram accounts to reveal the gender of their baby. Audrey is currently pregnant with their second child.
Both parents shared a video from a family baby shower where the couple released smoke from canisters. The smoke came out blue revealing that the child would be a boy.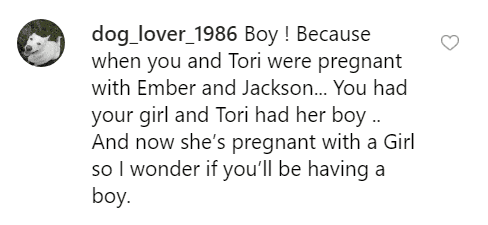 Their daughter, Ember Jean, 23-months-old, who was born in September 2017, also featured in the clip. She was seen eating cupcakes that had blue cream on top.
The video also showed blue flowers. Audrey captioned her post: "Did you guess right?... We are surprised and can't wait to be a family of four…thanks for capturing the moment @jackbotti."
While her husband captured his one writing: "We're so excited!" On Thursday, Audrey prompted her fans to guess her child's gender with a post featuring an image of herself, Jeremy, and Ember.
The photo saw Ember sitting on her father's shoulders while leaning down to give him a kiss. In her caption, she shared with her fans that they would know the child's gender "pretty soon."
Her fans were torn on whether the couple would be having a boy or a girl. One fan who got their vote right wrote: The person wrote: "Boy ! Because when you and Tori were pregnant with Ember and Jackson... You had your girl and Tori had her boy .. And now she's pregnant with a Girl so I wonder if you'll be having a boy."
The couple announced that Audrey was pregnant on July 1. Their posts included Ember and the parents posed with ultrasound photos.
Jeremy wrote: 
"We've got some exciting news: Ember Jean is going to be a big sister! We're very excited to grow our family. Thanks for following our journey and for your continual [sic] support of our family."
Jeremy and Audrey left TLC's "Little People, Big World," after featuring for 14 years and 17 seasons. Last July, Jeremy revealed the news of their departure via an Instagram post.