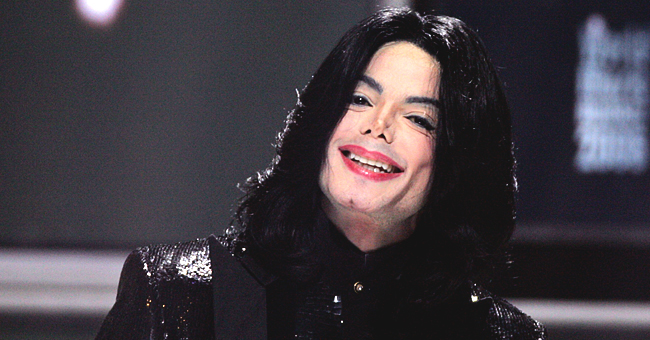 Getty Images.
Michael Jackson's Two Wives and Three Children: Meet Them All
In search of love and acceptance, Michael Jackson got married twice before his death in 2009. Even though the respective marriages couldn't be more different, the King of Pop's three children had all grown up and found their places in the world.
LISA MARIE PRESLEY
Michael Jackson and Lisa Marie Presley's history dates back to 1974, when Michael as part of The Jackson Five, performed at the MGM Grand Hotel in Las Vegas.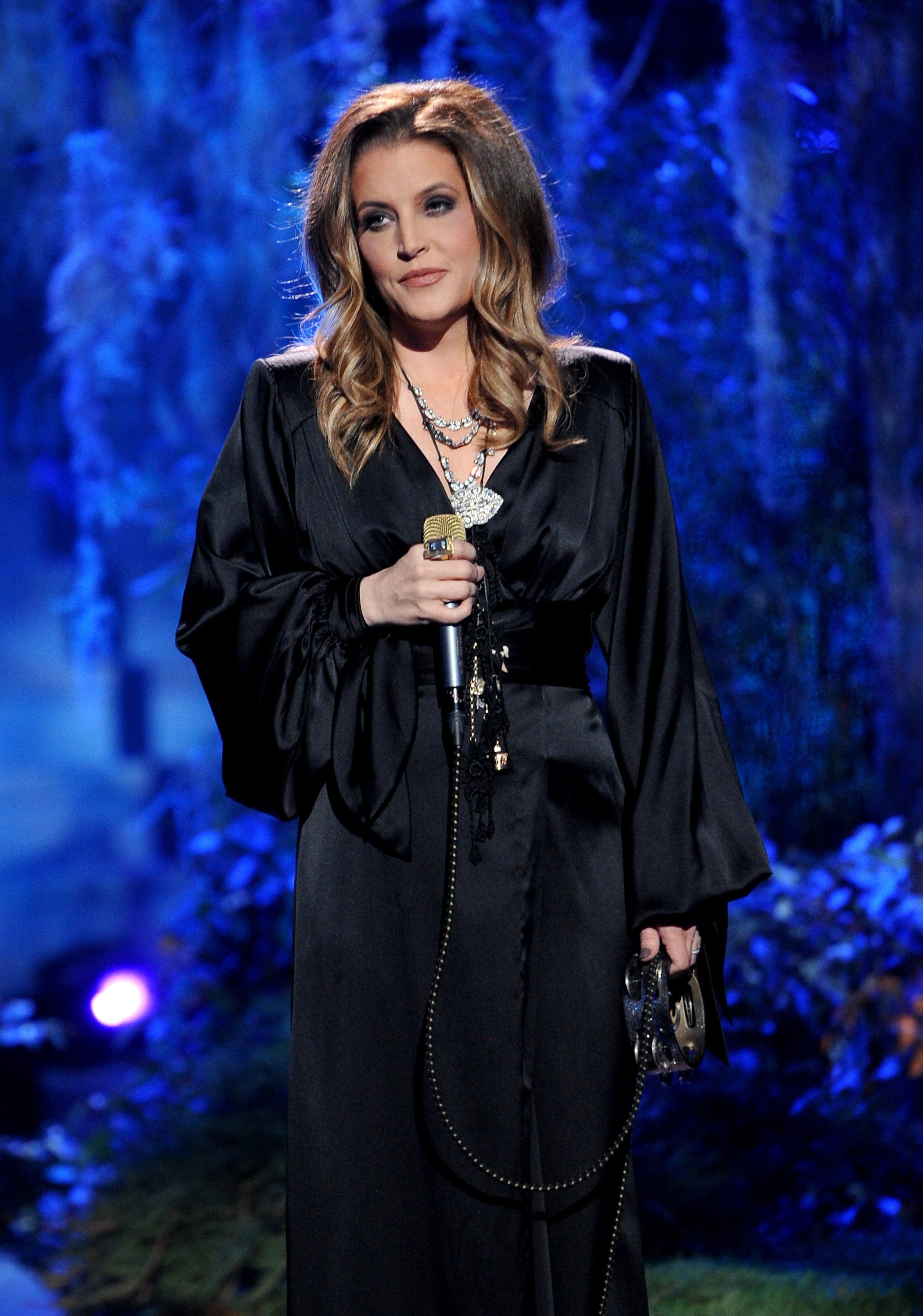 Lisa Marie Presley performs during a pre-tape onstage at FOX's American Idol Season 11 Top 3 To 2 Live Elimination Show on May 17, 2012, in Hollywood, California. | Source: Getty Images.
Lisa's father, Elvis, took her to see the shows, and because of her father's fame, she got a backstage pass to meet the famed singing family.
"Elvis would bring his daughter, Lisa Marie. She would sit right in the front, and bodyguards would be right there. Afterward, she would be escorted backstage, and I would meet her, and we would talk. This happened quite often," Michael told Ebony during an interview in 1994.
After The Jackson Five wrapped up their performances in Las Vegas, he and Lisa Marie became "like ships passing in the night," and Lisa Marie later married the musician Danny Keough in 1988.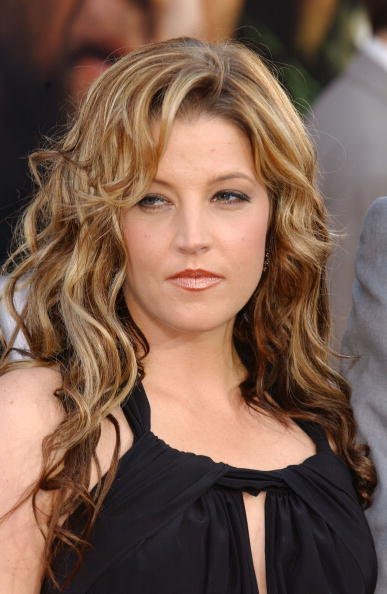 Lisa Marie Presley, the daughter of Elvis and Priscilla Presley, attends the Los Angeles premiere of 'Windtalkers' at Grauman's Chinese Theatre, Hollywood, California, June 11, 2002. | Source: Getty Images.
However, everything changed three years later when Michael started working on his "Dangerous" album. "We sort of went out together. Then we would talk on the phone, and I noticed that we had come closer," Michael said.
Under a veil of secrecy, Lisa Marie accompanied Michael to Las Vegas in 1993 for The Jackson Family Honors and again to Atlanta where they met with former President Carter to visit children. "The brilliant thing about us is that we were often together but did not let anybody know about it," Michael added.
Their relationship turned from friends into romance during a tough time for Michael. Accusations of child molestation surfaced for the first time leaving the singer in need of emotional support, which Lisa Marie gave without question.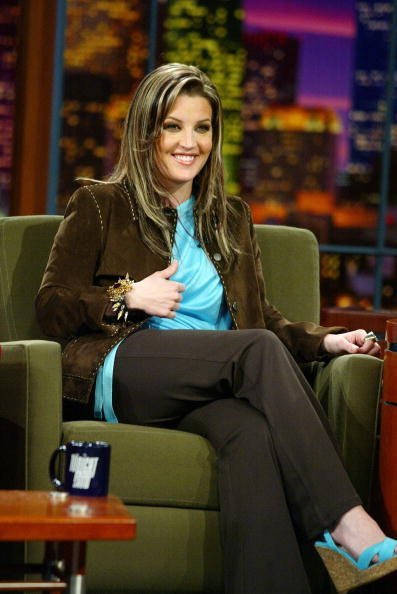 Lisa Marie Presley appears on "The Tonight Show with Jay Leno" at the NBC Studios on May 1, 2003, in Burbank, California. | Source: Getty Images.
When Michael received treatment in London for his addiction to pain medication shortly after, Lisa Marie's concern for his welfare made the singer realize "The Girl Is Mine." Because the King of Pop referred to himself as the "shyest person in the world," he proposed to Lisa Marie over the phone.
Lisa Marie than divorced from Danny Keough followed by an announcement that shocked the world. "My name is Mrs. Lisa Marie Presley-Jackson. My marriage to Michael Jackson took place in a private ceremony outside the United States on May 26," Lisa Marie said.
The couple had a private wedding ceremony in the Dominican Republic and briefly honeymooned in Budapest, Hungary, where Michael produced a promotional music video for his album, "History."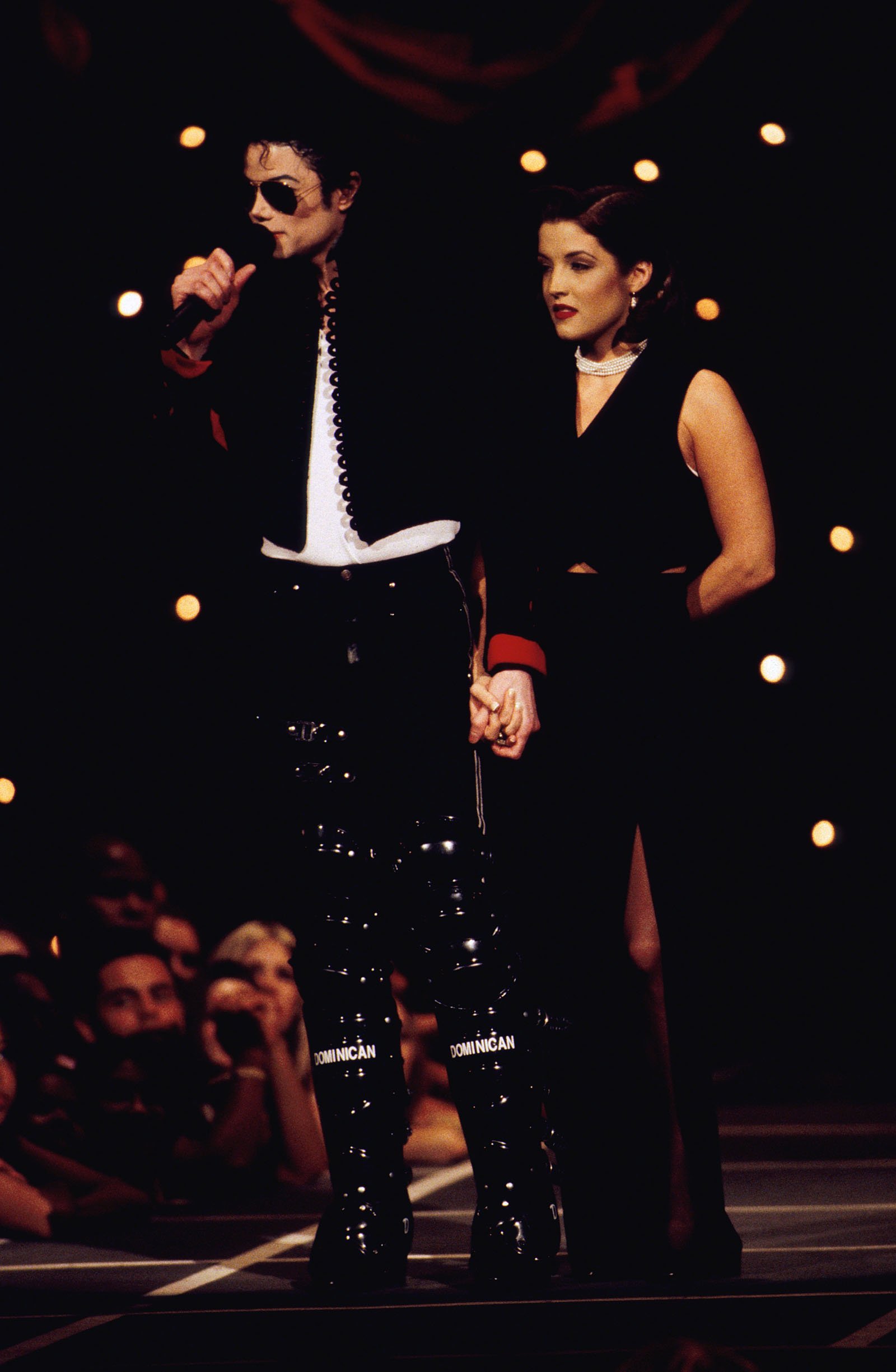 Michael Jackson and Lisa Marie Presley at the 1994 MTV Video Music Awards in Los Angeles, CA on September 8, 1994. | Source: Getty Images.
News of the couple's separation broke on December 10, 1995, only four days after Michael collapsed on stage while rehearsing for a television special in New York. A month later, Lisa Marie filed for divorce, citing irreconcilable differences.
While Lisa Marie told Diane Sawyer that they often had sex, Michael's second wife, Debbie Rowe claimed that they never had sex and that Michael made her feel like "racehorse being inseminated."
DEBBIE ROWE
Michael and Debbie got married three months after his divorce from Lisa Marie on November 13, 1996, at the Sheraton on the Park Hotel in Sydney, Australia, while on tour for his "History" album.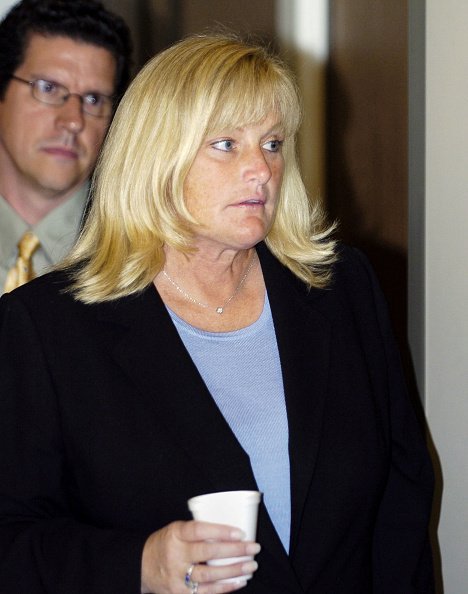 Debbie Rowe, Michael Jackson's ex-wife and mother of two of his children, steps from the courtroom during Jackson's child molestation trial at the Santa Barbara County courthouse April 28, 2005, in Santa Maria, California. | Source: Getty Images.
Debbie worked as a nurse for the skin specialist, Dr. Arnold Klein at his dermatology clinic when she met the singer. With Lisa Marie out of the picture, Michael felt lonely and wanted to have children of his own. "I offered him my womb — it was a gift. It was something I did to keep him happy," Debbie told The Sun.
Rather than conceiving children the old fashioned way, Debbie claimed that their children, Prince Michael Jnr and Paris came from artificially inseminating her with sperm.
"They impregnated me. It's just like I impregnate my mares for breeding. It was very technical. Just like I stick the sperm up my horse, this is what they did to me. I was his thoroughbred," Debby added.
Born as Prince Michael II, and known as Blanket, the King of Pop's third child came into the world via a surrogate, who has never been named.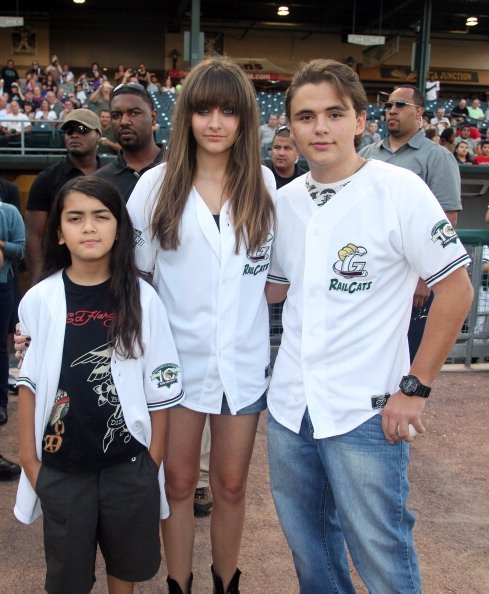 Prince Michael Jackson II, Paris Jackson and Prince Jackson attend the St. Paul Saints Vs. The Gary SouthShore RailCats baseball game at U.S. Steel Yard on August 30, 2012, in Gary, Indiana. | Source: Getty Images.
However, three years after Michael and Debbie tied the knot, they divorced. Since then, questions about the paternity of Michael's three children got questioned because both Paris and Prince Michael Jnr are fair-haired, light-skinned, and have blue eyes.
PARIS JACKSON
Eleven years old when Michael died, Paris got home-schooled at the time and had trouble adjusting to life when she agreed to attend a private school in the seventh grade.
"I was doing a lot of things that 13-, 14-, 15-year-olds shouldn't do. I tried to grow up too fast, and I wasn't really that nice of a person," Paris told Rolling Stone in 2017.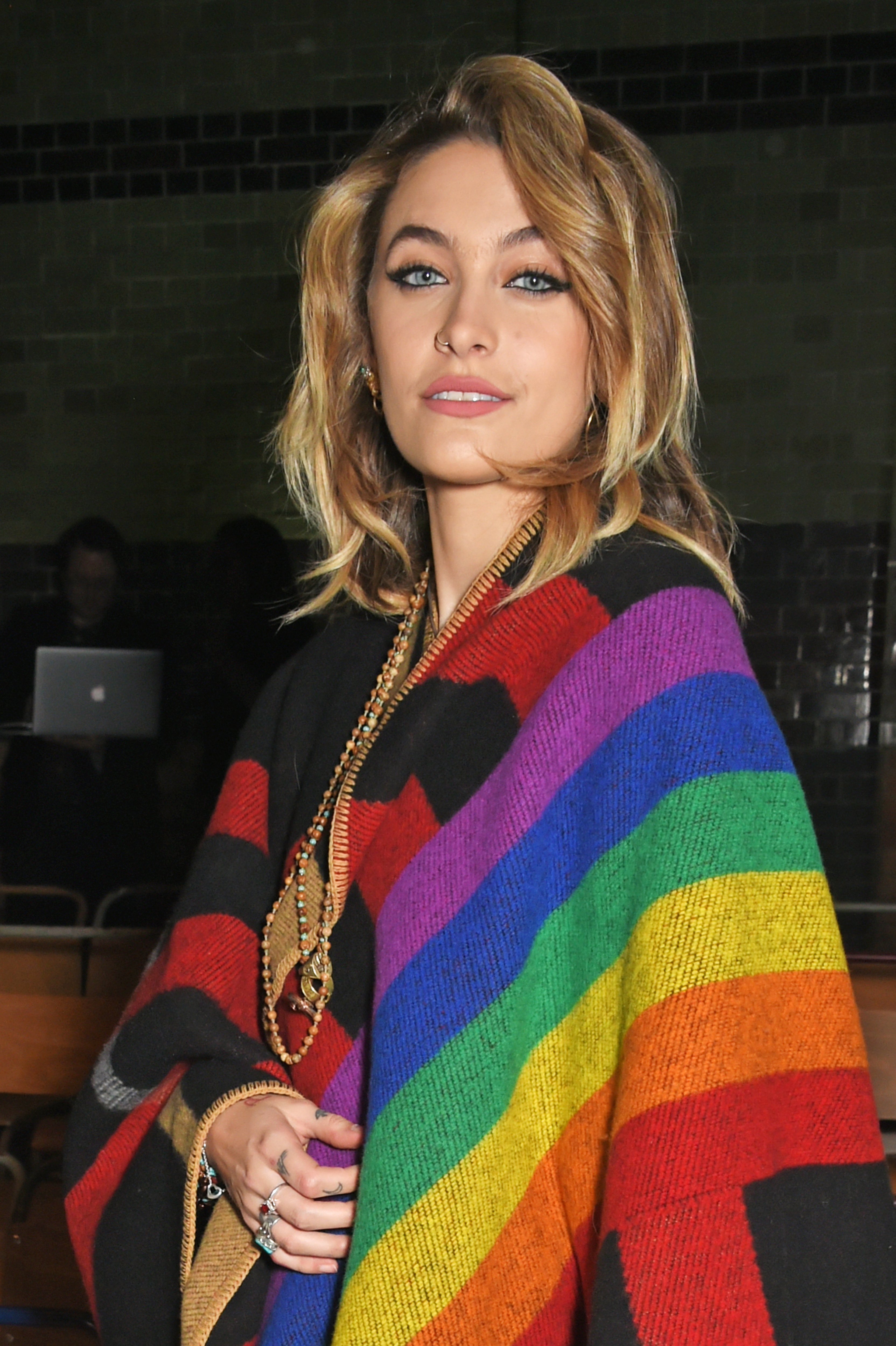 Paris Jackson wearing Burberry at the Burberry February 2018 show during London Fashion Week at Dimco Buildings on February 17, 2018, in London, England. | Source: Getty Images.
Struggling to fit in, Paris became depressed and addicted to drugs, which led to Paris cutting herself and numerous suicide attempts.
"It was just self-hatred," she said, "low self-esteem, thinking that I couldn't do anything right, not thinking I was worthy of living anymore."
When Paris got sent to a therapeutic school in Utah after a suicide attempt in her sophomore year, her life turned around as she dealt with issues of self-worth and addiction.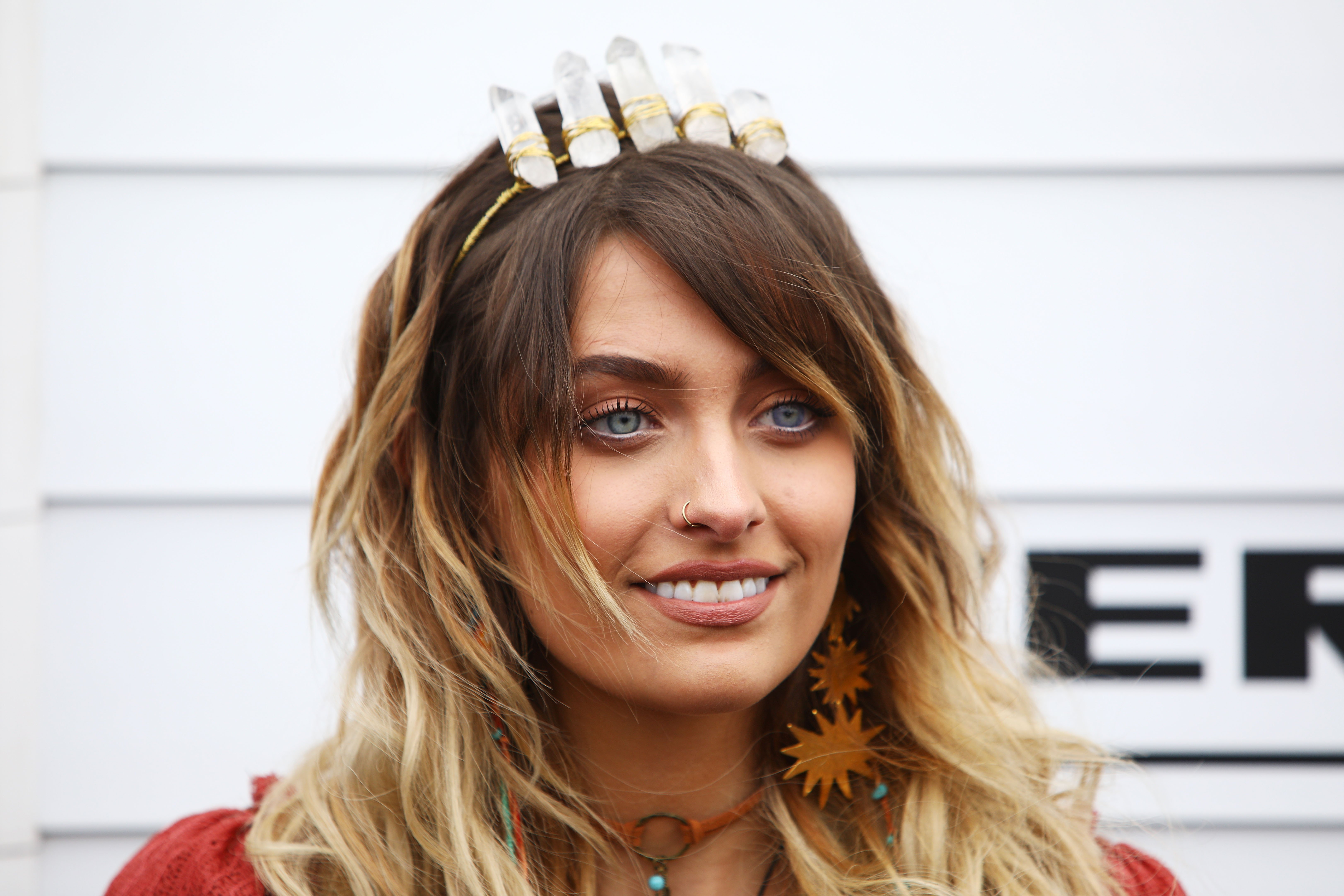 Paris Jackson poses at the Myer Marquee on Emirates Melbourne Cup Day at Flemington Racecourse on November 7, 2017, in Melbourne, Australia. | Source: Getty Images.
After graduating high school a year early, Paris attended the community college but soon dropped out. Despite being an heir to Michael Jackson's fortune worth over $1 billion, Paris wanted to follow her passion and earn her own money. Since then, Paris became an actress and model while she also focuses on her love for music.
As part of the folk-rock duo, The Soundflowers, with her boyfriend Gabriel Glenn their group attracted interest from numerous record companies.
"Paris is really focused on her music, and it's given her a lot of comfort. She and Gabriel have grown their following, and a handful of big labels have shown interest in offering them a deal, including Universal," a source told The Sun in 2019.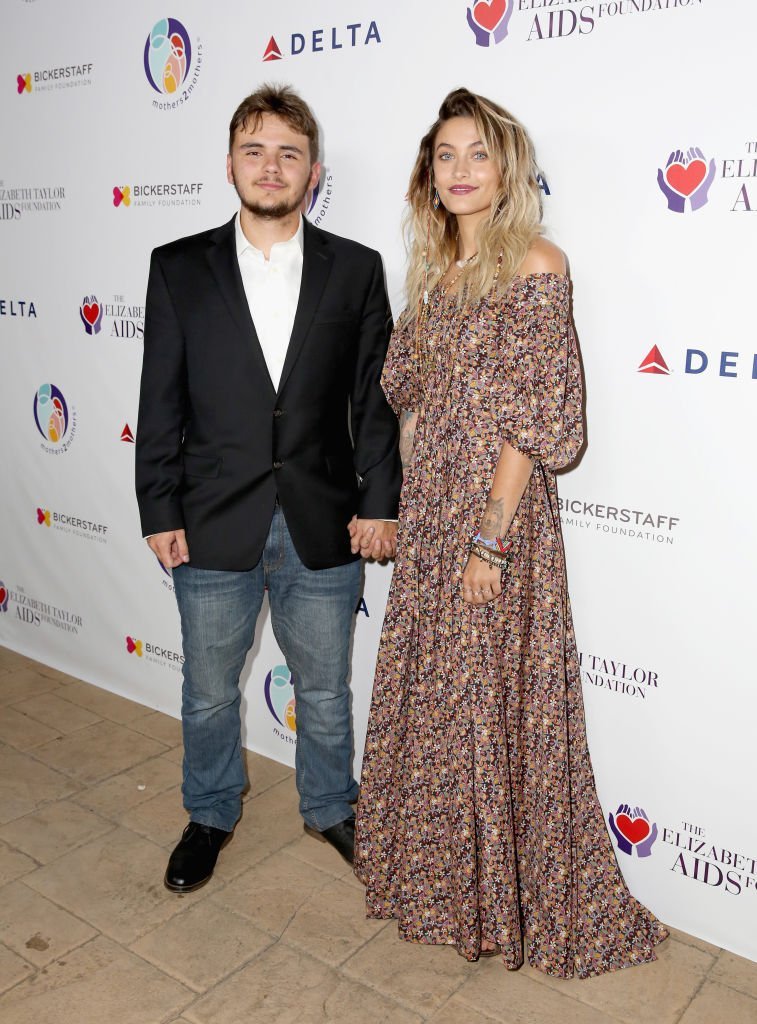 Prince Jackson (L) and Paris Jackson attend The Elizabeth Taylor AIDS Foundation and mothers2mothers dinner at Ron Burkle's Green Acres Estate on October 24, 2017, in Beverly Hills, California. | Source: Getty Images.
BLANKET JACKSON
The only time Blanket made headlines, came back in 2002 when Michael Jackson famously dangled the 9-months-old over the edge of a Berlin hotel balcony.
Seven years old when Michael died on June 25, 2009, Blanket got raised by his grandmother, Katherine Jackson, along with his siblings.
Under the guardianship of his cousin T.J. Jackson, Blanket attended a private school in Los Angeles while he stayed out of the public eye.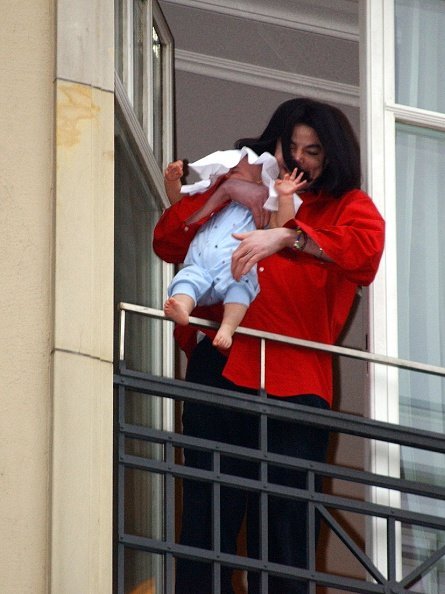 Michael Jackson holds his son eight-month-old son Prince Michael II over the balcony of the Adlon Hotel November 19, 2002, in Berlin, Germany. | Source: Getty Images.
According to a friend who spoke with PEOPLE, Blanket "had the most problems adjusting after Michael died," and consequently changed his name to Bigi Jackson in 2015.
In May 2019, Blanket made a rare public appearance alongside his brother, Prince when they attended the screening of "Avengers: Endgame."
"Blanket looks up to Prince so much. Prince has really taken his brother under his wing and is his main role model," the family insider told HollywoodLife. "Prince really protects his brother as they have a really close bond. They go through life as a team."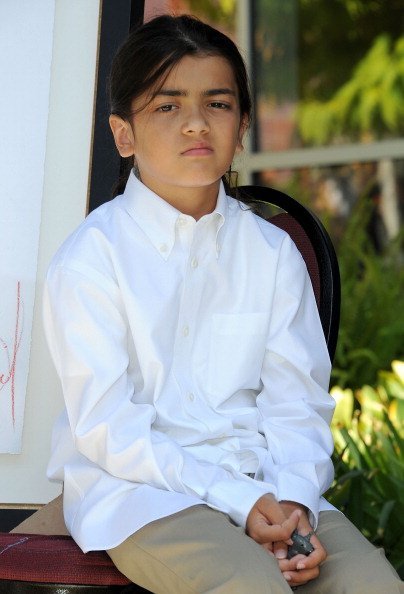 Blanket Jackson attends Children's Hospital Los Angeles Receives Michael Jackson Artwork Donation ceremony on August 8, 2011, in Los Angeles, California. | Source: Getty Images.
Later on in the month, Blanket made another appearance in public in support of Prince, who graduated from Loyola Marymount University in Los Angeles with a business degree.
PRINCE JACKSON
As the oldest of Michael's children, Prince credited his father's influence for his pursuit of a career in the talent industry. "I'm looking to become well-rounded as a producer, director, screenwriter, and actor. That was all thanks to my dad. He raised me right," Prince said.
Prince's first position in the industry came along in 2013 when he became a special correspondent for Entertainment Tonight and started the charitable foundation Heal LA in honor of his father. Inspired by his father's song "Heal the World," the foundation focuses on child abuse, hunger, and homelessness.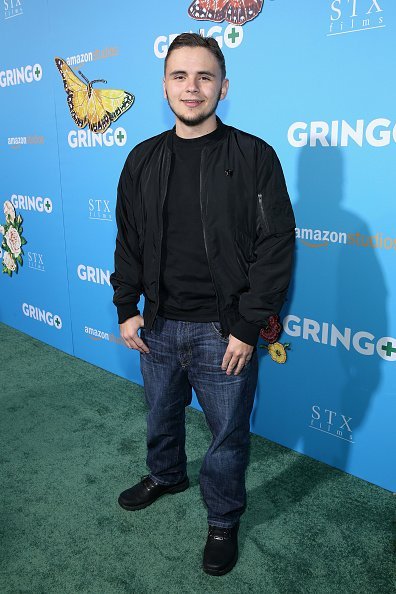 Prince Jackson attends the world premiere of 'Gringo' from Amazon Studios and STX Films at Regal LA Live Stadium 14 on March 6, 2018, in Los Angeles, California. | Source: Getty Images.
Apart from his charitable work, Prince also runs the production company, King's Son Productions, while he prefers to lead a normal life.
"Prince usually goes by his given name Michael, or even Mike sometimes, and he lives a very low key life on the Westside of Los Angeles," a source told HollywoodLife. "If you met him, and didn't know who he was, you would never in a million years guess that he was this rich celebrity kid. He's so down to earth; he doesn't wear fancy clothes or flash his money around."
Similarly, Prince doesn't flash his girlfriend around either. In 2018, after the couple celebrated their first anniversary with a trip to Carmel and San Francisco, Prince shared a rare and sweet picture of them smiling for the camera.
Please fill in your e-mail so we can share with you our top stories!