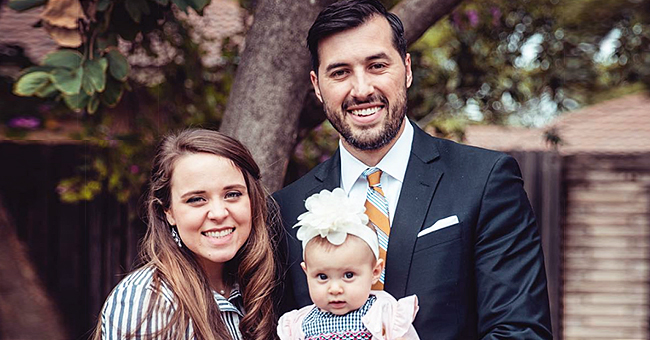 instagram.com/jeremy_vuolo
Jinger Duggar & Jeremy Vuolo Parent-Shamed after Posting Pics of Their Daughter Eating Ribs

When "Counting On" stars, Jeremy Vuolo and his wife Jinger posted a picture of their daughter, Felicity munching on ribs, they would hardly have expected the image to elicit a considerable uproar. The "vegan police" came after the couple for what they considered to be animal abuse.
Jinger Duggar and Jeremy Vuolo became the latest celebrity couple to be parent-shamed in the harsh world of social media following a picture that showed their one-year-old daughter, Felicity eating ribs.
The picture sparked reactions from a few animal rights enthusiasts who believed it was not good for the couple to post such a picture.
JEREMY SHARES HIS DAUGHTER'S PICTURE ON INSTAGRAM
Jeremy Vuolo shared a picture of his cute daughter, Felicity chopping hard on a delicious-looking rib, and another one in which she seemed to be enjoying the ribs, as she licked her lips. In his caption to the post, Jeremy wrote: "*baby face*+ @ribsagainstthemachine = felicity," mentioning the restaurant where the delicious ribs were gotten from.
The post looked harmless at first view, as it only seemed to show a one-year-old baby enjoying a rib snack from a lovely restaurant, but the comment section proved otherwise.
THE "VEGAN POLICE" TAKES OFFENCE
Comments from fans and Instagram users who viewed the post showed that a host of them considered the post to be offensive and abusive toward the rights of animals.
A user who commented with the handle @gravensbabies asked Jeremy and Jinger if they would teach their daughter to be kind to animals.
Another user, @Kimberly1964 was philosophical with her comment as she asked the couple to think about the animal that was badly beaten in the face, then shot, so that they could post a picture of their daughter on Instagram eating ribs.
Many more "vegan police" comments followed, but supporters of the couple jumped to their defense, as they questioned the reasoning behind the backlash. A supporter wrote,
"Here we go with the Vegan Police!!!"
Pointing to the fact that it was only them that could see the harm in such a picture.
Other comments shut down the critics asking them to mind their business and let the couple raise their child the way they want.
ANNA DUGGAR ALSO FACED BACKLASH
Jinger and Jeremy are not the only members of the Duggar clan to face backlash on social media, as Anna Duggar received similar treatment when she posted a picture of her son, Marcus holding a fish.
Her comment section was filled with some comments criticizing the way Marcus held the fish, but she shut the criticism down, as she explained what transpired in the picture.
While Anna shut down her critics, Jeremy and Jinger are yet to respond to theirs, and it looks unlikely that they will.
Please fill in your e-mail so we can share with you our top stories!