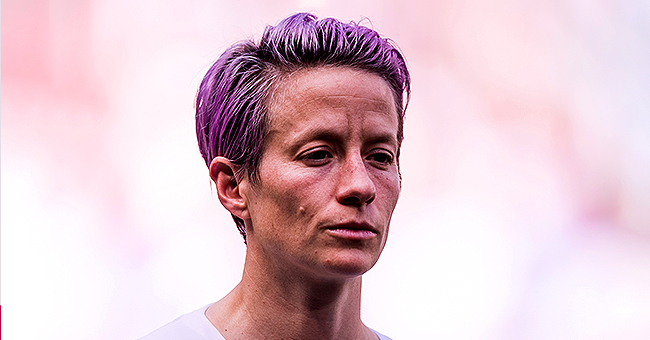 Getty Images
Megan Rapinoe Unveils How She Copes with Her Parents Watching Fox News 'Doing Takedowns' of Her

The renowned soccer player dishes on how she copes with her parents watching the crew of Fox News tear apart her name.
Living in the spotlight sure has its disadvantages, and soccer player Megan Rapinoe knows a lot about that.
During a sit down with The Guardian, the 34-year-old winger dished about how she handles her parents watching Fox News doing takedowns of her.
Talking about how similar she is to her parents even though have different views when it comes to politics, Rapinoe said:
"I'm very similar to how they are, even though I think my dad voted for Trump and I'll say: 'I don't get it. How are you simultaneously as proud as punch of me, and watching Fox News all the time, [who are doing] takedowns of your daughter?' That's why I'm like: 'You guys need to go to therapy.'"
Megan has been a victim of numerous attacks from the news agency after she spoke out against President Trump's administration and called for the U.S. Soccer Federation to pay the women's national team the same as its male counterparts.
During the 2019 FIFA Women's World Cup tournament, Megan stated that she would not visit the White House if invited by Trump and that led to an online clash between her and the president.
Megan, however, does not deny that the differences in political views sometimes cause major blowups in her family. Regardless, nothing is strong enough to stop her family from being tightly knit.
FACTS ABOUT THE PHENOMENAL MEGAN RAPINOE
Megan might have gained popularity for her impressive soccer skills, but she is much more than that. Here are some interesting facts about Megan
She has been dating WNBA star Sue Bird for more than two years.
Megan was the first openly gay woman to appear in Sports Illustrated's swimsuit edition.
She has a fraternal twin named Rachel.
She helped her elder brother break free from the chains of drug addiction. He was also the one who inspired her to play soccer.
There is no doubt that Megan shares a special bond with her family, and a difference in opinion isn't strong enough to break that connection.
Please fill in your e-mail so we can share with you our top stories!