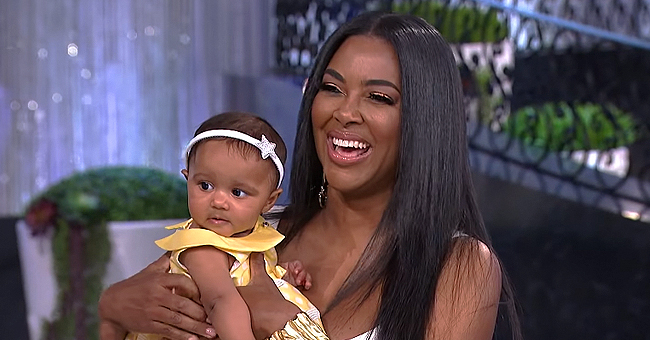 YouTube/The Real Daytime
Kenya Moore Sparks Debate after Sharing Photo of Baby Brooklyn Wearing a Baby Safety Helmet
New photo of baby Brooklyn Daly sparks heated debate among Kenya Moore's fans,
Kenya Moore shared yet another adorable photo on Instagram of her beautiful little baby girl, and it started a heated debate among her followers.
Kenya and her baby have a bevy of followers who comment and opine on every move the new mom makes, and this time opinions are steeply divided.
"I'm having a great time in Detroit with my family. What's in my head? Well you have to ask my mommy. Since I'm crawling like crazy she doesn't want me to hurt my head. I think it looks cute! As you can see I'm smiling. ?? #babybrooklyn#miraclebaby" Kenya Moore
THE PHOTO THAT STARTED IT ALL
The photo that started all the hoohaa shows little Brooklýn in a pale pink two-piece, sporting a wide smile, apparently seated on the floor playing with what looks like balls of twine.
What created the controversy is that she is also wearing a colorful bright pink baby safety helmet. Some thought the measure very sensible, of Mom Kenya while others disagreed in no uncertain terms.
Kenya explains it all in the caption of the photo, revealing that she is visiting family in Detroit and wants Brooklyn to be safe
AND THE COMMENTS FLOOD IN
Many of the comments were not in favor of Kenya's choice to put a baby safety helmet on her child and deemed it unnecessary.
"The baby is not blind she can see where's she going.., im quite sure she's not going to purposely run into the wall.... my goodness!!"
"Really ?? Is that what the what that amazing head gear is for ?
"I think its heavy and hot. She'll be fine girl. I raised 5 and they all be good. Lol lol plz let her enjoy the natural. Don't be scared."
FANS RUSH TO THE RESCUE
But for every detractor of Kenya's choice to put a baby safety helmet on Brooklyn, there were several more praising the reality star for her care and foresight and leaping to her defense.
"Kenya is not only Beautiful but very Smart.thats HER baby and her safety is paramount and most important.Noone has the right to judge her parenting methods. I think it's an awesome idea so babybrooklyn won't her herself.#Teamtwirl#TeamtheBrooklyndaly"
"Cute cute cute❤️it actually looks like a bonnet?better safe than sorry??good looking out terrific mom??"
"Even if this was her 100th child and she chooses to put this on her, what's your problem? Yes you! Stop hating so bad. What can be so wrong about safety measures for a baby? Some of y'all just too negative ??‍♀️. In other news Ms. Brooklyn is just full of joy ❤️"
BROOKLYN IS VISITING FAMILY IN DETROIT
The presence of the safety helmet might have startled some, since Brooklyn has started crawling a few weeks ago, but has never been seen wearing one before.
But Kenya explains it all in the caption of the photo, revealing that she is visiting family in Detroit and wants Brooklyn to be safe while happily crawling around a house she doesn't know as well as her own, And that makes a lot of sense.
Kenya and husband, Marc Daly, welcomed their baby Brooklyn in November 2018, and the baby was born via an emergency C-section.
Even though there were some life-threatening complications, mother and daughter pulled through, and are now the picture of health.
BROOKLYN DALY'S BIG MILESTONE
Kenya Moore shared an adorable video clip that shows that her adorable baby girl Brooklyn Daly has just reached a double milestone.
Brooklyn didn't just turn 8 months old, she has also joined the ambulatory world, and learned to crawl.
The video shows Brooklyn eagerly crawling to reach a disc printed with a big number 8.
"Show me the crawl, baby. Say 'I'm crawling now. I'm a crawling machine,'" Kenya says off-camera.
Fans loved the new video and sent in hundreds of adoring messages of congratulations to mother and daughter.
Please fill in your e-mail so we can share with you our top stories!