Jamie Foxx Spotted Leaving LA Club with Mystery Woman Who Turned out to Be Singer Sela Vave
Jamie Foxx recently raised eyebrows after getting spotted out late with a mystery woman. The lady has since been identified as singer Sela Vave, and despite her relationship with Foxx, his alleged girlfriend Katie Holmes doesn't seem to be bothered.
According to Entertainment Tonight, Foxx, 51, and Vave were together early Saturday at Bootsy Bellows nightclub in West Hollywood, L.A.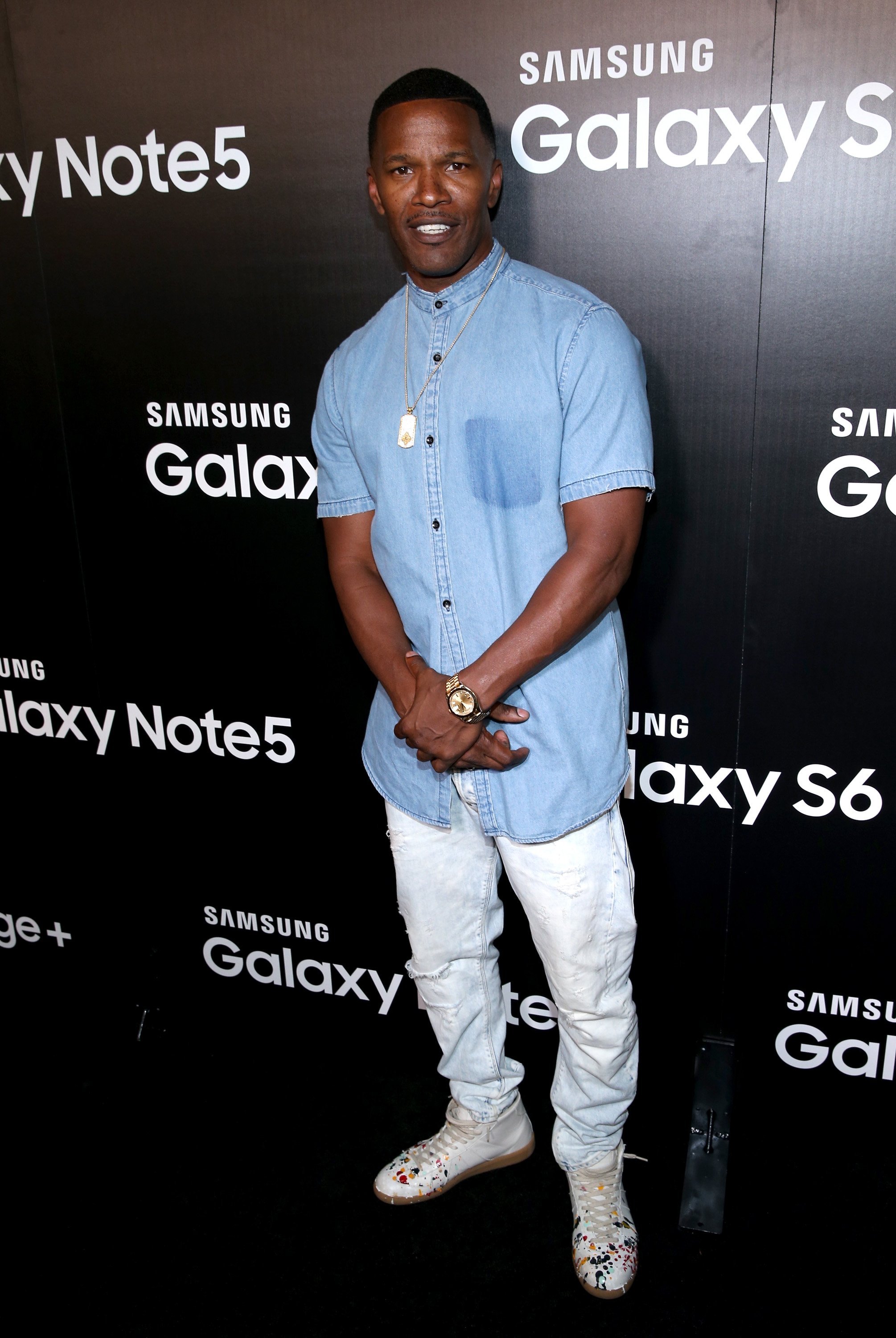 The pair was reportedly at the popular celebrity spot for Lil Pump's 19th birthday and left together in the actor/singer/music producer's car. Witnesses told the outlet they left the club holding hands around 2 am and headed for Foxx's white Lamborghini SUV where Vave sat in the front passenger seat.
Foxx looked casual in a white Balenciaga hoodie, skinny black jeans, white sneakers, and a baseball cap. Vave, meanwhile, was ready to party in a barely-there champagne metallic dress that showcased slender legs and a generous amount of cleavage.
NEW DETAILS ABOUT THE NEW GIRL
Photos of Foxx and Vave initially sparked romance rumors and speculation about the "Baby Driver" star's relationship status with reported girlfriend Holmes.
Since Vave's identity was uncovered, however, it has become clear that there's most likely no cause for alarm. Per TMZ, Vave is a budding singer and model who Foxx has been mentoring since sometime this year. Daily Mail echoed the same thing, quoting a source that said: "She's just a girl he's helping out, a young singer."
Jamie Foxx with Beautiful Mystery Woman Amid Katie Holmes Breakup Rumors https://t.co/nmOUNkkJgN

— TMZ (@TMZ) August 18, 2019
GRATEFUL FOR JAMIE
A look at Vave's Instagram page shows that she's been hanging out with Foxx since at least June of this year when she shared three black-and-white images with him.
The caption read: "I am so grateful to this man! Thank you so much @iamjamiefoxx for everything you do and for believing in me. #feelingblessed"
JAMIE BRAGS ABOUT THE NEW GIRL
Vave also joined the Grammy winner and other friends for a Disneyland trip in July, the same month he reportedly raved on about her talent in a radio interview.
"Next thing I know she's sitting on my stairs with an acoustic guitar singing a broken-down version of Beyoncé. I film and you know what was crazy? She wasn't trying to be Fantasia, Whitney Houston, she was quiet. And I said, 'You know how hard it is to play a guitar and be quiet and not try to American Idol you?'"
CAREFREE KATIE
Meanwhile, a day after her rumored longtime beau was spotted with another woman, Foxx's alleged girlfriend Holmes looked carefree and happy as she walked the streets of New York, TMZ reported.
Foxx and Holmes, 40, have reportedly been dating since 2013, a year after her divorce from actor Tom Cruise.
While the reported couple has remained notoriously private about any existing romance, they did spend last December together on a Miami getaway and in May, shocked everyone by posing together at the Met Gala.