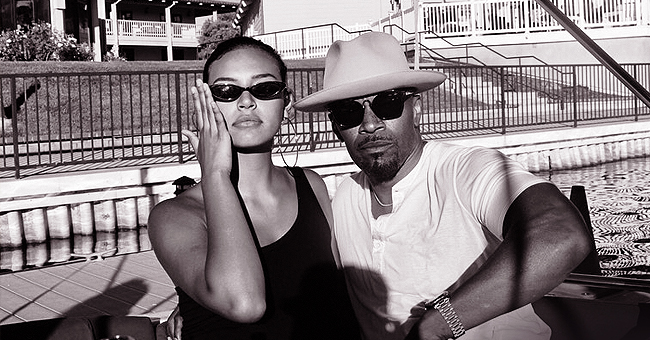 Instagram/selavave
Meet Sela Vave, the Singer Spotted with Jamie Foxx Right before Reports of Katie Holmes Breakup
It's official: The long and very discreet relationship between Jamie Foxx and Katie Holmes is over and he's been seen with mystery woman Sela Vave.
Not long after the end of the romance between the Acadamy Award winner and the ex-Mrs. Tom Cruise was announced, Jamie Foxx was seen out and about with young hopeful Sela Vave.
In fact, Foxx is said to be mending his broken heart with Sela, whose hand he was seen holding after a dinner out at Bootsy Bellows nightclub in Los Angeles.
WHO IS SELA VEVA?
So who is Sela Veva, the girl who has suddenly appeared in Foxx's life and unceremoniously ousted Katie Holmes?
An unidentified source close to the actor described Sela as "just a girl he's helping out, a young singer." But does the relationship go further than a mere mentorship?
Katie Holmes and Jamie Foxx have been romantically linked since 2013
JUST A TALENTED FRIEND?
The truth is that the young singer is smoking hot, and the and Foxx were seen walking hand in hand as they exited the Hollywood hot spot, where Lil Pump's 19th birthday celebration was being held.
Foxx was wearing a white Balenciaga hoodie, and black jeans and Sela wore a skin-tight gold dress.
JAMIE FOXX IS AN ADMIRER OF SELA VEVA'S TALENT
Foxx, who has been using his considerable clout to make sure she meets the right people in the right places is a huge admirer of Sela's talent as a singer and as a guitar player.
"When I meet her, next thing you know, I come out she's sitting on my stairs with an acoustic guitar singing a broke down version of Beyoncé," Foxx said. "She wasn't trying to be Fantasia [Barrino] or Whitney Houston. You know how hard it is to play the guitar and be quiet?" Foxx said.
BEAUTY AND TALENT COMBINED
But Veva is also a successful model in her own right and was featured in a Kylie Jenner's Kylie Cosmetics lip kit campaign in which she wore the lip shade ginger.
Sela herself has thanked Foxx for all that he has done to help she forward her career and posted a series of photos of herself with the actor captioned,
"I am so grateful to this man! Thank you so much @IamJamieFoxx for everything you do and for believing in me."
Whether or not the relationship between the two goes beyond mentor and protegé remains to be seen.
THE END OF THE "SECRET" ROMANCE BETWEEN KATIE HOLMES AND JAMIE FOXX
Katie Holmes and Jamie Foxx have been romantically linked since 2013, though the couple kept their relationship ultradiscreet.
The first time they "came out" as a couple was at the 2019 Met Gala, and shortly after that, the relationship ended. as discreetly as it had begun.
An eyewitness who was at La Esquina restaurant reported that they had overheard Holmes telling a friend:
"What Jamie does is his business — we haven't been together for months."
We hope they both find the happiness they deserve, and it has been rumored that Holmes was seen flirting with a handsome Hollywood leading man...
Please fill in your e-mail so we can share with you our top stories!