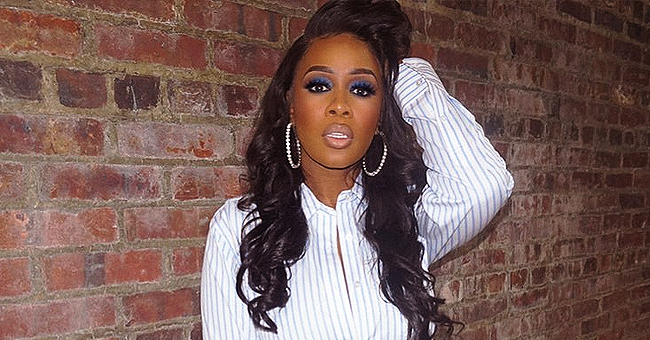 Instagram/remyma
Remy Ma's Daughter Is a Mini-Fashionista in Sunglasses and Cute Yellow Headband
Remy Ma's daughter, Reminisce is a little ray of sunshine in her latest photo. The dress, the headband, and the pair of shades she pulls off make for one fashionable baby of rap.
It's been seven months since Reminisce delighted her parents, rappers Remy and Papoose with her arrival.
Being their first child together after over a decade of waiting, she was the "best Christmas present" according to her mother who gave birth to her on December 14.
Since Reminisce's arrival, Remy has been offering us doses of cuteness through photos of her little fashionista who totally rocks the headband and sunglasses vibe.
At six months old, she made waves wearing a blue headband with a giant bow on her forehead and a pair of aviator sunglasses while sitting cozily in her stroller.
For the 4th of July celebrations, red-white-and-blue never looked so chic on a baby. She was wearing an American flag-inspired onesie with a denim jacket and an adorable flower headband with the country's colors.
If that's not cool enough, she capped the look with red rimmed-sunglasses.
But a few days ago, Reminisce flaunted her cutest look yet. "My heart just exploded," said one fan of Remy who no doubt delighted in the baby's latest styling.
The mid-shot of the little girl showed her wearing a sunny yellow checkered dress but again, it was the headband and her shades that made all the difference.
Her headband resembled a turban with a top knot in front giving us serious genie vibes and her round sunglasses which covered most of her face left enough to for us to see her cute cheeks.
Reminisce smiled for the camera like a seasoned model relaxed in the arms of her mother. They appeared to be inside a baby store. Shopping for more headbands and sunglasses, no doubt.
As the daughter of rap artists, we expect that Reminisce will soon be mingling with other rap children. In fact, it's not an impossibility that the 7-month-old would soon be on a playdate with Cardi B's daughter, Kulture.
Remy told US Magazine last month that she foresees the two babies who are just months apart (Kulture is one) hanging out in the future. We are certainly all for that double dose of cuteness.
Please fill in your e-mail so we can share with you our top stories!