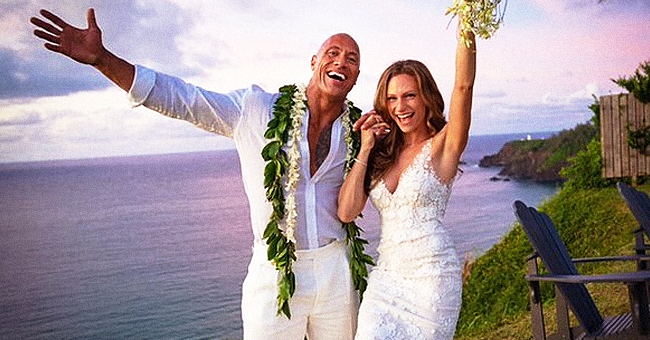 Instagram/therock
Love, Children, Wedding: Inside Dwayne Johnson's Relationship with Wife Lauren Hashian

Dwayne "The Rock" Johnson has officially married his longtime girlfriend in an intimate ceremony in Hawaii. Let's take a look at their beautiful love story, their children, and their wedding.
Dwayne "The Rock" Johnson and Lauren Hashian are officially married! The 47-year-old actor revealed on Instagram that they have tied the knot in a simple ceremony in Hawaii.
Johnson and Hashian, 34, met in 2006 while he was filming "The Game Plan." They began dating in 2007, and share two children together, Jasmine, 3, and Tiana, 16 months.
On Finding Love Again
After getting a divorce from his first wife Danny Garcia, with whom he shares Simone, the Hollywood star revealed that he feels lucky to find love again.
"I was so fortunate to have fallen in love once. To fall in love again? That's a hard thing to do twice in the position I'm in. I'm one lucky son of a [expletive]."
Although Johnson isn't vocal about his relationship, she shares that they've been living together for almost a decade now, and their wedding just legalizes the fact that they're now a family.
Welcoming his Second Child
In 2015, they welcomed their first daughter right before Christmas, naming her Jasmine.
"Christmas came early! Within minutes of being born she was laying on daddy's chest. And being a grateful man takes on a whole new meaning. I was right there during labor, helping her breathe, every highly intense contraction, every second of pain, right there watching the actual birth, cutting the cord and wiping the tears. Incredible"
On Keeping Their Relationship Strong
As for how Lauren and Dwayne have kept their relationship strong, he said:
"First of all, she teases me about everything. Everything. Nothing is off limits in our house. And it's the beauty of it. And I tease her with everything."
He adds that becoming a mother transformed his then-girlfriend that it amazed him, adding that it was important to support them in any way possible.
"Watching Lauren be a mom has been one of the most enlightening things I've ever seen. You see as a man, you see your lady, your partner, your woman, your one, you see them in a certain light and then when they become Mom, it's a whole other perspective that if you open your eyes wide enough, it's like a kaleidoscope. You click it a couple of times and it just changes everything," he shared.
Continuing their Plans
As for why they only got married now, Dwayne reveals they were planning a wedding until they found out they were pregnant with their second child. They ended up postponing it, as Lauren didn't want to be pregnant while getting married.
"Mama don't wanna take wedding pictures with a big belly – Mama wanna look good."
Now, it was finally time for them to celebrate their love.
Congratulations to the newlyweds!
Please fill in your e-mail so we can share with you our top stories!