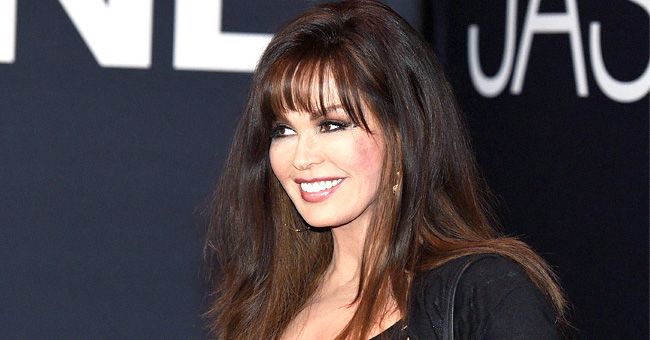 Getty Images
Marie Osmond Shares Photo of Daughter Rachael Krueger and Family on Her 30th Birthday

Osmond, 59, encouraged her daughter Rachael Krueger to do like her and stay "29 forever" as the mother of two celebrated her 30th birthday on Tuesday.
Marie Osmond celebrated her first daughter Rachael Krueger's 30th birthday by posting a sweet picture of the birthday girl's family to social media. "Happy Birthday to my beautiful daughter Rachael!!" Osmond wrote.
Osmond shares her second child and first girl with ex-husband Brian Blosil, whom she was married to from 1986 to 2007. The singer and actress has seven living children, some of whom were adopted. The post is found below.
The actress and author is extremely busy these days, but she always makes time for her family. In the photo she shared, Rachael sat next to her husband Gabriel Krueger.
Between them lay a grinning Rocket Jade, their four-year-old daughter, while baby Wolf rested on Rachael, presumably sleeping. Rocket and her parents all smiled at the camera.
Osmond continued the caption: "I love you so much and the wonderful family you've created! Time for you to be #29Forever like me [winky face, crying laughing, and kiss emojis]."
The longtime entertainer is not just humorous when it comes to her family, she also shares her bright personality on the big stage where she runs things in Las Vegas.
Marie and her brother Donny are only just preparing to end their 11-year run at the Flamingo Hotel & Casino in Las Vegas, Nevada. The sibling duo will soon be honored for the achievement.
According to Forbes, the pair will receive their own star on the Las Vegas Walk of Stars on October 4. Following the tribute, Osmond is set to take up a permanent spot on CBS' "The Talk."
TV Insider reported that the "Paper Rose" singer has already been on the talk show nearly 50 times, so she was the perfect fit to replace Sara Gilbert who announced she was leaving back in April.
Regarding the change, Osmond revealed that she was "thrilled" about the new move and didn't hesitate to say yes when asked. "We're all going through this thing called life, and that's the most important thing to remember," she added.
She'll have to fly back and forth constantly between Los Angeles and Vegas until her Vegas residency ends in November. Her debut as a regular on "The Talk" season 10 is set to premiere on September 9.
Please fill in your e-mail so we can share with you our top stories!