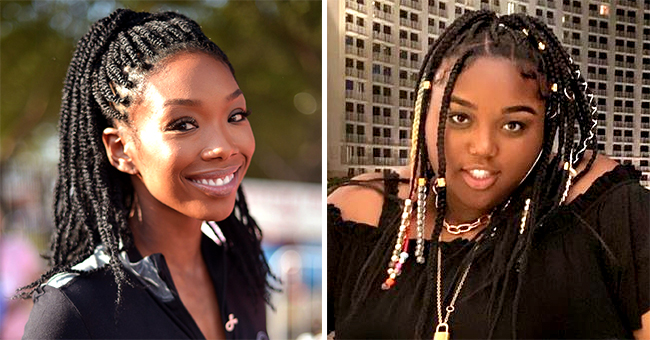 Instagram/syraismith // GettyImages
Brandy's Teen Daughter Sy'rai Poses in Black Dress with Hair in Bun in New Photo

Sy'rai Smith stuns in a new photo in a "professional" look on Instagram.
We've watched Brandy's teenage daughter Sy'rai Smith grow up into a lovely confident teen.
In a recent photo posted on Instagram, she takes on the persona of a mature woman, and at 17, she's nearly there.
SY'RAI STUNS IN A BLACK DRESS
In a sudden departure from her usual casual teen clothes, Sy'rai donned an elegant black wrap dress that flattered her generous figure. Her hair was pulled back in a ladylike bun, and she wore a discreet pearl necklace.
She accessorized with a Chanel bag, a Cartier wristwatch and a pair of Balenciaga sneakers.
The older Sy'rai gets, the more she looks like Brandy.
SY'RAI'S MESSAGE TO OTHER TEENS
Sy'rai has made a point about speaking about her body type openly, and encouraging other teens to come to terms with themselves, and accept who they are.
"Being who you are should be more important than worrying about what you look like on the outside. Because there can be a beautiful person in a beautiful body, but in the inside you can be so ugly. And like me, I'm not the skinniest. But if you really want to change, change because you want to change." Sy'rai said.
SY'RAI ENCOURAGES OTHER TEENS TO ACCEPT THEMSELVES
Sy'rai has used her prominence in social media due to her mom's fame to reach other young people like her who are suffering under the pressure of unreasonable expectations.
'You're a big girl, you're fat, you're this, you're that.' Don't change because of what they say, change because you want to change. Don't ever let anybody else tell you who you are. That's the one thing that made me want to lose weight. It's because I wanted to lose weight for myself." Sy'rai said.
BRANDY AND SY'RAI - BEST FRIENDS
Sy'rai's biggest fan is her mom, who admits that she acts more like her daughter's bestie than like a disciplinarian mom.
"A lot of mothers feel like they're the mom first, with that authority. But for me, I'm a friend first. I believe that just being there for my daughter as a friend more than 'I'm in charge…' causes her to be more open with me as a person," Brandy said.
Whatever Brandy is doing, she's doing it right, and it shows in Sy'rai's lovely personality and incredibly positive attitude.
SY'RAI STUNS WITH SIMILARITY TO MOM BRANDY
Brandy's daughter Sy'rai Smith is clearly leaving her days as a little girl behind and has started dressing in some elegant outfits.
In a recent post, Sy'rai can be seen wearing a red blazer over a fitted black dress, and a Louis Vuitton bag.
But what stunned fans was her growing resemblance to her lovely mother. The older Sy'rai gets, the more she looks like Brandy. And those that have heard Sy'rai sing, say she's also inherited her amazing talent,
Please fill in your e-mail so we can share with you our top stories!