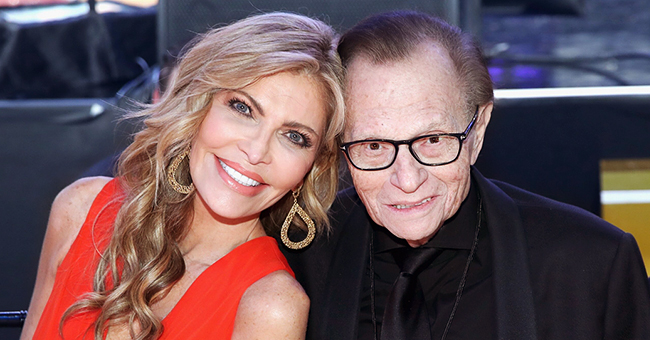 Getty Images
People: Larry King Decided to File for Divorce from his 7th Wife Shawn after an Angina Scare
Larry King suffered a health scare sometime this year, and his first order of business upon leaving the hospital was to file for divorce from his seventh wife, Shawn.
It's no secret that 85-year-old Larry King has taken the vow of forever not once, but eight times, and he is set to divorce his seventh wife, Shawn Southwick King.
According to People, King made the decision after the health scare he had in April. At the time, the broadcaster had angina, an attack that mimics a heart attack. He underwent an angioplasty to fix it and had a stent inserted to reopen a bypass from previous surgery.
The ordeal made King make some life-altering decisions, including ending his allegedly unhappy marriage with Shawn. Based on a report from TMZ, another reason the veteran broadcaster chose to show the actress the door is a move she made during his time in the hospital.
According to the news outlet, Shawn tried to gain proprietary rights over their estate, and King saw it as a move to disinherit their sons, Chance, and Cannon.
The actress has since denied the allegations, and stated that she does not plan to fight the CNN man on the divorce because his doctors informed her that he's dying.
Before the divorce, sources close to the couple said they've been living separate lives for years. The soon-to-be ex-couple fought all the time and were unhappy being with each other.
Back in 2010 and 2016, Shawn allegedly cheated on King with one of her son's baseball coach, Hector Penate, and public speaker, Richard Greene respectively. The allegations were never substantiated, and the two stayed married until now.
The "Larry King Now" host and his podcast co-host, got married in September '97, and have been together for over two decades. Before then, he had married seven times starting with his high school sweetheart, Freda Miller.
Out of the six, King married Alene Akins twice, and they had a daughter, Chaia on their second attempt. The TV man also had son Larry Jr. in '61, daughter Kelly, and adopted Akins' son, Andy.
"I don't regret it," referencing his multiple marriages. "I love being in love," he added.
The divorce between King and Shawn is still pending, and hopefully, he would live long enough to cut the ties that bind him and the mum-of-two.
Please fill in your e-mail so we can share with you our top stories!