Kylie Jenner Draws Fans' Criticism for Her 'Weird' Looking Leg in a Recent Photo
Kylie Jenner shares more pictures from her lavish 22nd birthday celebrations in Italy. A solo picture of the star striking a pose on a bench has fans accusing her of photoshopping the picture.
Kylie Jenner had the ultimate birthday celebration for her 22nd birthday. The reality star boarded a luxurious $250 million yacht with her friends and family.
Jenner has been sharing every moment; from her sipping wine, to mouthwatering pictures of exotic foods and precious mother-daughter moment's with Stormi Webster. The "Life of Kylie" star is certainly enjoying the billionaire lifestyle.
She also took the opportunity to promote the birthday collection for her cosmetics line, "Kylie Cosmetics." 
Calling it her favorite collection, she poses on the megayacht next to the money themed collection.
Jenner has always been open on her reality show about the pressures she feels living in the public. Posting pictures of her life has subjected her body shaming, mom shaming and hateful comments on social media and media outlets.
During an episode of "Keeping Up with the Kardashians," Jenner shared with her sister, Kim Kardashian, about her insecurities and the pressure she feels to get her body back in shape after giving birth to Stormi, saying:
"After a shoot, I'm feeling a little insecure. She adds, I feel like some people don't get it…body shamers." 
Her birthday celebration unearthed more body shamers that seemed to follow her every move. Jenner, who may have intended to share with well-meaning fans her special trip has received backlash for posting a picture that fans speculate has been photoshopped. She captions the picture:
"Golden hour is my happy hour."
Sitting on a tiled bench, Kylie looks stunning striking a sexy pose in a designer crop top and flowy skirt.
Putting a damper on her "happy hour" fans pointed out that Jenner's right leg looks suspiciously long or hidden in the picture. 
Commenters have come with their theories that has sparked a huge debated in Jenner's comment section.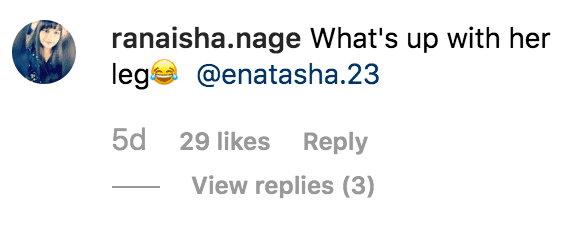 Some fans have come to her defence, adding some logic to conversation, citing that the picture is simply the positioning of Jenner's leg.


The picture has received over 7 million likes on Instagram. Since Kylie has not responded to the photoshopping allegations, the debate continues.