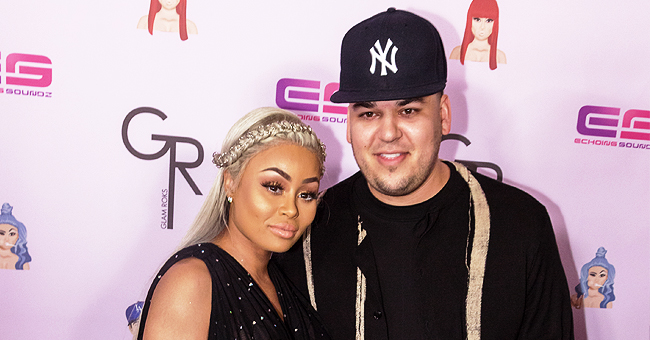 Getty images
Rob Kardashian & Blac Chyna Shared Photos of Dream That Sparked Debate over Who She Looks Like

Rob Kardashian and Blac Chyna inadvertently started a debate about whom their daughter Dream resembles the most.
Rob Kardashian and his ex Blac Chyna posted photos of their daughter Dream and started a debate among the fans as to whom the child resembles the most: mom or dad?
Opinions are divided, and some of the exchanges among fans have become heated.
Opinions are deeply divided between those who think she's mom's twin or a Kardashian through-and-through.
BLAC CHYNA TWINS WITH DAUGHTER DREAM
Blac Chyna started the whole debacle on August 22, 2019, by posting a photo of herself and 2-year-old Dream - and we must admit that she does look exactly like her mom in the snap.
In the snap, mother and daughter are lying down side-by.-side, and pulling the same funny face.
"[You] see it?" asks Blac Chyna about the resemblance.
SOME FANS DISAGREE
Immediately after Blac Chyna's post, hundreds of users jumped in to give their opinions on whom Dream most resembles, and the opinions are deeply divided between those who think she's mom's twin or a Kardashian through-and-through.
"Not really, she looks more like her dad."
"Naw sis lol she her daddy twin lol "
BLAC CHYNA'S FANS "SEE IT"
Of course, some of Blac Chyna's staunchest fans stuck to their guns and fervently swore that Dream is her mother's mirror image.
"Wowwwwww so cute! TWINS like a mug?"
"Yes she has your eyes!"
DADDY'S LITTLE GIRL
As some of the fans pointed out, Rob himself has posted plenty of photos on social media where Dream's resemblance to her handsome dad in unmistakable. And Dream also looks a lot like her little Kardashian cousins, North, True, Chicago and Stormi.
ROB KARDASHIAN MISSES HIS DREAM
Blac Chyna and Rob split just over a month after they welcomed little Dream in November 2016, and though the couple did reconcile, it was short-lived.
The former couple have come to amicable terms with regards to their daughter and Rob has frequent visits with his little girl, but according to friends, he misses her constantly.
"To her credit, Chyna has been keeping up her end of the custody agreement and Rob's seeing plenty of Dream without the same type of drama there used to be. He lives for those visits, but when she's not there he can't do much else besides sit alone and feel sorry for himself."
It's good to know that Rob and Blac Chyna have set their animosity aside to be loving and nurturing parents to their adorable little girl—no-matter who she really looks like.
DREAM KARDASHIAN SAYS GOODNIGHT TO DADDY
Rob Kardashian melted hearts all over social media when he posted an adorable video message from his little daughter Dream.
In the clip, Dream is in her pajamas and obviously ready for bed.
"Hi Daddy! I want to say night, night Daddy! I love you! Sweet dreams, I'll play with you tomorrow. Goodnight!" she lisps sweetly.
The clip ends with Dream blows her father kisses, and it's easy to imagine Rob watching that clip over and over, just like we did.
Please fill in your e-mail so we can share with you our top stories!