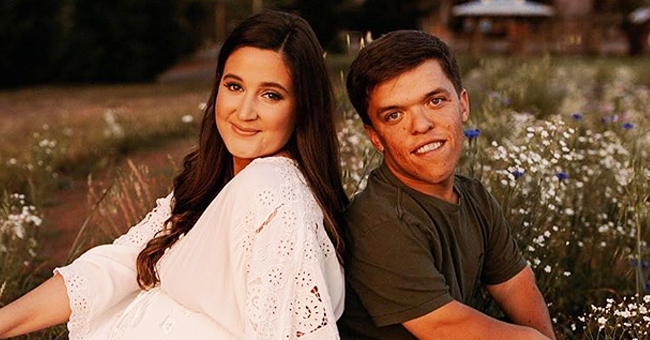 instagram.com/toriroloff
LPBW Tori Roloff Reveals Her & Zach's Son Jackson Spent the 'First Night in His Big Boy Bed'
It is a very emotional moment for a parent to realize that their baby is growing and, no matter what they do, that won't stop. Tori Roloff just reached that milestone.
The "Little People, Big World" star recently took to her official Instagram account to share a brand new photo of her son Jackson and his furniture upgrade.
In the picture, Jackson can be seen sitting against some comfy pillows in his new "big boy bed" while holding a teddy bear and smiling widely for the camera.
ASKING JACKSON NOT TO GROW ANYMORE
In the caption, 28-year-old Tori couldn't hide how proud, and somewhat sad, she was for seeing her son moving onto a bigger bed. Under the snap, she wrote:
"First night in his big boy bed! You can stop growing now Jackson!"
The little boy, who has achondroplasia, the same type of dwarfism as his father, Zach Roloff, is proof of how fast time flies, especially for those with children.
A DIFFICULT SECOND PREGNANCY
Tori is currently pregnant for the second time and has already admitted that this second pregnancy has been harder for her due to how much her body is changing.
According to her, although she doesn't feel sick anymore and hasn't had any complications, she has found quite difficult to accept her body this time around.
"It's been hard to really enjoy this pregnancy because I've let my own body image issues get in the way."
Unlike what happened when she was pregnant with Jackson, Tori's body has gotten bigger a lot faster and that change led her to feel insecure about her looks.
NOT LETTING HER INSECURITIES BRING HER DOWN
Still, she then recognized that women are truly amazing and their bodies can do incredible things, like creating life, and that she is thankful to God for the gift.
She has found quite difficult to accept her body this time around
Tori also left a positive message for all women around the world who might be going through the same situation: "You're beautiful, you're strong, and dang it, love yourself no matter what."
Please fill in your e-mail so we can share with you our top stories!