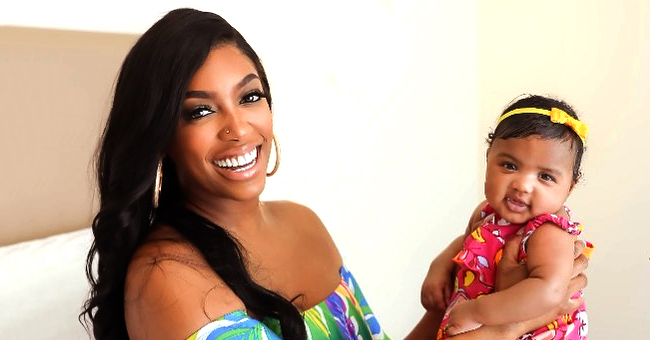 Instagram/porsha4real
Porsha Williams Reveals Baby Daughter Pilar Has a 'Lil' Cold' and Asks for Remedies

Porsha Williams' daughter Pilar is so cute, and the 38-year-old mother knows it. Despite having a cold, Pilar still manages to look adorable in a picture shared on her mother's Instagram feed.
On Aug 19, Porsha took to her Instagram story to share a beautiful picture of her daughter, which melted so many hearts. In the photo, Pilar was seen laying down in a colorful striped onesie as she sucked her thumb.
The outfit included socks that resembled miniature watermelons and a cute bright yellow hair wrap on her head. Unfortunately, the little girl wasn't feeling too well on the day the picture was taken.
"Awe poo has a lil cold? what kind of natural medicine or remedy do y'all use ?" Porsha wrote on her timeline.
A while back, "The Real Housewives of Atlanta" star showed up to an event with her daughter, and as usual, baby Pilar stole the show. In the video, the toddler could be seen sitting in her stroller, minding her business.
The cutie wore a pink and orange outfit and had two matching bows in her hair. She also has a mini fan attached to the stroller all to herself.
She looked so perfect that she caught the attention of two of Porsha's friends who could be seen in the clip gushing over her.
Hi cutie! You and your little fan! Oh my God, I can't. She's so cute," Porsha's friends can be heard saying in the video clip.
Baby Pilar or PJ as she is fondly called is the model's daughter with fiance Dennis McKinley. The duo were recently in the news after "The Real Housewives of Atlanta" star unfollowed McKinley on Instagram. Further fuelling the rumors was the absence of Porsha's massive engagement ring she got from her man last year.
Many weeks later, the model shared a boomerang video of her daughter with McKinley on Instagram stories as a smart way of telling the world that there is no trouble in paradise.
As the short clip moved back and forth, fans could see the words,
"Mom's Taken But my Aunt is Cute and Single," written boldly on Pilar's outfit.
The post came after Porsha resumed following her fiance on Instagram several weeks after unfollowing him. Porsha's mother and sister also unfollowed McKinley, and it seems like whatever he did, they are yet to forgive him.
Please fill in your e-mail so we can share with you our top stories!