Joy-Anna Duggar Impresses Fans with Photos of the RV Her Family Has Been Living in for over 9 Months
Joy-Anna Duggar finally gave her fans something they can all agree on. She impressed them with photos of the RV her family has been living in for over nine months.
Joy-Anna Duggar finally answered her fans questions on where she and her husband, Austin Forsyth have been living.
She posted a video and several photos on their joint Instagram account, with the caption:
"Update on what we are working on, and where we are living." 
Duggar, in the video, revealed that she and her husband have been flipping houses, and are working on a new one. But since the house they're building is not for them to live in, the young couple has been living in a 5-wheel and 32-foot camper.
The "Counting On" star called the RV "The perfect place for our family," but acknowledged that they had a small kitchen and little space.
She stated that they've been there for about nine months to a year, and went on in the next slides to show the interior of the camper.
The photo covered a small kitchen with white cabinets, a living area with a brown sofa, bedroom, and an en-suite. Everything looked pristine and in order, and Duggar appeared to have utilized the space she has quite well.
The reality star's followers loved the living quarters, and her family members also showed their appreciation of it. Jessa Sewald commented, "I love the makeover you have given your little home," while Si and Lauren Duggar's joint account wrote:
"Looks so good. Joy, you are amazing."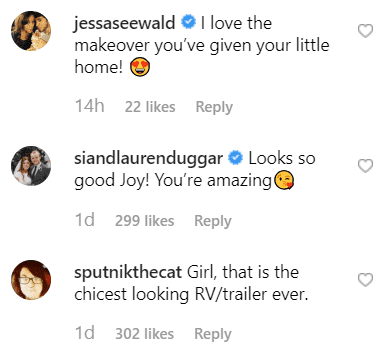 One follower called it the chicest RV/trailer ever, while another gushed on how she loves it and asked how much TV couple bought it.  A third follower wrote:
"Who knew a camper would look so darling inside. The decorating is phenomenal."

Duggar and Forsyth moved to the RV after they sold their house. They share the accommodation with their 1-year-old son, Gideon, and would have been preparing to welcome their daughter, Annabel Elise, to it, if the TV star had not miscarried at 20 weeks.
The couple shared the news of the miscarriage on Instagram in July, announcing that their 20 weeks ultrasound and gender reveal showed that the baby had no heartbeat.
Describing life as fragile and precious, Duggar wrote at the time:
"So thankful the Lord gave her to us for that short time. She will be in our hearts forever."
Duggar and Forsyth also wrote:
"We don't grieve as those that have no hope, because we trust we will see this little one again."
But in the meantime, they'll be great parents to their son and keep flipping houses.