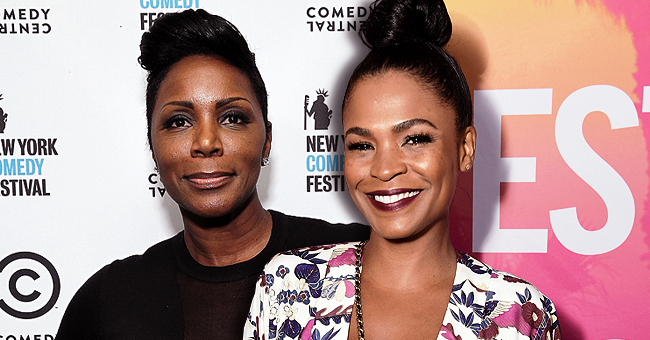 Getty Images
Comedian Sommore Once Talked about Her Sister Nia Long and Said They Were Not Close
American comedian Sommore is the sister of the gorgeous movie star, Nia Long. She has, however, revealed that theirs is not particularly a tight-knit relationship.
Nia Long, who is well known for her sterling performances in numerous television series, took to Instagram to share a collage photo of herself and Sommore.
The picture piqued the interest of netizens because of the striking resemblance between the two women.
NIA ADDRESSES SOMMORE AS HER SISTER PUBLICLY
"The funny one in the family. @sommore #mybigsistergotjokes," Nia wrote to caption the beautiful snap.
The comments section became lit up with thousands of comments from fans. The most significant trend that is visible, however, is the fact that not many knew that Nia and Sommore were sisters.
One such fan, @lukcy_x wrote:
"Why tf i never knew y'all were related? Let alone sisters?"
While another, @luvsmith2 speculated on a reason the pair don't publicize their familial relations:
"They didn't make it a big thing because Sommore didn't want to be looked at as "Nia Long's sister" coming into the game, so they respected each other's wishes."
Full of glee, another fan, neent_404 commented:
"Finally... I've been waiting on one of y'all to verify it.. thanks @iamnialong."
Nia's post, which dates back to April 14, is the very first time she would be addressing Sommore publicly as her sister.
They both have built their brands separately for decades, and throughout it all, most of their fans never knew they were sisters.
SOMMORE SHARES THAT NIA IS NOT "NECESSARILY" HER SISTER
Back in 2016, Sommore made the first move by sharing the reasons why she doesn't like speaking about Nia publicly. The stunning rapper even further shared that she'll never be seen with Nia in public.
"We share the same father, but we're not necessarily sisters," Sommore said.
That statement was however not made out of enmity as Sommore disclosed that they only share a father and never actually grew up together. While they appear cordial in public, they don't share a bond.
Sommore also avoided speaking about Nia because she wanted to solidify her career without the help of Nia's fame. Now that the cat is out of the bag, Sommore explains that people continuously ask her about Nia.
"Most men that I run into already have a crush on Nia. You don't know how many men offer, Please can I come to the family reunion, please…?" she said in an interview with The Urban Daily.
Sommore has made a name for herself in the entertainment industry even though she is not as famous as her sister.
She is known for the comedy special "Def Comedy Jam" on HBO and has also starred in various shows including Showtime at the "Apollo," "Comic View," "BET Live in L.A."
Please fill in your e-mail so we can share with you our top stories!