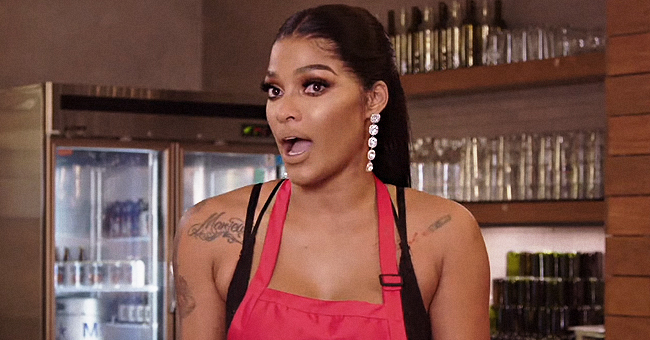 Youtube/THE SHADE ROOM
Joseline Hernandez Draws Criticism for Dressing Daughter Bonnie Bella like an 'Old Bag Lady'
Internet trolls have no mercy! Joseline Hernandez got criticized for dressing her daughter, Bonnie, in a way, her critics believe made the little girl look like an "Old bag lady."
Joseline Hernandez is no stranger to criticism. A recent photo of her daughter, Bonnie, shared on her Instagram page, caused trolls to come for the reality star and question her parenting.
AN OLD BAG LADY
Hernandez dressed Bonnie in denim, a white shirt, a hat, and sneakers. The little girl looked adorable, and her mother captioned the post in Spanish, that translates into,
"On my way to my classes, the dance, and Spanish."
"Man! I get so tired of this cute little girl looking like an old bag lady. @Joseline, you always dress to the T, do the same for her. Geesh."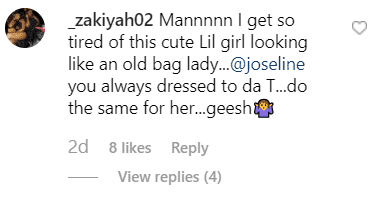 Comments on Joseline Hernandez's post.| Photo: Instagram/ Joseline Hernandez.
"I usually don't comment about how people dress their children, but this is getting out of hand. There's no reason for this kid to look like aunt Shirley."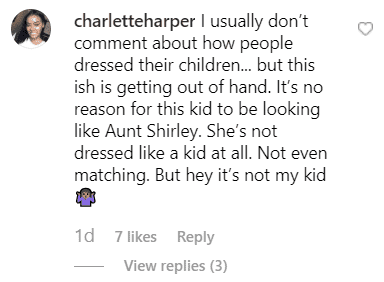 Comments on Joseline Hernandez's post.| Photo: Instagram/ Joseline Hernandez.
A third follower commented that Bonnie looked like a "Lil old maid," while others asked Hernandez to get her child a stylist.
THE CRITICISMS HAVE BEEN ON FOR A LONG TIME
In October 2018, the "Love and Hip Hop: Atlanta" star received backlash for dressing the then-1-year-old girl in an oversized Moschino, white skirt, ankle socks, and strap on shoes. One troll told Hernandez that Bonnie looked tacky, and others said she looked old.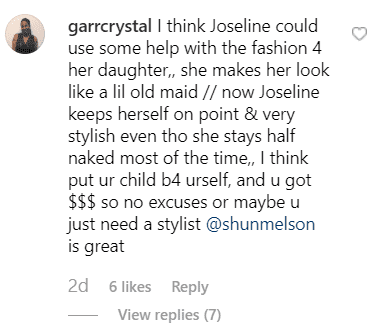 Comments on Joseline Hernandez's post.| Photo: Instagram/ Joseline Hernandez.
The mum-of-one has equally gotten shamed for her dressing. Early this year, the "Hate Me Now" singer attended a tea party at her daughter's school dressed in a mini pink dress. It had a spaghetti strap and cutouts, and she paired it with high heels.
"Remember who got you here."
THERE HAVE BEEN SOME GOOD TIMES
Despite the love-hate relationship between Hernandez and her followers, some have complimented her on dressing Bonnie in clothes appropriate for her age.
"This baby is taken care of by her momma. I don't care what anyone says; she dresses her like a child always."
The reality star shares the little girl with her ex, Stevie J. They share joint legal custody, with Hernandez maintaining physical custody. While co-parenting has not been easy for the exes, they recently got to a place where they are well blended and are putting the interest of Bonnie above their differences.
Love or hate the way Hernandez dresses her daughter; it does not take away the fact that she's a mother who is proud of her little girl.
Please fill in your e-mail so we can share with you our top stories!