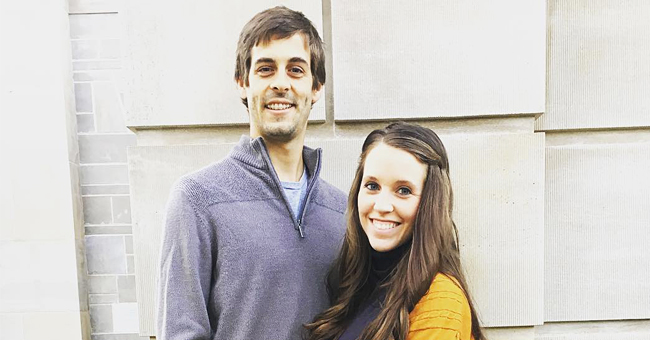 instagram.com/derickdillard
Jill Duggar & Husband Derick Dillard Slammed over a Post 'Celebrating Women's Rights'
Jill and Derick Dillard are no strangers to controversy. From dodgy GoFundMe pages to being labeled hypocrites, this Duggar pair regularly raise eyebrows.
This time he posted a tribute to his wife Jill to celebrate women's rights. However, fans were quick to flood the comments section of the post.
Derick was heavily criticized. Many fans labeled the doting husband as a "hypocrite," after his dedication to Jill.
"Proud of my wife [Jill Duggard] celebrating women's rights!"
Dillard posted a picture of a newspaper photo. In the photo, Jill Duggar is posing with some of their local town leaders.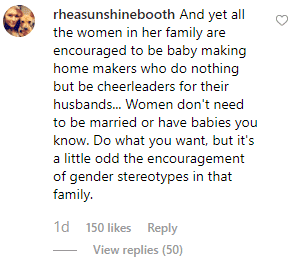 One comment on Derick's Instagram post | Instagram: @derickdillard
"Proud of my wife [Jill Duggard] celebrating women's rights!" read the caption along with the hashtags for the "19th Amendment," "progress" and the 100th anniversary of "Women's Suffrage."
Many users pointed out that in the past, Derick did not champion equality. Some questioned whether he could overlook the limitations of their religion and grant women freedom of choice as well.

Another disgruntled comment left on Derick's post | Instagram: @derickdillard
Some questioned whether Jill was really fighting for women to decide what she wants to do with her life.
One person even asked if the freedom of choice would extend to abortions while others wanted to know if she believed in breaking the gender norms her family champions.
"And yet all the women in her family are encouraged to be baby-making home makers who do nothing but be cheerleaders for their husbands," one other person said. "Women don't need to be married or have babies you know. Do what you want, but it's a little odd the encouragement of gender stereotypes in that family."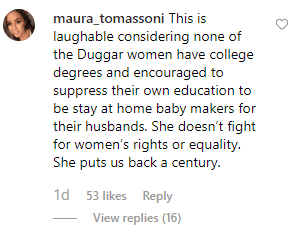 One commenter labelling Derick a hypocrite | Instagram: @derickdillard
Majority of the commenters were negative. However, others defended Derik and applauded both him and Jill for their effort.
"Beautiful. It's wonderful that we live in a country that we are free to worship as we wish, stay home with our kids and have as many children as God blesses us with, despite the screaming Hyaenas in the wave of toxic femininity that want to shame the young women around them to do the exact opposite," one fan wrote.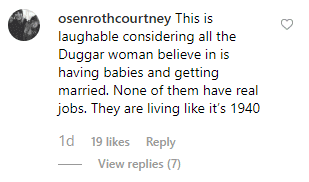 A negative comment on Derick's post | Instagram: @derickdillard
It is not the first time Derick and Jill faced backlash due to their Instagram posts. Last year,
after she posted a photo of herself and her two boys to show off their new t-shirts.
Please fill in your e-mail so we can share with you our top stories!