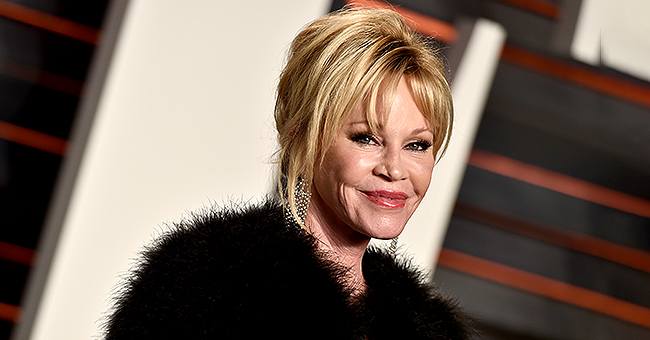 Getty Images
Melanie Griffith Posts Fabulous Throwback Photo Taken by Jamie Lee Curtis

Legendary actresses tend to have equally legendary friends. Actress Melanie Griffith and Jamie Lee Curtis' friendship is proof of that.
"Working Girl" star Melanie Griffith and Jamie Lee Curtis, famous for her role in John Carpenter's horror film "Halloween," have both been in the entertainment industry from as far back as the 1970s. Naturally being in the industry at the same time, their paths have crossed over the years.
Melanie took to Instagram to show off one of the times they hung out together. On Tuesday, she posted a throwback to a picture Jaimie Lee took.
"The Working Girl" star, 62, captioned the picture, "Taken by my most magnificent girlfriend. Circa 1984."
The snapshot taken by "True Lies" star Jaimie Lee, 60, showed Melanie in a bikini. Her hair was spiked up straight and she was smirking cutely while looking away from the camera.

Instagram comment on Melanie's post | Instagram: @melaniegriffith
Fans were blown away by the stunning picture. Many flooded the comments section with praise and commentary for both the picture and their friendship.
"Still beautiful, Melanie," one person said. Another added, "I like that you two are friends. That makes a lot of sense."

Fan comment left on Melanie Griffith's Instagram post | Instagram: @melaniegriffith
The two Hollywood stars have acted in a slew of films together. However, they were only on set together once throughout their careers.
Only on the set of 1981's "Army Now" did both stars share a set. The picture Melanie posted was taken 35 years ago.

Fan praises Melanie Griffith on her Instagram pic that was taken by Jaimie Lee Curtis | Instagram: @melaniegriffith
Since then, Melanie, who began her career with appearances in several independent thriller films before landing mainstream success, and Jamie Lee have continued to stun fans with their performances. It is not the first time that Melanie left fans in awe with an Instagram post.
Last year, she shared a picture of her ex Antonio Banderas with their daughter Stella. The picture was posted three years after their 2015 divorce.
Please fill in your e-mail so we can share with you our top stories!