Gabe & Noah Brown of 'Alaskan Bush People' Team up for a Brotherly Love Photo
"Alaskan Bush People" stars Gabe and Noah Brown showed off their brotherly love for each other recently. The brothers have always been close.
Gabe and Noah Brown of "Alaskan Bush People" posed together in a stunning picture. Gabe took to Instagram to share the cute pic.
The brothers looked seriously into the camera. Fans were blown away by the adorable show of brotherly love. 
"Bro time is yo time lol #brotime," wrote Gabe in the caption.
The post blew fans away and garnered more than seven thousand likes. Fans flooded the comments section with admiration for the brothers.

One fan wrote, "But that's a great photo of you and Noah! Nice to see you both! Send you and Raquell and all your family many greetings and wish you a nice and blessed weekend."
The brothers and the rest of the family are currently gearing up for the "Alaskan Bush People"most new season. The family is racing to complete their to-do lists before winter.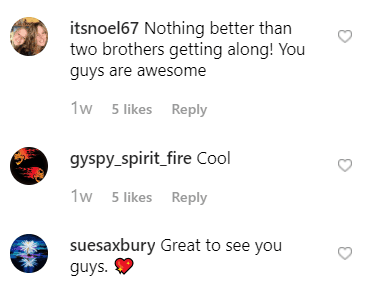 Gabe is currently setting up his home so that he and his new bride, Raquell Rose can move into it. They are currently staying in the family barn.
"I'm so excited to start our lives together."
The pair tied the knot in January this year. However, they decided to get married a second time on screen so that fans could be part of their big day. 
"Gabe is the most loving, kind and funny guy I know — he makes me laugh every day," Rose said of her husband during their ceremony. "I'm so excited to start our lives together and thankful for the support of our friends and family and to God for bringing us together."
The pair are also expecting their first child together. They recently revealed the news to fans and even shared an ultrasound photo.
"We're so thrilled to share we're expecting a new addition to our family this November," the couple said. "God has blessed us in so many ways and we can't wait to meet our little one this fall."