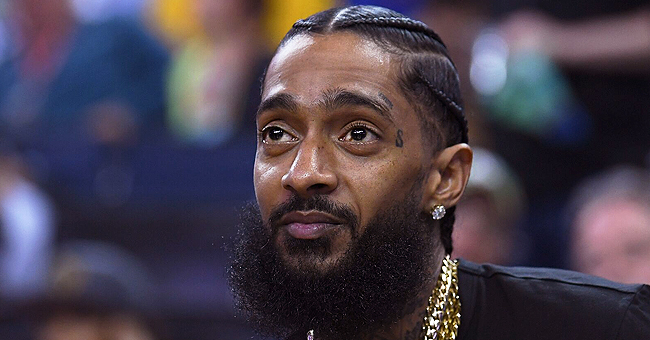 Getty Images
Nipsey Hussle's Family Gets Support from Major Partners as They Launch Neighborhood Nip Foundation

It has been months since the great Nipsey Hussle passed away, but his family still actively carries on his legacy with their latest project.
It has been about six months since the world said goodbye to Nipsey Hussle, but his legacy still lives on.
Regardless of the gruesome way Nipsey was taken, his family continues to shine his light bright to the world at large.
As revealed by the Los Angeles Times, Nipsey's family has launched the Neighborhood Nip foundation in honor of the late rapper.
The foundation aims to continue the rapper's good works of impacting his community. Nipsey's family got the inspiration for the project from the late rapper's experience as a kid.
His brother, Samiel Asghedom, explained to the publication that the Crenshaw native relied on a music program in Watts to realize his rap ambitions.
Nipsey had to travel every day from Crenshaw to Watts for five hours to get free studio sessions.
In that same vein, his family wants to give kids in Crenshaw a similar opportunity to help them pursue their music dreams. Asghedo said:
"We used to talk a lot about [what the Watts Towers program] meant to him. A push, a little help can go a long way, and that's what this foundation will 100% be about. The foundation will be aligned with everything Nip believed in and what helped him."
To support the foundation's goals, Atlantic Records gifted them a six-figure donation. As revealed by Asghedo, the record label said they wanted to be the first to donate.
While speaking to the Los Angeles Times, the CEO and COO of the label explained that they were proud to "celebrate his life by supporting his legacy."
Also, Puma will give 100% of its proceedings from sales will go to the Neighborhood Nip Foundation. Before his demise, Puma and Nipsey collaborated on his Marathon clothing line. The collection drops on September 5.
Puma said in a statement,
"Nipsey always put his community first, and we know he wouldn't want it any other way."
Nipsey passed away on March 31 after he was shot multiple times outside his store in Los Angeles. He will forever be remembered.
Please fill in your e-mail so we can share with you our top stories!