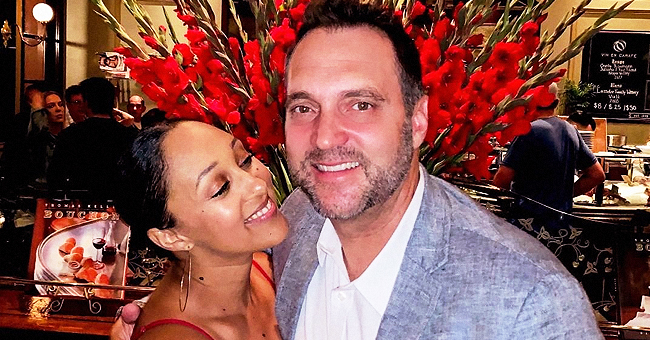 Instagram/tameramowrytwo
Tamera Mowry Lovingly Gazes at Husband Adam Housley in Sweet Photo from Date Night
Love is in the air, and Tamera Mowry and her husband Adam Housley know all about that.
Tamera Mowry-Housley and her man Adam are still very much in love after eight years of marriage.
The mother-of-two took to Instagram on August 24 to share an adorable photo of herself and Adam on a date night.
The heartwarming image showed Tamera staring lovingly at her former baseball husband with a hand on his chest while he gently placed a hand at her back.
"Date night with @adamhousley at @thevfoundationevent #datenight #mylove."
Many internet users took to the comments section of the post to celebrate their love.
"Y'all look soo in love. While I side-eye my husband."
Instagram/tameramowrytwo
"The way you still look at him."

Instagram/tameramowrytwo
@nsama_natasha focused on Tamera's youthful looks and praised:
"Thought this was a throwback. So y'all just aging like "fine wine."

Instagram/tameramowrytwo
Tamera and Adam tied the knot in May 2011 after being together for almost six years.
Their first child, Aden John Tanner, was welcomed in November 2012. Their second, Arian Talea Housley joined the family on July 2015.
Adam was a former professional baseball player who played for the Milwaukee Brewers and the Detroit Tigers before he retired.
After that, he went into journalism and became a news reporter. He worked for Fox Network for almost 17 years before his controversial exit.
As reported by Politico, Housley left the network in August 2018 because he was frustrated about their focus on Trump, which made it difficult for reporters to cover other important news.
A former employee of the network said:
"He's not doing the type of journalism he wants to be doing. And he is unhappy with the tone of the conversation of the channel."
Nevertheless, his time with Fox News was not free of controversy as many often labeled him as racist.
The "Sister Sister" star stood by her husband saying:
"There are some people who think that my husband is racist because he worked for a certain channel. I'm gonna look in that camera right there and let everybody know my husband is not a racist."
All that seems behind them as they are all for showing the world how much they love each other!
Please fill in your e-mail so we can share with you our top stories!