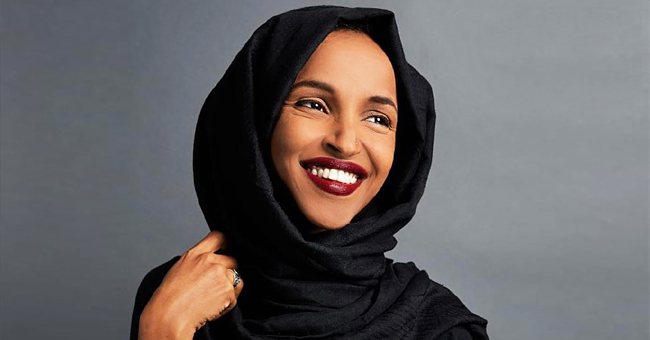 instagram.com/ilhanmn
Minnesota Rep. Ilhan Omar & Her Mini-Me Daughter Wear Turbans in New Family Photos

Beautiful politician and Minnesota Representative, Ilhan Omar and her daughter, Ilwad were the apt definition of cuteness in the recent pictures she shared on her Instagram page.
The pictures showed mother and daughter rocking turbans and looking fabulous as they twinned. Somali-American Politician, Ilhan Omar is known for many of her historical feats.
First off, she is the first Somali-American to be elected into the U.S House of Representatives from Minneapolis, as well as the first naturalized citizen from Africa, and the first non-white woman to be elected from the state into Congress. She is also the proud mother of three beautiful children.
ILHAN AND ILWAD: THE TURBAN QUEEN AND PRINCESS
The 37-year-old Representative posted four pictures of herself and Ilwad Hirsi, 6, wearing turbans and looking beautiful. While Ilhan wore a black Turban, Ilwad rocked one that was nude-colored. The photos, all selfies, showed the striking resemblance between mother and daughter, as they did their best to strike matching poses. In Ilhan's caption to the post, she said that her daughter was trying to steal her look, before asking her followers which of them wore the turbans better.
Some of Ilhan's followers who commented pointed out her daughter's resemblance with her, and added that they looked great in the pictures. Some others encouraged the Representative to continue her good works, as she was an inspiration to many.
ILHAN, HER HUSBAND AND HER KIDS
Ilhan has been married twice. She first had a faith-based marriage with Abdisalan Hirsi in 2002, and in that period, she gave birth to two children, a boy, and a girl, but the couple separated in 2008. She married another man, Ahmed Elmi, in 2009, but they also divorced. After the divorce, she reunited with Hirsi, and they gave birth to her daughter, Ilwad in 2012 and they live with their three children in Minneapolis. Ilhan is known to post pictures and videos of her family.
ILHAN TOLD TO VISIT HER NATIVE COUNTRY
Ilhan left Somalia at the age of twelve and has since risen to great heights. She is one of first two Muslim women to serve in the US congress, the other being Rashida Tlaib.
The Representative is known for her many disagreements with President Donald Trump, and the latest issue between the two prompted the President to advise her alongside three other congresswomen to go back to their respective countries rather than criticizing the policies of the United States.
The President's supporters echoed these feelings during his rally in North Carolina as they chanted "Send her back," in reference to Ilhan. Republican Senator, Rand Paul also gave his two cents on the topic by offering to pay Ilhan's flight ticket to Somalia; so that she would learn to appreciate the benefits of living in America.
Please fill in your e-mail so we can share with you our top stories!