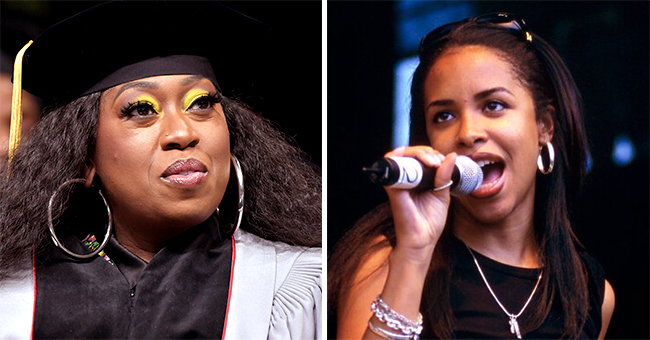 Getty Images
Missy Elliott & Others Pay Tributes to Aaliyah on 18th Anniversary of Her Death

Aaliyah's family, friends, and fans pay tribute to the late singer on the 18th anniversary of her death.
Almost two decades have passed since the sudden death of Aaliyah, who died in a plane crash right after shooting a music video for one of her songs. On her 18th death anniversary, family, friends, and fans from around the world made sure to pay tribute to her.
The "Back & Forth" singer was only 22 years old when her plane crashed in the Bahamas on August 25, 2001, and now, her fellow artists made sure to acknowledge the contributions she's made for women in the music industry among many others.
Paying Tribute to Aaliyah
The first to greet her was Missy Elliott, 48, who was a good friend and collaborator of Aaliyah. On her tribute, she shared that the artist's style and music continue to impact many generations after. She adds that she hopes her good friend is resting in paradise.
In a follow-up tweet, she adds that she will never be forgotten and even after her death, many continue to love her.
The Impact of her Death
Victoria Monet also shared how much Aaliyah's music and death impacted her life, as she was her favorite artist. Monet reveals that during the time of Aaliyah's death, she already had a weird feeling in her gut. After finding out what happened, it was the worst day for her.
"I will forever hold her [and] her music with me as an influence in all of my goals, my voice, my movement, energy, [and] soul. I love you Aaliyah," she concludes.
Inspiration to Younger Generations
Aaliyah clearly continues to be an influential part of the music industry, as younger artists like Ella Mai and Kehlani made sure to greet the artist as well, thanking her for the inspiration she's given many.
Celebrating her 40th Birthday
Earlier this year, Aaliyah's family and friends celebrated what would have been her 40th birthday, writing sweet messages on social media. Of course, her fans joined in as well, with her music speaking to them in so many ways despite not knowing her personally.
Along with Aaliyah, her crew of seven people passed away when their twin-engine plane crashed into a swamp right after takeoff. The cause of the crash was due to the plane being overweight.
Please fill in your e-mail so we can share with you our top stories!