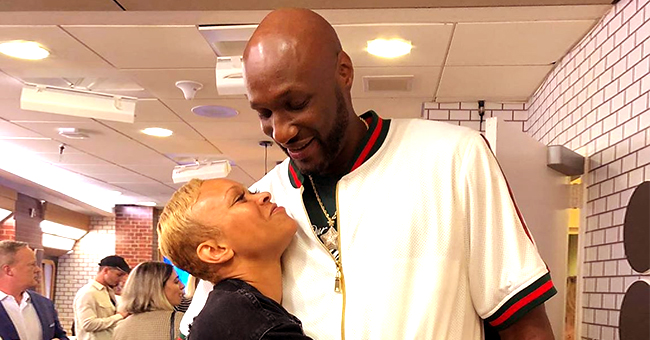 Instagram/Lamar Odom
Lamar Odom Shows Love to Fitness Trainer Girlfriend Sabrina Parr as He Hugs Her in Sweet Photo
Lamar Odom is happily-in-love with his new girlfriend, and he's been nothing short of appreciative on social media. The basketball player posted a sweet photo of himself looking lovingly at his new girl, captioning it with "thank you shorty."
It's been quite a while since Lamar Odom got divorced from Khloe Kardashian, and now he's openly dating his personal trainer, Sabrina Parr.
The 39-year-old basketball player has been vocal about Sabrina, 32, and their new-found love on social media, much to the surprise of their fans.
Constant Social Media PDA
Recently, he shared a photo of both of them hugging as they looked lovingly into each other's eyes, captioning the photo with:
"Thank you shorty! For being by my side and having my back!"
Sabrina and Lamar began their relationship as friends, which ultimately blossomed into something more after working closely with one another in the past couple of years.
Announcing their Relationship
Finally, after speculations arose due to their sudden closeness, the two first announced their relationship earlier this month sharing a photo of Sabrina sitting on Lamar's lap.
"What we have is so much more than they can see..."
Odom also shared a photo carrying Sabrina as they kissed on top of a hill, proving their love is as strong as they both are. According to Lamar, he never thought it was possible for him to feel love again.
"I never thought I'd feel this way again... love you queen."
More than a Summer Fling
Since then, Lamar has not held back on sharing sweet photos of him and his lady love, proving just how important they are to one another.
The former Lakers star was previously married to Khloe Kardashian for four years. After their separation, he has never made any relationship of his public aside from this one, which proves it is more than just a summer fling.
Please fill in your e-mail so we can share with you our top stories!