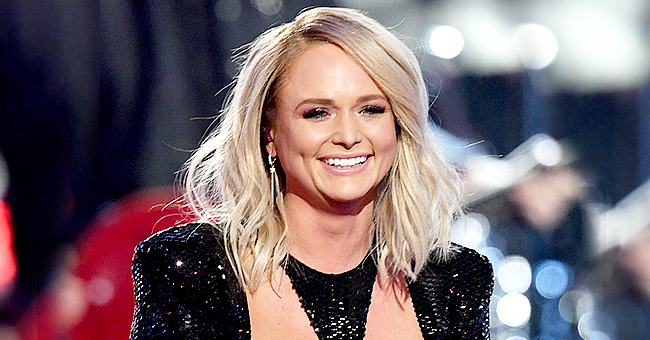 Getty Images
Miranda Lambert's Shirtless Husband Brendan McLoughlin Smiles Widely after Mowing Lawn in Video

Country Singer, Miranda Lambert shared a mouth-watering clip of her husband, Brendan McLoughlin shirtless on Instagram to the delight of her fans.
Fans couldn't get enough of the shirtless stud in a recent video shared by proud wife, Miranda Lambert. In the clip, Mcloughlin could be seen mowing their lawn with airpods on, suggesting he was also listening to some music.
The country music star, however, was heard calling "babe" in the background as her hot hubby turned towards her and smiled cutely at his wife.
Lambert captioned the lovely clip,
" 'Way Too Pretty For Prison' w/ @marenmorris out now! Speaking of pretty...house husband shirtless promo volume 2. #lawnhavemercy #thatgrasstho #livinonthehedge #loveisallweedneed #ihadto."
Most of her fans were swift to comment on how "hot" Lambert's husband looked without his shirt on. A fan wrote,
"My lawn is out of control. I might need him for a few weeks…thanks in advance."
Although it all seems like another adorable video, the caption refers to the singer's just-released duet with Maren Morris, "Way Too Pretty for Prison."
Morris also took to the comment section to gush about the image. She jokingly asked Lambert if her New York cop husband was listening to their song.
This is, however, not the first time Lambert will be sharing fabulous images of her hot hubby. In July, the country singer shared a video of McLoughlin doing laundry shirtless.
Miranda, 35 married McLoughlin in a secret and private ceremony in January. The couple who met in New York kicked things off in no time and a few months after meeting decided to walk down the aisle. The news of their marriage came as a surprise to the singer's fans since Lambert had only ended her relationship with Evan Felker.
Not long after the huge reveal, fans finally warmed up to the cop and soon realized why he is indeed a perfect match for the country singer.
When it comes to love, Miranda, who just celebrated her parents' 40th wedding anniversary, has the perfect example. Lambert captioned a series of images she shared on her page of the event,
"Celebrated mama turning 60 and our parents 40th anniversary Texas style!" Miranda captioned a series of photos. "Cheers Rick and Bev Lambert #boobsandtubes #gruene #texmex #allmyrowdyfriends #hubbysfirstfloat."
Even though the actress has had her fair share of failed relationships, a failed marriage with Blake Shelton and broken hearts with others, she is very optimistic about her current marriage.
Lambert recently clapped back at a troll who commented on one of the singer's posts that her marriage wouldn't last. She wrote,
"Sure 'won't!" Lambert jokingly replied, pretending they were talking about fried food. "'I'm gonna eat every piece of it! 'Can't waste chicken!"
Regardless of what haters think, the country musician is currently living her best life with the love of her life.
Please fill in your e-mail so we can share with you our top stories!