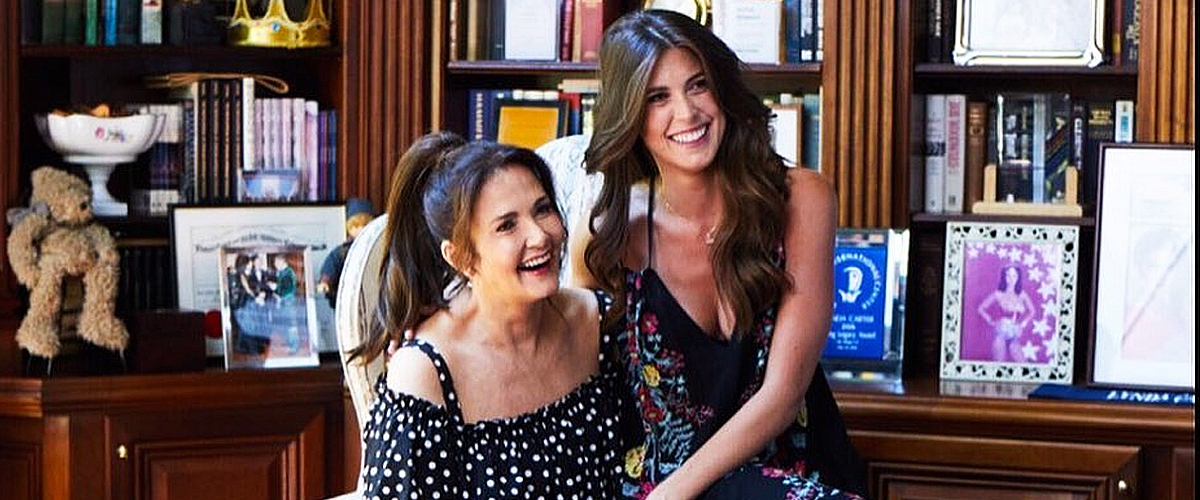 instagram.com/jessica.carter.altman
Meet Lynda Carter's Daughter, Jessica Altman, Who Inherited Her Mother's Singing Skills
Jessica Altman, the daughter of the mid-70s TV series "Wonder Woman" star Lynda Carter, inherited not only her mother's figure but also her beautiful voice.
Lynda's professional career began in 1972 when she won a beauty contest in Arizona in her early 20s. She soon became a topic of discussion after winning Miss World USA and reaching the semifinals in the international 1972 pageant contest.
When her time in beauty contests finished, Lynda started taking acting classes in New York. In 1974, she landed an acting gig on an episode of "Nakia," a police drama show.
LYNDA CARTER'S CAREER
Although Lynda kept getting some minor roles in other series and B movies, it wasn't until 1975 that her career skyrocketed as she landed the starring role on the ABC/CBS TV show "Wonder Woman."
The series ran for three seasons (1975 to 1979), enough time to make Lynda a star. At that point, one of the show's producers told her that other women would be "so jealous" of her because she would portray a hero.
HER THOUGHTS ON "WONDER WOMAN"
"Well, I said, 'Not a chance. They won't be, because I'm not playing her that way. I want women to want to be me, or be my best friend!'" Lynda replied, and that's precisely what she did.
Her impact playing that character was so impressive that even now, more than four decades later, most people think of her version of the DC Comics hero when they think of Wonder Woman.
While her acting skills are impressive, it is not the only talent in Lynda's repertoire. So far, she has released four studio albums.
Although her music career has been overshadowed by her performances on the small and big screen, her voice is undeniably beautiful. Her daughter, Jessica Altman, knows it firsthand as she inherited it.
JESSICA ALTMAN'S CAREER
Born in 1990, Jessica is the second child of Lynda and Robert Altman, the actress' husband of more than 30 years.
Although she could have become an actress like her famous mother, Jessica chose to follow in her father's footsteps and studied law and psychology. Nowadays, she is working as a litigation attorney in Washington, D.C.
Despite her career choice, Jessica has shared the stage with her mother several times when Lynda goes on tour, proving that she could quickly become a singer if something goes wrong with her professional career.
In 2017, Lynda uploaded a photo to her Instagram account showing her next to Jessica singing together at the John F. Kennedy Center for the Performing Arts. In it, both ladies wore beautiful black ensembles. For the caption, Lynda wrote:
"Love this mother-daughter time."
SHE USUALLY SINGS WITHOUT HER MOTHER, TOO
In Jessica's Instagram, she often posts photos of the music gigs she takes. The most recent opportunity she got to showcase her singing skills took place in early May when she went to Fox 5 in Washington, D.C. to perform.
Although they have not publicly shared the details of their romance, her social media account makes clear that Jessica is in a happy relationship with Ross, her boyfriend.
LYNDA'S STAR ON THE HOLLYWOOD WALK OF FAME
In 2018, Lynda's entire family, including her husband Robert and son James Altman, joined her to receive one of the most remarkable honors in Hollywood: a star on the Hollywood Walk of Fame.
For the special event, Jessica put on a strapless jumpsuit. James, on the other hand, opted for a blue suit. Robert chose a grey suit with a red tie. Lynda, finally, wore a beautiful black dress and matching heels.
Nowadays, Lynda Carter is 68 years old but still focused on her career in the entertainment industry. Starting in 2016, she has been portraying U.S. President Olivia Marsdin on "Supergirl."
Apart from that, she goes on tour frequently to sing her most popular tunes, including those of her most recent album "Red Rock N' Blues," released in 2018.
Please fill in your e-mail so we can share with you our top stories!