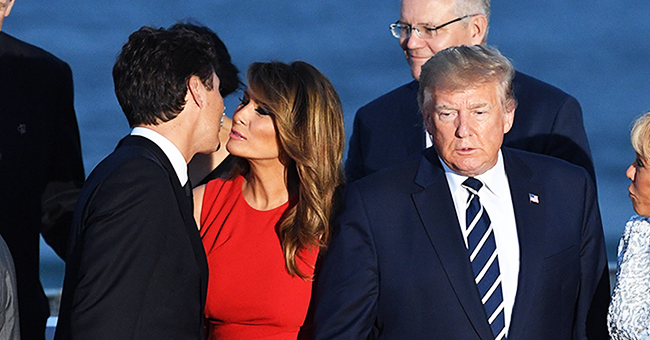 Getty Images
Melania Trump Cheek-Kiss Greeting Moment with Canadian Prime-Minister Justin Trudeau Goes Viral
On Monday, President Donald Trump and First Lady Melania Trump were seen at the G7 summit in France. A moment between the first lady and the Canadian Prime Minister was captured and has since gone viral.
While getting ready to pose for a picture with other world leaders at the G7 summit, Melania Trump, 49, was photographed as she greeted a number of them. However, one such polite moment has been blown out of context and has since gone viral.
Melania was recorded and photographed while leaning in for a kiss with the Canadian Prime Minister Justin Trudeau, 47. The full greeting was shortened into one sizzling moment.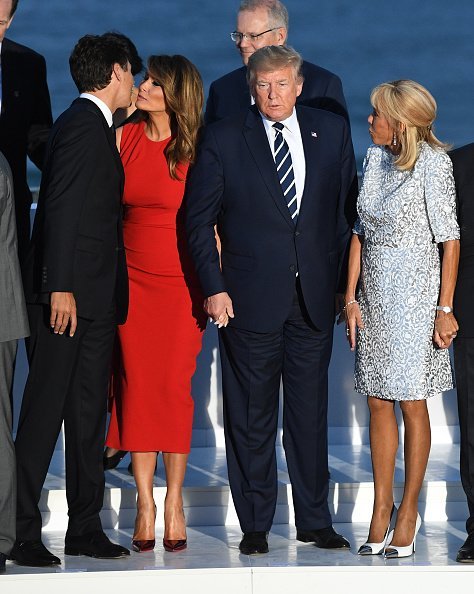 Canada's Prime Minister Justin Trudeau, US First Lady Melania Trump, US President Donald Trump, French President's wife Brigitte Macron about to pose together with other G7 leaders and guests at the annual G7 summit on August 25, 2019 in Biarritz, France | Photo: Getty Images
HOW THE MOMENT ACTUALLY PLAYED OUT
What actually happened was much milder and innocent as the first lady was seen leaning in to offer Trudeau her cheek for a kiss. Melania, who was dressed in a red gown, was captured with a smile on her face and her eyes closed.
US President Donald Trump, 73, was pictured standing slightly forward scowling before looking down to fix his suit. What people also don't see is that Melania extended the same greeting to French President Emmanuel Macron's wife, Brigitte Macron.
#MelaniaLovesTrudeau TRENDS
Despite the facts, the image of Melania and Trudeau earned the hashtag #MelaniaLovesTrudeau. Many Twitter users who aren't fans of the US president took aim at him with their jokes.
One person wrote: "Looks like even Melania is thinking of an escape plan to Canada." While another joked: "How much longer do we think before the next proposal for a border wall will be between the U.S. and Canada?"
Another social media user added: "I wish I was a bigger person and didn't like this so much." Someone else compared the image to the popular viral meme that features a man holding hands with his girlfriend while staring at another woman who is walking by.
The Twitter user shared the images next to each other and wrote: "The #MelaniaLovesTrudeau photo is the political equivalent to the disloyal man meme." In 2016, Trudeau appeared to have the same effect on Duchess Kate.
THE OTHER WOMEN WHO'VE BEEN AFFECTED BY TRUDEAU'S CHARM
She was photographed smiling broadly as she greeted him while tucking her hair behind her ears. The same year, German Chancellor Angela Merkel also inspired jokes as she was seen smiling with eyes closes as the Prime Minister greeted her.
A Twitter user shared the images of Melania, Kate, and Merkel while joking that "the entire feminine population can't resist him actually." The person also urged Trudeau to "teach other men" his secret way with women by way of a TEDx or YouTube video.
ANOTHER TRUMP WOMAN FALLS PREY TO TRUDEAU
Another person who featured in the Twitter user's images of the three women Trudeau appeared to have an effect on was Melania's stepdaughter, Ivanka Trump.
In 2017, the senior White House aide was pictured looking at the Prime Minister with what seemed to be a desiring gaze.
Trudeau is married to Sophie Grégoire Trudeau and the pair share three children together.
Please fill in your e-mail so we can share with you our top stories!