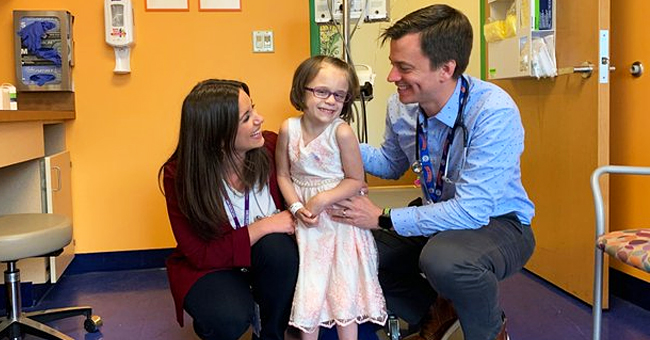 twitter.com/ChildrensPgh
5-Year-Old Girl with Cancer Wears Different Princess Gown to Each Chemotherapy Session

Right when 5-year-old Lilli Durante discovered that she had to undergo chemotherapy, she chose she would be a different princess for every session.
As indicated by UPMC Children's Hospital of Pittsburgh, "Lilli's most exciting day was when she was going to get her IV pole like the rest of the other kids.
"She's making friends and doesn't feel alone with her illness. Every week she wears a new princess gown to the hospital."
"She loves surprising everyone every week. Some of the nurses call her, 'her majesty.'"
So far, Lilli has undergone 20 chemotherapy appointments for optic pathway glioma, cancerous growths on her optic nerve, as reported by TODAY Parents.
Lilli, who woke up one morning and her left eye was crossed, has not once repeated a dress. Sometimes, the brave little girl dresses as a Disney princess — Cinderella, Aurora, Belle, and Ariel.
Lilli's parents supported her desire to be a different princess. They bought the dresses so she can keep up the practice for another 20 infusions. When loved ones learned about it, they started giving her some as well.
Lilli left a trail of glitter all through UPMC Children's Hospital of Pittsburgh when she received her last treatment. Her mother Courtney Durante told TODAY Parents:
"She loves surprising everyone every week. Some of the nurses call her, 'her majesty.' It puts a smile on everyone's face...and usually she gets compliments and eats it up and loves it. It really gives her something to look forward to."
Dr. Jim Felker, Lilli's doctor, said that he notices a change when the little girl arrives. He told TODAY Parents:
"She exudes that energy and that happiness that is vital to get through what can otherwise be, from the outside, at least, a sad experience. She really is special. She brightens up the clinic."
Lilli, who despises getting eye drops, still struggles to see. At night, she needs to wear an eye patch on her right eye to help correct the crossed eye. She also wears glasses.
Like Lilli, 4-year-old boy Carter McPherson is also bravely facing cancer. Carter was diagnosed with Pre-B Cell Acute Lumpblastic Leukemia.
His mom Tiffany McPherson wanted to cheer him up, so she asked her companions, family, and neighbors to support her and shared her wish online. Tiffany wanted everyone to send postcards to Carter.
The story has since turned into a web sensation, and Carter has received many postcards and presents from all around the country.
Please fill in your e-mail so we can share with you our top stories!