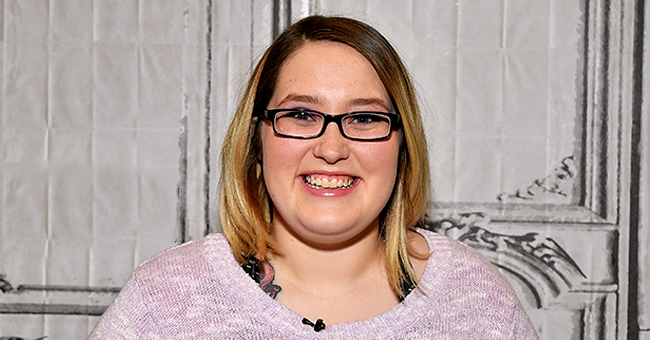 Getty Images
Mama June's Daughter Pumpkin Praised for Showing off Her Belly in New Photos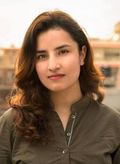 Reality star Lauryn Mychelle Shanon, also known as Pumpkin, shared her weight loss progress and flaunted her belly to inspire her fans and followers.
"Mama June" and "Here Comes Honey Boo" star, Pumpkin, took to Instagram and opened up about her weight loss regime while also showing off her belly.
Pumpkin informed that she had taken the "7 day challenge" from Boombod, a weight-loss facilitating product. She was halfway through the challenge, and it was proving to be effective.
SMALL CHANGES MAKE BIG DIFFERENCES
"Hardest thing about sticking to a health kick for me are the cravings, and these shots are actually taking care of those!" she wrote in the caption to the post.
Speaking about an effective weight-loss regime, the 19-year-old reality star further opined that it is the small changes that bring the biggest of results.
Pumpkin's fans on social media have welcomed her update and have even congratulated her for daring to show off her belly.
One Instagram user took to the comment section and stated:
"Personally I don't believe this stuff works. But I commend [you] because I could never show off my belly like that."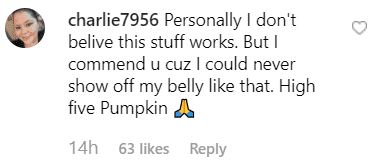 An Instagram user comments on Lauryn Mychelle Shannon's Instagram post, where she flaunts her reduced belly. | Source: Instagram/pumpkin
FANS LOVE THE WAY SHE LOOKS
Many other fans agreed that Pumpkin's efforts toward weight loss were bearing results and further commented on how amazing she looked in the snapshot.
"Girl you are looking [great]," wrote Instagram user 'southernbelle9223.' Meanwhile, 'misspat1020' admitted that Pumpkin was on her way "to a healthy and [new you]."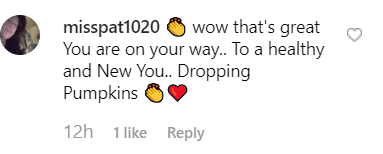 A fan praises Lauryn Mychelle Shannon aka Pumpkin for her weight loss on her Instagram post. | Source: Instagram/pumpkin
Earlier this year in April, Pumpkin's fans also noticed a slight reduction in her weight when she posted another snapshot of herself on a different Instagram page.
The photo sees her smiling at the camera while holding a tumbler in her hand, and it absolutely delighted her fans.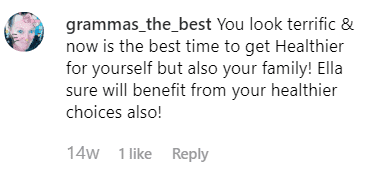 A fan comments on Lauryn Shannon's Instagram account after she posted a snapshot of herself. | Source: Instagram/lauryn_shannon7
Pumpkin frequently shares moments from her life with her fans on social media. Only a few months ago, she also shared a series of photos posing alongside her sister, Honey Boo Boo.
Her fans loved seeing the sweet bond betweent the two sisters in the images.
Please fill in your e-mail so we can share with you our top stories!