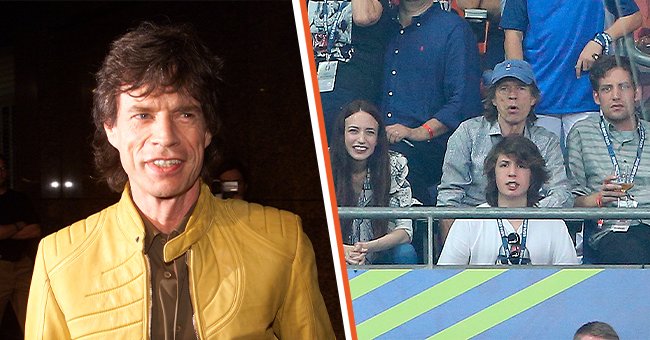 Getty Images
Mick Jagger Is a Father of 8 Kids Born from Five Relationships - Meet Them
Mick Jagger was alleged to have slept with thousands of women but only fathered eight kids from five moms. Although he has a big family and a successful career to take care of, he never let anything get in the way of being a good father.
Mick Jagger's impressive music career never got in the way of his dedication to fatherhood. Raising eight children was no easy feat, but the rockstar made sure his commitment to being a great dad never wavered.
One of his baby momma's even revealed how co-parenting worked out well because of Mick's wisdom and passion for being a father. According to Luciana Gimenez Morad, Mick has always been present, making parenthood an even better experience.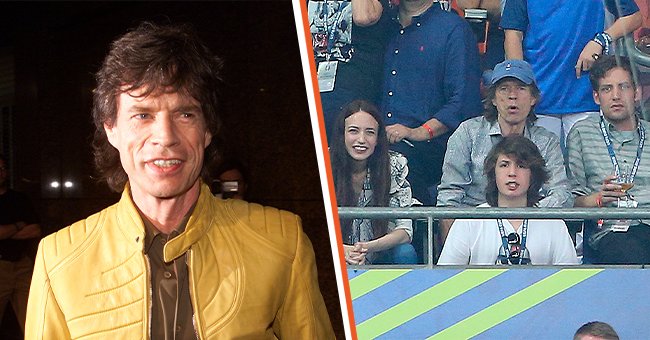 Mick Jagger in a side-by-side photo with his kids. | Source: Getty Images
Mick became a first-time father in 1970, when his ex-girlfriend, Marsha Hunt, gave birth to Karis Hunt Jagger. The following year, he tied the knot with Bianca Perez-Mora Macias, his one and only legal wedding.
The bride was already pregnant with Mick's second child, Jade Sheena Jezebel Jagger, by that time. In 1978, Bianca filed for divorce but already knew the fate of her married life from day one. She once told the New York Daily News, as told by Entertainment Weekly:
"My marriage was over on the wedding day."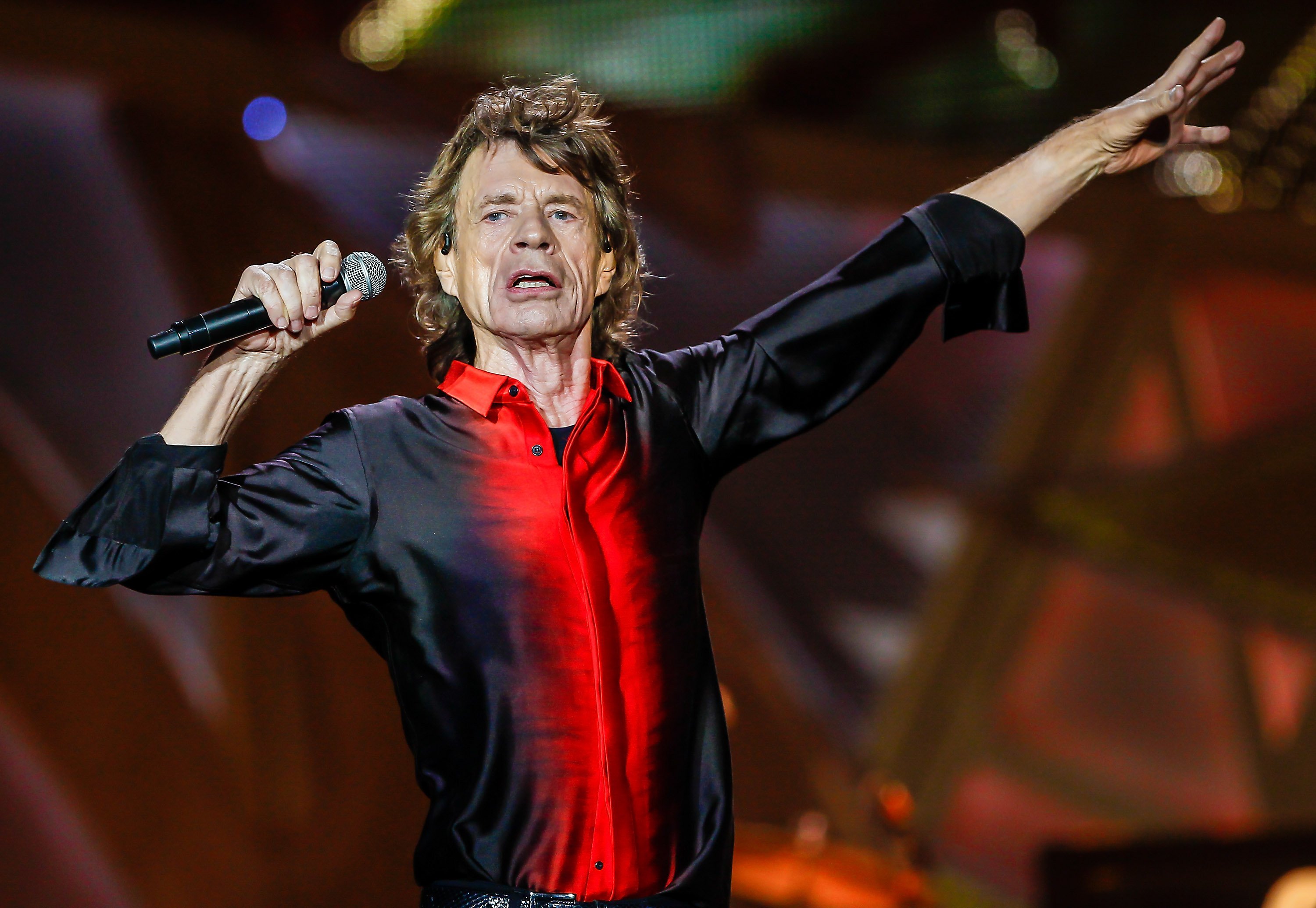 Mick Jagger of the Rolling Stones during the Indianapolis Motor Speedway on July 4, 2015, in Indianapolis, Indiana. | Source: Getty Images.
It only took two years for Mick to walk down the aisle once again when he married Jerry Hall in 1990. Their over two-decade relationship welcomed four children, Elizabeth Scarlett in 1984, James Leroy in 1985, Georgia May in 1992, and Gabriel Luke in 1997.
James was Mick's first child who followed in the Rolling Stones frontman's footsteps.
Two years later, Luciana Gimenez Morad gave birth to Mick's seventh child and son, Lucas Maurice, in 1999. His youngest child, Deveraux Octavian Basil, was born nearly 20 years later in 2016. Mich shares Deveraux with Melanie Hamrick.
Born on November 4, 1970, in London, Karis attended the prestigious British boarding school, Bedales, before graduating from Yale University in 1992. She later pursued an acting career and appeared in the 1997 films "One Night Stand" and "The Rainmaker."
The following year, she appeared in "Patch Adams," followed by "Sweet November" in 2001. In 2013, Karis went behind the screen and became the executive producer of "Made in LA: Paul's Fortune house." She also co-launched the website Hey Sister to share her love of culture, relationships, and food. According to the website:
"We're inspired to do something a bit more interactive and engaging, where we can bring all of these shared passions for filmmaking, food, togetherness, and social justice into one place [...]."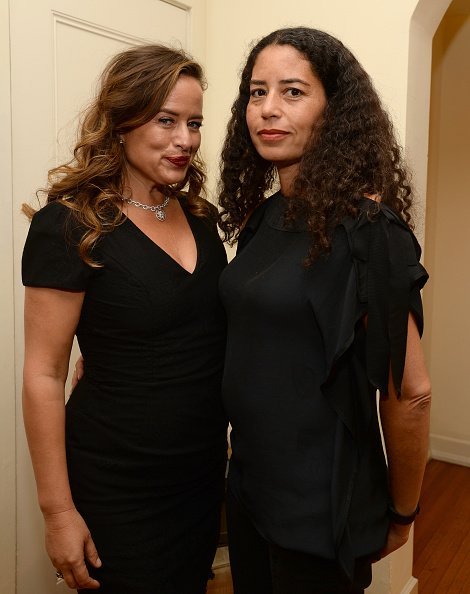 Jade Jagger and Karis Jagger during the launch of Jade Jagger's new fine jewelry collection at Chateau Marmont on April 14, 2016, in Los Angeles, California. | Source: Getty Images.
Apart from her career, Karis is a philanthropist, loving wife, and doting mother of two. She walked down the aisle in 2000 to marry Jonathan M. Watson, who is the father of her two kids, Mazie and Zak.
JADE SHEENA JEZEBEL JAGGER
Born on October 21, 1971, in Paris, Jade was reportedly babysat by Andy Warhol as a child. She followed her sister in boarding school in England at 18, where she met and fell in love with Piers Jackson. He later became the father of her two children, Assisi and Amba.
However, the pair later separated in 1999, not long before Jade became a jewelry designer and business owner of Jade Jagger Jewelry. In 2012, Jade married Adrian Fillary and had a son, Ray Emmanuel.
At that time, it came as a surprise to both Jade and Assisi that they fell pregnant simultaneously. A few weeks after Jade delivered her first granddaughter during Assisi's home birth, she gave birth to Ray.
ELIZABETH SCARLETT JAGGER
Mick welcomed his third child, Lizzy, on March 2, 1984. She followed her mom's footsteps as a model and made her runway debut at the age of five during a Chanel fashion show. Although Lizzy continued to model under her England-based agency, Tess management, she also has a few acting credits under her belt.
Her appearances include "Igby Goes Down" and "Love Advent." In 2016, Lizzy became a Redken muse and shared her experience during an interview with Harper's Bazaar. She said:
"My mother [Jerry Hall]. I'm really lucky because my mom is a good beauty muse," she said.
Jerry taught Lizzy that true beauty comes from within from an early age. However, it should come hand in hand with self-love in the form of taking care of herself through living a healthy lifestyle.
Such includes regular exercise and eating a lot of fruits and vegetables while keeping hydrated by drinking a lot of water.
Apart from her career, Lizzy is an activist, philanthropist, and feminist. In 2018, she lobbied for the Equal Rights Amendment in Illinois.
James was Mick's first child who followed in the Rolling Stones frontman's footsteps. Born on August 28, 1985, James attended the Lee Strasberg Institute before pursuing a career in music and acting. He became a singer and guitarist for the bank Turbogeist and appeared in some films.
His known productions include "The Unravelling" in 2015, "Vinyl," and "Gangster Kittens" in 2016. He also appeared in "Sex & Drugs & Rock & Roll," "Vivaldi," "Knife Edge," and numerous West End theatre productions.
In 2015, James married Anoushka Sharma, whom he separated from after three years. James is also a scuba diver who did extra open water, advanced, and rescue courses with a passion for the ocean and its conservation. James loves participating in sports and enjoys mountain climbing when not in the water.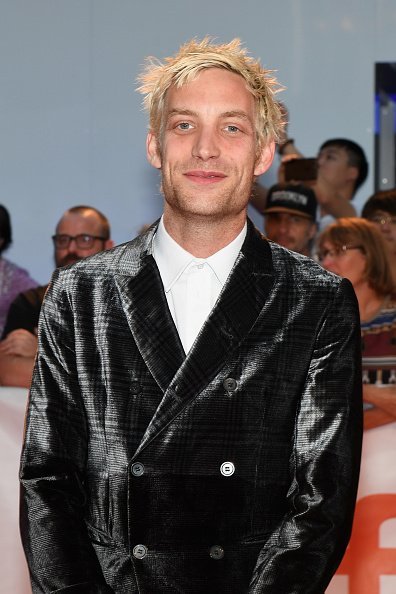 James Jagger during the "Jeremiah Terminator LeRoy" premiere at Roy Thomson Hall on September 15, 2018, in Toronto, Canada. | Source: Getty Images.
Georgia, born on January 12, 1992, is the second daughter of Mick to become a model. She graced the covers of magazines such as Harper's Bazaar, Elle, and Vogue, as well as fronted campaigns for Chanel, Miu Miu, and Rimmel.
In 2021, Georgia appeared in Wrangler's ad campaign, "Turn Heads, Capture Hearts," captivating many viewers' hearts.
On December 9, 1997, Mick welcomed his last child with Jerry, Gabriel Luke. Like his siblings, Gabriel became a model at 18 and fronted the magazine Another Man in 2016.
Although he keeps his personal life private, Gabriel is known to like reading and writing poetry, with Edgar Allan Poe and Emily Dickinson listed as some of his favorite poets. In 2020, he announced his engagement to Andrea Winzenried as reported by Tatler:
"The engagement is announced between Gabriel, son of Jerry Murdoch of Texas, and Mick Jagger of London, and Anouk, daughter of Janine and Andrea Winzenried of Switzerland."
Mick's youngest son, Lucas, was born on May 18, 1999. Like his siblings, he pursued a career in modeling and made his magazine cover debut at a young age.
In 2021, Lucas underwent non-cosmetic ear surgery and shared his recovery process on Instagram. He wrote:
"He's OK. Ear surgery 10/10. Fit pics 2/10/."
DEVERAUX OCTAVIAN BASIL JAGGER
Mick became a father of eight on December 8, 2016, when he and his partner welcomed Deveraux. The little boy often appears on his mother's Instagram account, showing off his lush blonde hair.
Recently, she posted a pleasing family picture on her Instagram that featured them huddled up in a sweet moment. The photo included Melanie and her young son enjoying a leisure moment while basking in each other's company. The family looked absorbed in their little world.
Please fill in your e-mail so we can share with you our top stories!