Mick Jagger Cozies Up to Son Deveraux, 4, & Girlfriend Melanie in Rare Intimate Family Pic
Music legend Mick Jagger had a relaxing moment in a family picture with his girlfriend, Melanie Hamrick, and her four-year-old son, Deveraux, in a new image shared on social media. 
Mick Jagger and his family warmed up fans' Instagram timeline in a pleasing family picture that had them huddled up and reveling in a sweet moment. The photo was shared on his girlfriend, Melanie Hamrick's Instagram page.
The photo included Hamrick and her young son, Deveraux, enjoying a leisure moment while basking in each other's company. The family looked absorbed in their little world.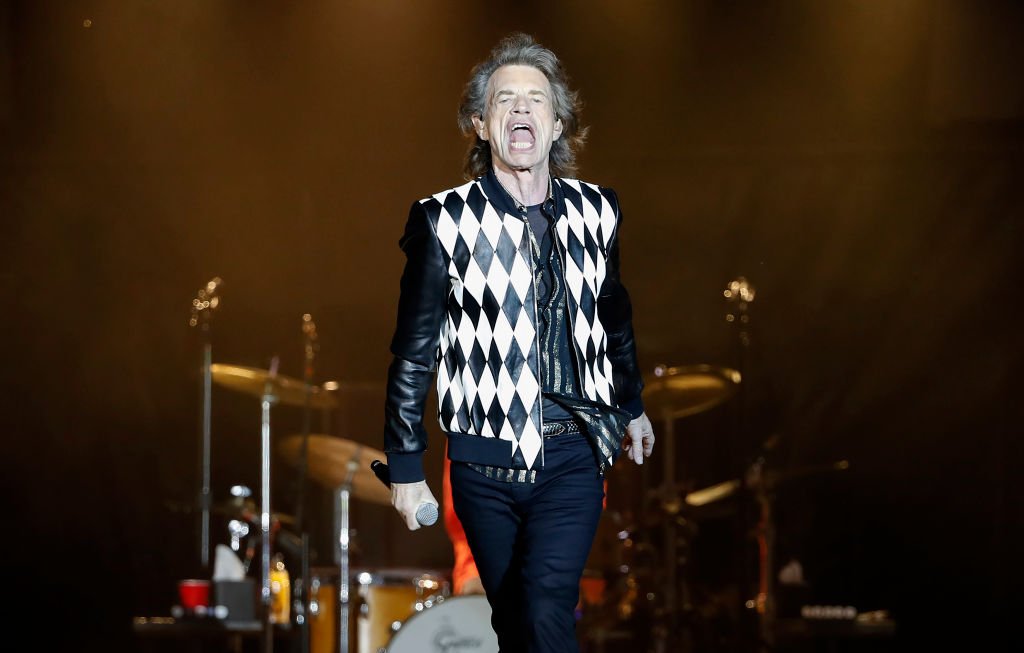 MICK'S LOVELY FAMILY
Star ballerina Melanie Hamrick posted the heart-melting photo in honor of her 34th birthday. She stood tall and elegant near her man, in a long pleated skirt and a brown top.
Mick had one hand over her shoulders as he rocked an all-black outfit and kept the sun away from his face with a baseball cap. Their little son stood between them, enjoying the moment.
The couple's location overlooked the vast expanse of the blue ocean, making the picture more scenic. Hamrick was grateful for all the love she enjoyed on her big day as she captioned:
"Feeling all the love today. Thank You, everyone, for the wonderful love."
INSIDE MICK'S FAMILY
Little Deveraux, at four, is the youngest of eight children that the Rock and Roll legend has. Mick's kids' ages range from 50 to 4, with his oldest child being Karis.
Mick welcomed Karis in his relationship with Marsha Hunt. Jade, 49, and Lizzie, 37, are Mick's kids with ex-wife Bianca Jagger. He and former partner Jerry Hall welcomed four children.
Mick's son, Lucas, is 22-years-old and he became part of the Jagger family during his mom, Luciana Gimenez, relationship with Mick. Mick's large family included five grandchildren and a great-grandchild. 
THE JAGGER FAMILY'S RELATIONSHIP
Although Mick's kids are from different moms, they try to gather around sometimes to revel in family times. This was confirmed in a rare pic that his daughter, Georgia, once shared on her Instagram page.
At the time, it was the iconic singer's 75th birthday. The picture showed him sitting in the company of all his sons, who posed for the camera and heartily celebrated him. 
Georgia also seems to have a lovely relationship with her younger brother, Lucas. In June, the pair took a fun trip to Los Angeles and shared the photos on social media.
In the comments section, the siblings showed each other love. Lucas mentioned that he could not wait for their next trip. His mom also joined in the comments as she joked and called out to him to return home.
Mick has also shown that he is the doting father. On social media, fans have noticed how he would often drop dorky dad comments, either commending or teasing them. 
MICK JAGGER'S KIDS 
Karis, born in 1970, had a short-lived Hollywood career within which she appeared in 1997's "One Night Stand." She also executive produced a TV mini-series, "Made in LA: Paul Fortune's House." 
Karis has since launched a website called "Hey Sistah," which focuses on the lifestyle of two women of color. Here, they get to explore different topics peculiar to their culture. She is married to Jonathan Watson, and they have two kids. 
Jade, who was born in Paris, has become a successful jeweler. She has been married to Adia Fillary since 2012, and they both have a son, Ray Emmanuel Fillary. 
Jade was first in a relationship with film producer Piers Jackson; the pair welcomed two children, Assisi and Amba. Mick's third daughter, Lizzy, is a model just like her mother, Hall.
She was a child model, walking for Chanel at the age of five. Her career took off from there as she continued working for an agency in England. Lizzie is a devoted philanthropist and feminist. 
Lizzy's sister, Georgia, is also a supermodel, and she recently worked on a Wrangler campaign. Her brother James is a musician like their dad, and he is a guitarist for the punk-rock band Tubogeist. 
Mick's third child with Hall is Gabriel, and he mostly keeps out of the public eye. He was in the news in January 2020, when he announced his engagement. Lucas, Mick's seventh child, is looking to become a model like his older siblings.
Just like his older siblings, Deveraux is his daddy's mini-me. His parents announced that they were expecting him in July 2016, and he was born in the same year. In May, Deveraux accompanied his mom to the screening of Peter Rabbit," and he pulled at heartstrings.